Who remembers the Nissan Micra Cup? Well, since it ran as early as 2020, probably quite a few people do. In fact, this Canada-only one-make racing series pulled the nice trick of taking one of Canada's least-expensive cars, turning it into a race car and letting amateur drivers have at it, and have a lot of fun. There were some really good races there, some properly spectacular crashes and tons of fun had by all.
Thing is, the Micra Cup used an almost bog-standard Nissan Micra as the starting point for all its racers and, much to my chagrin, anyway, that car is no longer available in Canada.
So what has Nissan done? Well, they've gone to the car two rungs up the ladder in the line-up – the Sentra – and turned it into a racer in a similar vein to what they did with the Micra.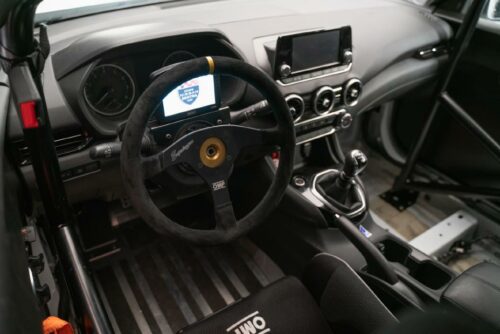 "We all loved the Micra," said Steve Milette, president of Nissan Canada. "But (we said) if we're going to modify the Cup series, let's go big. Let's take it to the next level with something that is faster, sleeker and with a different vehicle body to really differentiate the experience for our drivers and our fans."
First, the similar: like the Micra Cup car did, the Sentra Cup car has the same power as the road car equivalent (149 horsepower and 146 pound-feet of torque, 37% and 39% increases, respectively, over the Micra), the same six-speed manual transmission and pretty much the same dimensions. Which is fine because the current Sentra, which debuted in 2019 for the '20 model year, is the most aerodynamic Sentra ever built. For good measure, though, and to add a little more 'raciness' to the package, the Sentra Cup car – which starts life as a Sentra S, that car's base model – gets the spoiler from the top-spec SR trim.
That's about where the similarities end, however; the racers get special brakes and stainless steel-braided brake lines, adjustable front anti-roll bar, adjustable coilover suspension, FIA-approved racing seat and roll cage, special 18-inch wheels, stainless steel exhaust, fire-suppression system and window netting. In short, a look at this Sentra shows that it is every part the race car it needs to be. Thanks to that exhaust system, meanwhile, it will probably sound like one, too.
The cost of all of this? $39,990 per car, about a $13,000 increase over a fully tricked-out 2021 Sentra. Add the expenses required for tires, brakes, fees and other sundries, and the total cost of a season will be around $70-90 grand a year to participate — that's less than the cost of the cars alone from other one-make series such as the Porsche Carrera Cup.
"The Nissan Sentra Cup is for people who want to experience all the fun and thrills of racing, but without spending staggering amounts of money," said series organizer Jacques Deshaies.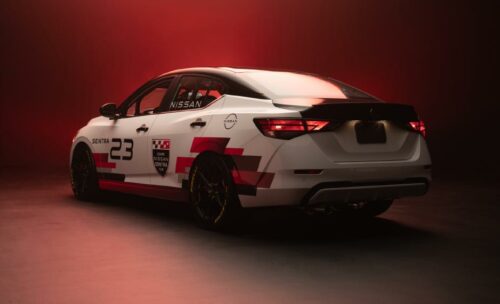 While the interior gets all those racy bits, Nissan has made use of the Sentra road car's existing tech to improve on the experience; namely, instead of a rear-view mirror, the Sentra Cup driver will be making use of the Sentra's back-up camera as they race. Nissan has also replaced the engine's computer so that the road car's various Safety Shield 360 safety features – which can sometimes decrease power for short spurts – won't affect the racer.
It doesn't end there, either. What about all those folks who have been racing in the Micra Cup, and own Micra racers?
"It's very important for us to welcome (Micra Cup owners) again to participate, in appreciation of their commitment to both Nissan and the series," said Deshaies. "This is why we will still welcome the Micra and the drivers to race in a separate class named 'Class Micra', which will allow us to present bigger starting grids." Yes, you read that right: there will actually be multi-class racing, just like at Le Mans!
The full season schedule has not yet been released, but the tentative schedule includes events at Circuit Mont Tremblant and Circuit iCar in Quebec, Trois Rivières in Quebec and perhaps even Canadian Tire Motorsports Park in Ontario.