It's no secret that racing is a family sport. Ever since cars started rolling off the production line, they've been bringing people together. In fact, it's become a way of life for many families around the world. But who in their right mind would bring their 8-month old daughter to the track for a whole weekend of racing? Autos and racing have always been a passion of mine and, while I've never been accused of being in my right mind, racing is something that I aim to pass down to my daughter. It helps to develop your reflexes, your coordination, your critical thinking and problem solving. It also helps you keep a clear head, stay grounded and teaches you the importance of family and community.
Nissan Canada understands this. The Nissan Micra Cup is a fairly new addition to the motorsports landscape in Canada, featuring the cost-effective, 109 hp Nissan Micra. These are the same cars that you can buy from a dealership for under $10k with a few modifications made for weight reduction and safety. And while they aren't the fastest cars to race, the learning curve is low so it's easy for any interested party to get into. For both the driver and fan, the entertainment and competition levels are high. Rain or shine, 33 drivers give it their all every race. Adrenaline pumps and tempers flare but at the end of the day these are just regular people, each with a story of how they got there and a specific reason for being part of this unique series.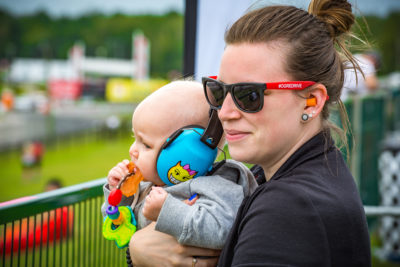 I recently had the privilege of meeting a young man named Austin Riley at a Nissan Micra Cup race at Canadian Tire Motorsport Park in Bowmanville, Ontario. Austin and his family are prime examples of everything the racing community embodies. He has climbed through the ranks of go-karting over the years and been quite successful at it which led him to accept a team driver position at Azure racing this year for the Nissan Micra Cup season. Now piloting the #20 "Racing With Autism" car, he has done extremely well for himself and under conditions more complicated than most.
You see, Austin is autistic. His has a unique story that his extremely proud parents are more than happy to share with anyone who asks, encapsulating the family and community aspects of racing that keep me coming back. He could not have come this far without the support of his team and now that team has become advocates for Autism. They've created an eye-opening 'virtual reality' experience inside their team trailer for any interested party to go through. This experience gives regular people an idea of what it's like to live with high-functioning autism. They educated me in what Autism really is and opened my eyes to how challenging everyday tasks like shaking hands, following directions, or even gripping a pen can really be.
It's stories like this that always make me feel right at home as I get a whiff of race fuel and feel everything inside my chest shake when a race car fires up. Nissan Canada has provided the opportunity to bring more people into the fold with the Nissan Micra Cup series and its working!
So, feel free to call me crazy for dragging my wife and 8-month old to the track for a whole weekend. But, in my mind, the more we can surround ourselves with the examples of love and support that is seen on a daily basis in the racing community, the better we can all be. A common phrase used in reference to passing our passions along to the next generation is "start them young". With that in mind, I wonder where the next race is?