The LA Auto Show typically ends the automotive industry's calendar year and unofficially starts the new auto show season. This year's show has been less about the glam of sexy supercars and more about utility. Many brands chose to launch an SUV – some entirely new to their lineup – at the 2017 show. From compact crossovers to full-size, eight-passenger sport utility vehicles, there was a little bit of everything for everyone. Even golden retrievers!
Here are my top new SUVs to check out at the Los Angeles Convention Center this week.
Hyundai Kona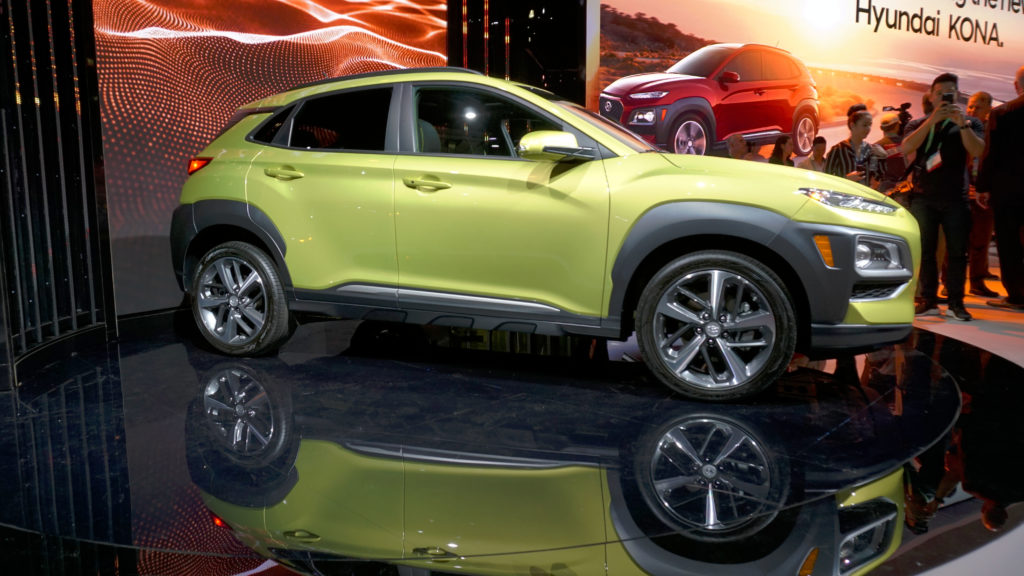 Hyundai is jumping on the compact crossover market with the stylish new Kona. The LA Auto Show is the North American premiere of the model as sales started this past summer in Korea.
Kona's design is inspired by what sister brand Kia is doing rather than Hyundai's typically innocuous aesthetics. Built on an entirely new platform, Kona creates the link between Hyundai cars and sport utility vehicles as their new entry-level model tucked right beneath the Hyundai Tucson.
More good news is that Kona will offer all-wheel drive only, setting it apart from some of the other, more expensive models. Two powertrains will be offered under the hood. The entry-level powerhouse is a 2.0L Atkinson cycle engine with 147-horsepower and 132 lb-ft. of torque. Higher trim levels receive a 1.6L turbocharged engine rated at a respectable 175 horsepower and 196 lb-ft of torque. Both powertrains will be teamed with a six-speed automatic transmission, another good decision from Hyundai along with standard AWD, if you ask me.
Nissan Kicks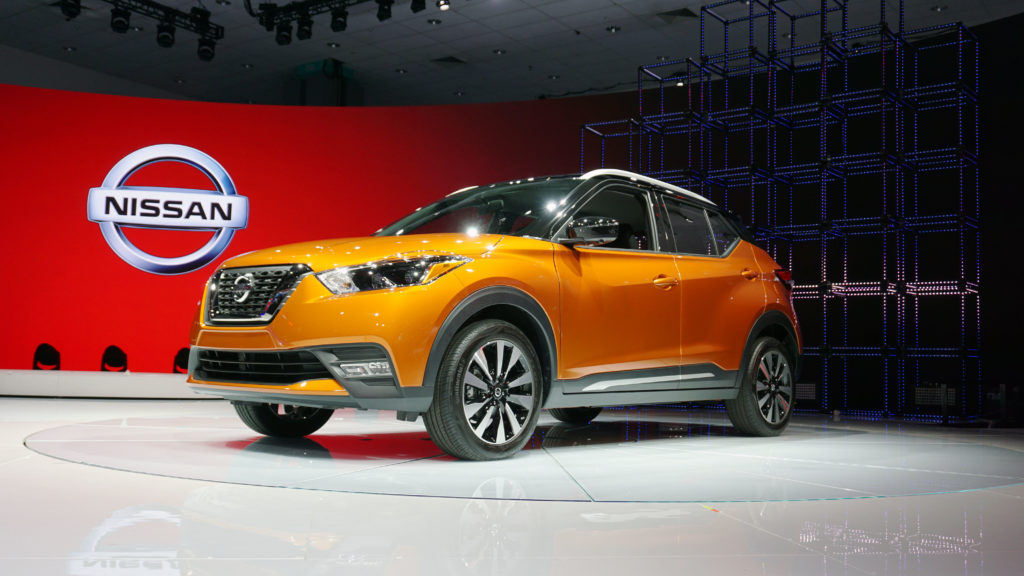 If you are looking for the Nissan Juke on the stage, you might be disappointed. The quirky little crossover has been discontinued by the manufacturer. Instead the new Kicks – not your shoes – was unveiled in L.A. and will be taking its place in the lineup. Smaller than the recently-introduced Qashqai, the Kicks will target urban dwellers.
Exterior design elements draw from the concept introduced in Sao Paolo, Brazil in 2014 and is the combined work of Nissan's Japanese and Brazilian design studios. The upward beltline, bi-colour paint scheme and plastic lower-body features give it a dynamic yet accessible character.
Inside, it's all about grabbing the interest of young, hip, urban adults as Kicks highlights a full-flight of tech features and colour accents. A 7-inch touchscreen display provides access to the infotainment system with the now usual Apple CarPlay and Android Auto apps teamed with an optional Bose sound system. Power will be provided by a 1.6L, 125 horsepower and 115 lb-ft. of torque engine equipped with a CVT transmission. There is no mention of the availability of an all-wheel drive system, however, exciting safety features should be enough to convince the cautious urban driver to take one for a test drive.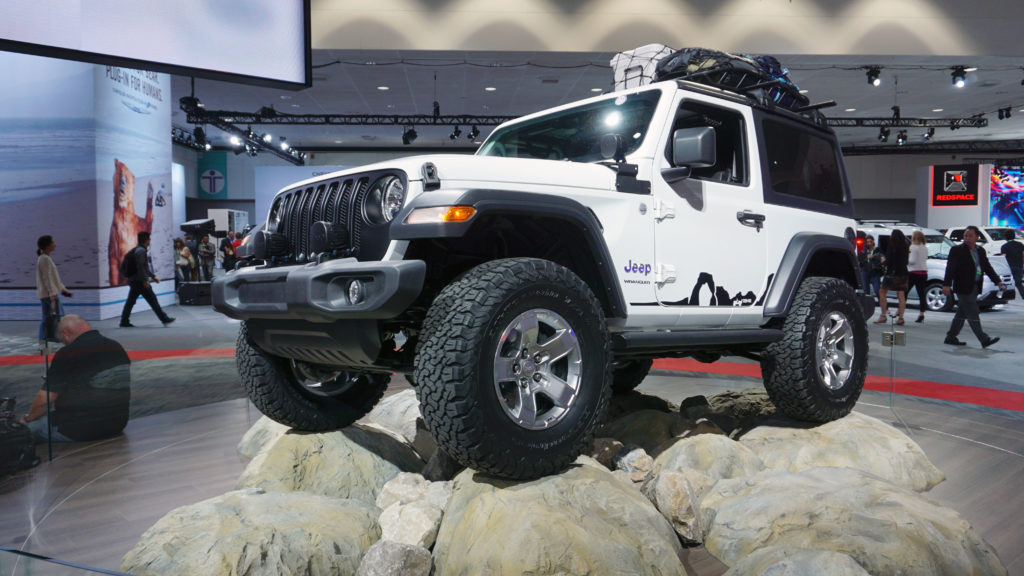 How do you feel about a four-cylinder Wrangler? We're not sure either. Though it's not the first time in history the legendary all-terrain vehicle has been fitted with anything other than a V6, its bigger-than-life personality makes it hard to believe this Jeep deserves anything less.
With the 2018 model-year, Jeep Wrangler comes to the end of its ten-year long JK cycle. But don't expect any dramatic changes – it still looks like the good old Jeep we know and love. Changes in this next gen model come in the form of new technologies. It now features a body-on-frame structure for added rigidity and a five-link suspension system to remain true to its off-road trooper legacy.
The revered 3.6L Pentastar V6 remains, plus the new, smaller engine previously mentioned as "turbo everything" becomes the new mantra. Under the hood of this behemoth will be a 2.0L turbocharged block equipped with the latest e-Torque technology. Coming in 2019, a V6 diesel option will be offered as well. Transmission choices include a six-speed manual gearbox or a new eight-speed automatic.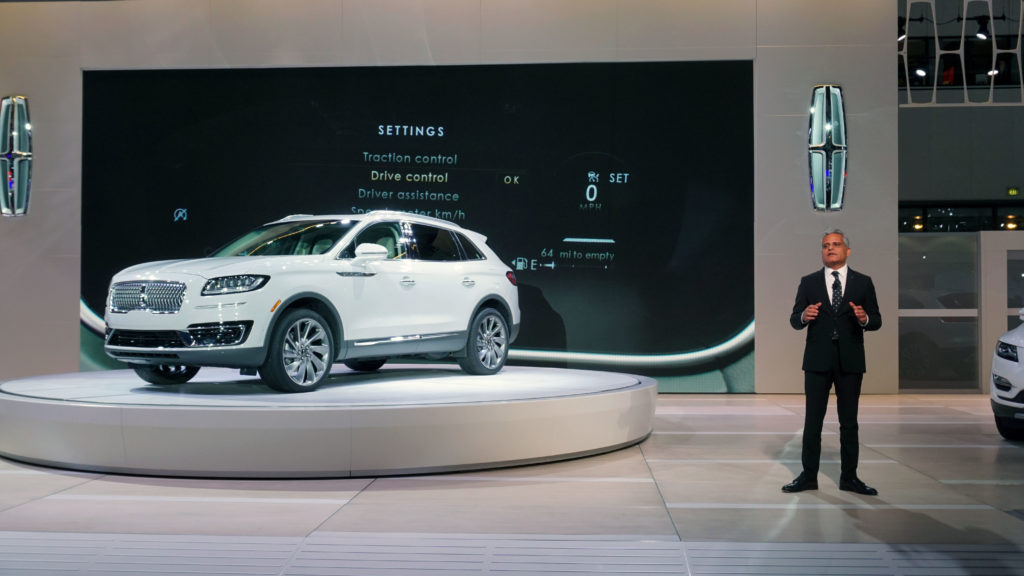 Ahoy matey! Following in the wake of the Lincoln Navigator, Nautilus charts a similar course on its way to the market in 2018.
This new, elegant mid-size SUV is set to replace the aging MKX. It sports the latest Lincoln aesthetic language with a massive mesh-like grille and LED headlights. Though the outward dimensions remain virtually unchanged, the interior has been completely reorganized to make better use of the available space. Nautilus also introduces a new interior design theme for the manufacturer with a sophisticated, cascading console.
Two powertrains will be available; a 2.0L turbocharged engine rated at 245 horsepower plus a 2.7L V6 rated at 335 horsepower and 380 lb-ft. of torque.
Subaru Ascent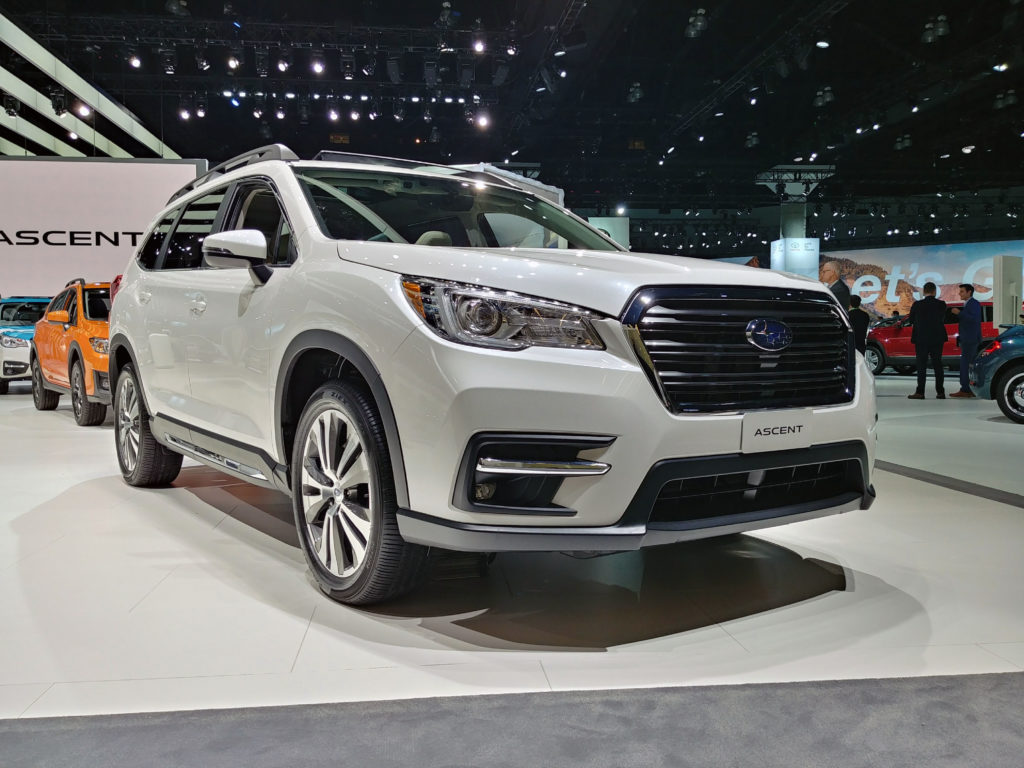 While some manufacturers downsize to accommodate the current compact crossover trend, others, like Subaru, are supersizing. The Japanese automaker already has everything in the way of small to mid-size vehicles, but it is missing a true flagship SUV. Banking on the cuteness of their four-legged bark-persons present for the unveiling in LA, Subaru launched their newest attempt at a three-row, full-sized SUV named the Ascent. In case you may have forgotten, their first attempt was the unfortunate-looking Tribeca.
Thankfully the new Ascent is not your father's Tribeca. Without being extravagant or standout-ish, this is a notable improvement in the design department. Ascent provides continuity within the Subaru lineup with a predictable yet handsome fascia. Up to eight passengers will find a seat on board this new-comer. Family is the undeniable focus here with spill-resistant cloth seats, optional second-row captain chairs as well as the EyeSight safety suite.
Keeping with the industry's newfound turbo-theme, the full-size Ascent receives a new 2.4L turbocharged Boxer engine that produces 260 horsepower and 277 lb-ft. of torque obviously sent to all four wheels.
Lexus RX L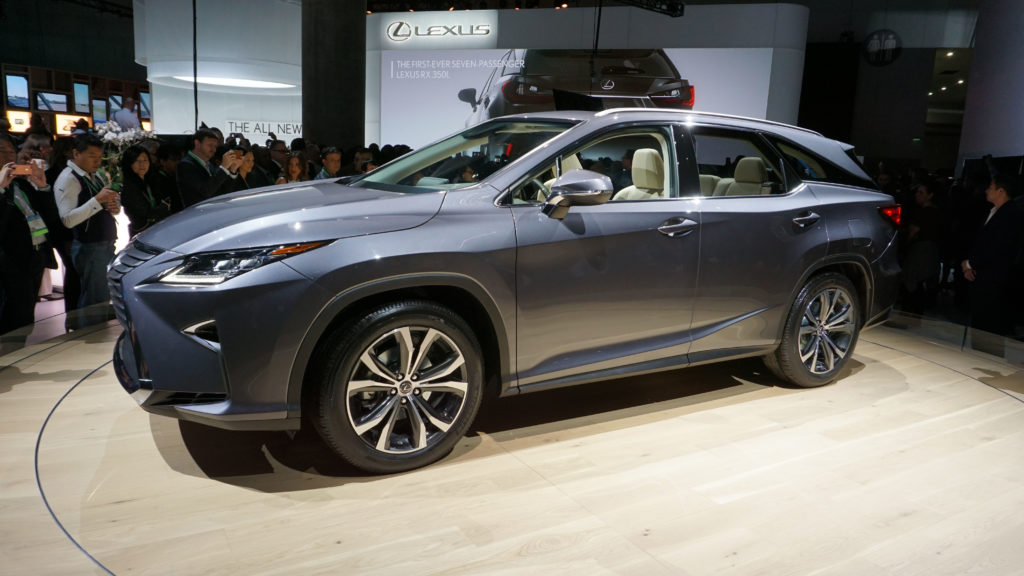 In the very pretty and British-sounding words of Minnie Driver, Lexus' new campaign spokesperson, we apparently all need more "L" in our lives. Although we didn't ask, we receive as this is what the new Lexus RX long-wheel base line stands for. The outward extension of their mid-size CUV is yet another sign of the increasing weight of the Chinese market when it comes to vehicle production.
will now be offered with a third row of seats. The middle row is fitted with captain chairs that facilitate easy access to the rear bench. A long-wheelbase also allows Lexus to boast some of the best the cargo volume in the segment. The exterior design remains similar and the elongated silhouette is very subtle; it doesn't distort the appeal of the vehicle nor does it take away from its dynamic design.
The RX 350 L will be powered by a 3.5L V6 engine producing 290 horsepower and 263 lb-ft. of torque, a slight downgrade from the standard 350. The RX 450h L will be equipped with the same V6 engine paired with two electric drive motor-generators for a combined output of 308 horsepower. Both versions will be available with all-wheel drive.
Crossovers and sport utility vehicles were definitely the theme this year at the L.A. auto show, but I couldn't end this without some proper eye candy. Here's a look at some of the sexy and glamorous cars present at the show.