I always find it interesting that when I'm asked advice on a new car purchase (or used for that matter), and I'm given criteria that pertain to longevity, winter capabilities, amenities, and bang for your buck, I'm still met with shock when I mention Subaru as more than a viable option. It was never a first option, rarely a top three possibility, and sometimes had been ruled out entirely over the assumption that Subarus are too expensive and there aren't enough options or models available.
Well, that's changed drastically over the past decade or more since I've been doing this gig and offering my expertise in the realm of car buying. In that time, Subaru has seen some excellent growth, including that last five straight years of increased sales. One third of all Subaru owners are return customers, while an equally impressive 4% are first-time Subaru buyers.
For a brand so dedicated to exemplifying their core brand pillars of performance, durability, safety, and an adventurous active lifestyle, each new vehicle launch is an opportunity to prove, once again, why Subaru is indeed a top choice for new-car buyers and well worth the return purchase for those already in the Subie family.
And as we were introduced to the all-new 2018 Subaru Legacy and Subaru Outback, those brand pillars stood tall and strong, and it was made clear once again why this brand continues to do as well as it has, growing well past the niche market it cornered just a few short years ago.
2018 Subaru Legacy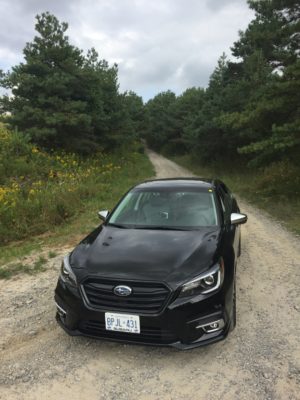 Approaching the all-new 2018 Subaru Legacy head-on is the very best angle, in my opinion. With a new front fascia that features an updated and much more sophisticated and mature front grille coupled with LED daytime running lights (on all models across the lineup), the 2018 Legacy is a looker. And while Subarus are not often known for their sleek design cues, the subtle changes made to the exterior of the Legacy are enough to make you look twice, and admit that this really is one handsome looking sedan.
Being their flagship sedan, the Legacy kind of has to wear the big-kid pants (in comparison with the young brother Impreza and rebellious WRX and STI twins), and it wears them well. With ample space up front, in the back seat and in the trunk, the Legacy is as comfortable cruising on the highway as it is kicking it up a notch on the track. Trust me, we did both.
Currently in its 6th generation, the Legacy has seen some serious changes over the years, and yet in Canada 98% of all Legacys sold in the past 10 years are still on the road. That's saying something for the brand, and the longevity of their product.
And with added features such as all 4-cylinder models now featuring Subaru's PZEV system for fuel efficiency and lower emissions, as well as Apple CarPlay now standard across all models, it's almost forgivable that they've ditched the manual transmission option. Almost forgivable.
Driving the 2018 Subaru Legacy on both winding country roads and on the Canadian Tire Motorsport Track (in both wet and dry conditions) proved just how capable these sedans are. Not only does the Legacy feel solid on the road in a straight line, eating up imperfections in the road and offering a comfortable, quiet ride; but the roomy sedan is also responsive on the track.
Both engines are lovely to pilot, with the 3.6L offering a bit more grunt than the 2.5L, but both responding in typical Subaru fashion with quick throttle response and my all time favourite CVT on the market (yes, you read that correctly, I actually LIKE the Subaru CVT, and I like it a lot).
While there were 12 variations of the Legacy available with the previous generation, Subaru has narrowed that down to 6 this time around, making it much easier to choose from their lineup of highly capable and well-equipped sedans.
2018 Subaru Outback
From the flagship sedan, I hopped into the mid-cycle refresh of the 2018 Subaru Outback; their non-SUV SUV. That's right, Subaru likes to promote the Outback as the SUV alternative for those who need the capability and features of an SUV, but don't really need nor want something as large.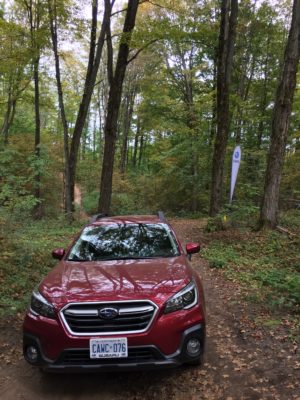 Enter the Outback.
And it truly is car and SUV molded into one. With a ride height that ensures it's perfect for those off-road moments on long weekend country drives, but with a cabin and seating area that feels more like a wagon, and a steering and throttle response that reacts like a car, the Outback might be the perfect combination of everything you'd ever want in vehicle.
Again, Subaru opted to ditch the manual version of the Outback going forward with this generation, and this makes me a little sad if I'm honest. While I understand the sales aren't there, the idea of driving a manual Outback brought a smile to my face. However, as noted above, the CVTs available across the Outback lineup are a pleasure to drive and really do suit the 2.5L and 3.6L engines available.
Taking the Outback off the beaten track, we got to put it through its paces through "elephant tracks" (deep ruts that alternate and proved just how solid and rigid the body and chassis of the new Subarus really are), along with steep muddy declines and inclines that showed off the prowess of the symmetrical AWD and hill-decent control perfectly.
While not as at-home on the track as the Legacy (and definitely not as at home as the STI I also had the chance to take out …), the Outback held its own better than I thought it would. Sure, it's a bit back-heavy and wanted to get a bit squirrelly in the tighter corners, but I never felt like the Outback was going to lose its footing, and that's 100% due to the fantastic all-wheel drive system and torque-vectoring Subaru's put in place to keep you pointed in the right direction in all conditions and on any surface.
A Subaru For All
Subaru's got a helluva lineup at the moment, and it seems to only be getting better. Their interiors are improving immensely with better grade materials, softer surfaces, more features, and overall comfort. Each generation that's released also matures in terms of exterior design, and the new 2018 Legacy is proof of that with its handsome, sophisticated front fascia. And having been a long-time Subaru owner myself in the past, I can tell you that anyone who buys a Subaru for the first time and experiences their first winter with the car; well, they'll be sold on the brand for life.
Related links:
Subaru Canada