It must have been an interesting quandary faced by Nissan Canada in the back boardrooms of head office as they carefully weighed the options for naming their newest crossover utility vehicle. The name Qashqai is well-recognized in Europe as the model has been in production since 2006 and sales have been strong. It would seem sensible to continue marketing a worldwide brand name.
The United States, however, has decided to use the nameplate Rogue Sport instead, building on the recent success of the Nissan Rogue CUV. Not to mention, the challenge for many in saying the name correctly, not Cash Cow as some would joke. In the end, Canada is sticking with the European name and however you decide to say it; "Qash" is pronounced "Kash" and "qai" is pronounced "keye", the newest small-midsize crossover to hit the market has an excellent chance for success.
My first drive of the 2017 Nissan Qashqai takes place in Montreal, Quebec and the surrounding countryside just north of the U.S. border. We were close enough to tease our American neighbours with a nameplate they may never see. Oh Canada Eh! City streets and farmland offered a wide range of driving opportunities, and the Qashqai proved itself worthy of the challenge.
Power for the SV model I am driving comes in the form of a 2.0L 4-cylinder gasoline engine matched to a very smooth, and I am pleased to say, non-elastic feeling CVT transmission. My distaste for many CVT's is slowly fading as the technology improves and Nissan has obviously invested well as the results show.
Highlighting 141 horsepower at 6,000 rpm and 147 lb-ft of torque at 4,400 rpm, the Qashqai is an urban transporter you can enjoy. Highway cruising at speed is equally easy. Where it gets a little challenging is passing on the two-lane roads outside of Montreal; planning ahead is a good idea as the Qashqai labours a little under the stress of passing from speeds of 80-100 km/h. The upside is practical fuel economy; numbers for the midrange SV model are stated as 7.3 L/100 km highway and 8.8 L/100 km city.
Three models are available in the Qashqai line-up; S, SV and SL. Front-wheel drive is standard on the S and SL, while intelligent all-wheel is available on both and standard on the SL. A unique feature in this segment of the market is the standard 6-speed manual transmission in the base S. This also allows for a starting price under $20K, a very reasonable $19,998 CDN.
Stopping is progressive and never nerve-wracking as Nissan equips Qashqai with 4-wheel disc brakes, 4-wheel ABS, EBD, brake assist, Intelligent Trace Control and Active Ride Control. Intelligent Engine Braking is also standard on all but the base S. Electric power steering with Sport Mode feels good, dare I say sporty, in my hands. It helps that Nissan arms Qashqai with a very comfortable, flat-bottom 3-spoke steering wheel for a commanding on-road performance.
Exterior dimensions are smaller and lower than the Nissan Rogue. Hard numbers highlight the Qashqai has a lower center of gravity (-13 mm vs Rogue) and a shorter wheelbase for reduced yaw inertia (-8.5% vs Rogue). Think of it as a lightweight fighter compared to the middleweight Rogue.
Where the Qashqai loses a little in overall dimensions and bulk, it surprisingly makes no sacrifice in rear seat legroom or head height and, in my opinion, makes significant gains in the looks department. That is not to say the Rogue looks unattractive, on the contrary, it looks great driving on the road or at a standstill. But Qashqai is like the younger family member who steps out from the shadow of its older, attractive sibling, causing everyone in the room to stand up and take notice.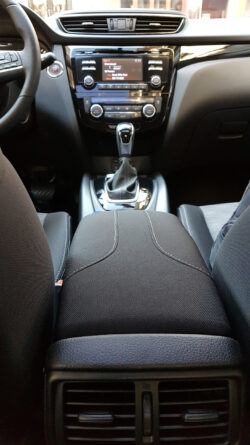 Inside, there is as much Nissan Maxima as there is Rogue in the areas of layout, features, elegance and soft-touch materials. This is an exceptional driver and passenger compartment and a genuine surprise, especially when you consider the under $20K starting price. It is superior to the Mazda CX-3 in my opinion, with a useable backseat for adults, something no other vehicle in this class can boast.
Front seats offer good support, though I was a little tired after 5 hours on the road; back support being reasonable; about but what you can expect in this price range. My SV test vehicle featured power switches for all the important functions, large white on black round dials, a Nissan staple, a leather-wrapped steering wheel with a fully array of controls, heated seats, large cupholders and an easy-to-use audio system. I was surprised our test vehicle wasn't equipped with Navigation, but then most automakers are taking the road less travelled and leaving the directions up to Apple CarPlay or Android Auto.
Rear storage space is up for almost anything, with a nice flat-folding floor and 60/40 rear split seats. Taken as a whole, the new Qashqai sets the benchmark for others to follow in the hotly contested small CUV market. Yes it is that good!
As previously mentioned, pricing starts at $19,998 for the manual transmission, front-wheel drive S, $24,598 for the SV FWD and $29,498 for the SV AWD. Additional models and available options fall in between with the line-up topping out at $32,198 for the SL Platinum.
Old Montreal and the countryside of Quebec provided a good proving ground for the 2017 Nissan Qashqai. This is the hottest segment in car buying at the moment and Nissan is ready for the challenge. Whatever name you choose to call it in North America, it seems a solid performer on the European continent is poised for similar success on this side of the pond.
2017 Nissan Qashqai
Trim level: SV AWD
Base Price: $26,796.00
Freight: $1,750.00
Configuration: front-engine, all-wheel drive
Engine/transmission: 2.0L 4-cylinder/ CVT
Power/torque: 141 hp/ 147 lb-ft
Fuel economy ratings (L/100 km): 7.3 hwy/8.8 city
Competitors: Honda HR-V, Mazda CX-3, Toyota CH-R
Related links:
Nissan Canada