MINI racers (the car, that is) will be happy to learn they're still on track for contingency awards from MINI Canada.
The company has just announced it is continuing its support for the Canadian Touring Car Championship (CTCC), giving MINI drivers in the series the chance of being rewarded for their commitment to domestic motorsports.
MINI Canada will pay contingency awards for first, second and third-place finishes in Touring and Super Touring class races as well as championship titles.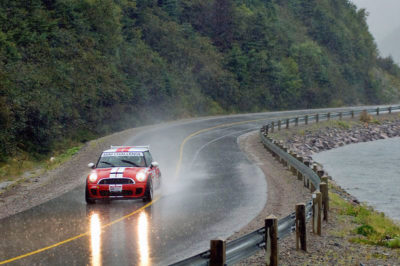 From 2009 to 2017, a MINI driver has celebrated a first or second place finish in the CTCC Touring class. In 2017, Canadian Michel Sallenbach won his third Touring class championship title in the past four year and has finished on the podium every year since 2011.
For the five-day, 1,500-km Targa Newfoundland race, MINI Canada will have a contingency payout for first place finishes in the Open, Targa, and Grand Touring classes. MINI is hoping for a championship for the fourth year in a row in the Grand Touring class. In 2017, MINI GP drivers John Hume and Christina Kroner captured first place, while teammates Craig MacMullen and David Jenkins took home second in their MINI Countryman.
"MINI is excited about our commitment to domestic motorsports in Canada," says Andrew Scott, director, MINI Canada. "With four MINI models available as a John Cooper Works including the iconic 3 door and all-wheel drive Countryman and Clubman, MINI racetrack ready performance has never been more available to Canadians who love fast cars; on the track or off of it."
In the Super Touring and Touring Class, the cash payout is $1,000 for first, $750 for second and $500 for third. The championship reward is $5,000.
The contingency payout structure for the 2018 Targa Newfoundland competition is $3,000 for first place in each of the three classes.
For more information on the program, including terms and conditions along with the submission application form, contact MINIMotorsport@MINI.ca.
Related links:
MINI Canada