While COVID-19 may have forced the cancellation of the annual Moab Easter Jeep Safari, Jeep isn't letting that stop them from showing off a little of the hardware that was supposed to debut there. Every year, the Safari is a great opportunity for Jeep to showcase a cocktail of the wildest Jeep concepts it can come up with and it typically makes for some great Easter viewing fare.
For now, we'll have to be satisfied with this: the Jeep Gladiator Farout Concept.
Building on 2019's Wayout Concept, the Farout combines the diesel power newly found in the Gladiator's Wrangler sibling and various overlanding features to help the Farout strike a chord with fans of the ever-growing overlanding hobby.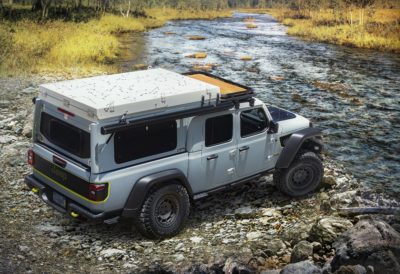 Indeed, while the Farout is just a concept, the 260 hp, 442 lb-ft EcoDiesel V6 found under its classically squared-off hood will be available in the Jeep Gladiator for 2021 across the entire range – Sport, Overland and Rubicon.
The main feature of the Farout's overlanding-conversion is a custom roof tent. Measuring 16 feet long and standing 7.5 feet tall, it sleeps four and can allegedly expand or retract in mere seconds. Ahead of the tent, meanwhile, sits an integrated roof rack system.
Inside, wood trim, ambient lighting, fridge, stove, built-in seating and table space, storage and smoke blue leather plus flannel seat inserts are on-hand to reduce the coldness, Jeep says, of your typical overlanding vehicle.
Of course, overlanding is about more than just providing a cozy environs for overlanders; an overlanding vehicle needs to be capable as well. In that light, Jeep has lifted the Farout two inches over the standard Rubicon, given it 37" tires, a 12,000 lb. Warn winch and special steel bumper. There are also custom front and rear rock rails and Fox shocks.
Put simply: all of that, combined with the special Earl body colouring with chartreuse accents (yes; "Earl" and "chartreuse". We are as baffled as you are) makes the Farout look the business of being an unstoppable overlanding adventure tool that will look at home on desert sand dunes as well as narrow, rocky forest trails.
Don't get your hopes up for a production model, though; Moab concepts tend to never make it past the concept stage. For now, just enjoy the Farout in all its chartreuse glory with these images.