The Bugatti Chiron is famed for its full embrace of extremes. Its quad-turbo, 8-litre, 16-cylinder engine develops 1,500 horsepower and 1,180 lb-ft of torque. Top speed is just shy of 500 km/h and it retails (or at least starts at) $4.7 million. So it only makes sense that a timepiece inspired by and named after the Chiron should be just as bonkers.
The creation of famed New York based timekeeping boundary-pusher, Jacob & Co, their newly released Bugatti Chiron Tourbillon not only goes to similar extremes as its namesake, it pushes things even further.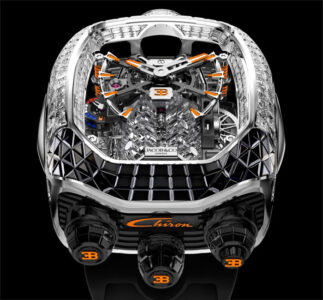 Your eyes are not deceiving you. Yes, that is a miniature W16 engine on full display within the 55mm x 44mm 18k, white gold, tonneau case. And it actually works, too. At the press of the right crown's button the nano-sized, solid steel crankshaft spins and sixteen connected pistons begin their dance. Of course there are turbos, too. Peek through the sightglass on the right side of the Chiron Tourbillon and a pair of impellers whir away for your amusement. The show lasts only twenty seconds before this feature of the watch needs refueling (via manual wind), so it's about as efficient as the big Bug too.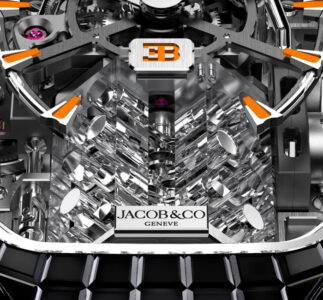 Thankfully, the JCAM37 movement that powers the timekeeping functionality of this timepiece lasts much longer. The 578-piece manual winding calibre boasts a 60-hour power reserve, which you can check the status of via the "fuel gauge" flanking the 8 o'clock marker. A flying tourbillon, set at a 30-degree angle, is positioned at 12 o'clock and can be viewed through the sapphire crystal topping the tonneau case. All of the mechanicals are intricately suspended via four (functional) shock absorbers.
If that weren't enough, Jacob & Co have also added enough bling to make Lil' Wayne blush. Surrounding the mechanicals lie some 7.76ct worth of baguette white diamonds (190), 5.68ct of baguette black sapphires (109) and 2ct worth of orange baguette sapphires (42) that were all set using a proprietary method. The crowns and pushers at the base of the watch were also set with an additional 60 black sapphires, just for good measure. The cost for all of this opulence and engineering excellence? $560,000 (USD).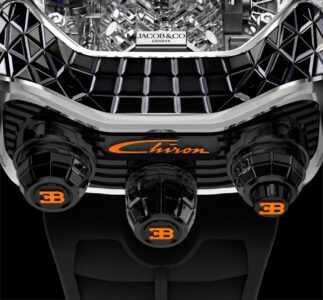 Say what you will about the excessive aesthetics of this timepiece or the practicality of having over a half-mil swing around freely on your left wrist, it's hard to not be gobsmacked by the mechanical intricacies going on here. The Chiron, both the watch and the car, are absolute marvels of what can be done in each of their disciplines.