Much like vehicle collecting, indulging in mechanical watches can be a confusing and intimidating endeavour. There is a lot to know and things can get pricey, fast. Do you want something hand wound or automatic? How many complications should this timepiece have? Does it need COSC certification? Do you care about branding? Plunking down upwards of four or five-figures will definitely score you a grail-worthy timepiece, but even then you're barely scratching the surface of haute horlogerie.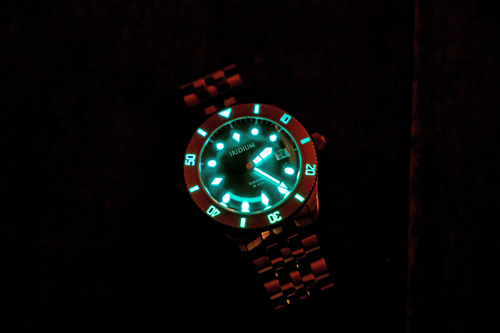 Thankfully, there exists a space in this world where premium fit, finish and performance can be found for relative bargains. This is the realm of boutique or micro brands. Tiny, independent and passionate craftspeople dedicated to creating desirable and collectible watches for reasonable money — many are available for well under a grand. Let's face it, at some point we all have to ask ourselves whether we really need that Porsche 718 Spyder to scratch our itch or if a MX-5 will deliver near-as-good experiences for a fraction of the investment.
Iridium Watches, an upstart brand based in Singapore is aiming to do just that. Their debut offering is a colourful, retro-styled dive watch called the Torpedo. Boasting an automatic movement, 300m water resistance, anti-scratch coating applied everywhere and selling on Kickstarter for a mere $399 (at launch), the Torpedo is certainly attainable, well spec'd and looks aesthetically desirable. But is it a watch that's actually worth your time? After a week on my wrist, here's what I can tell you…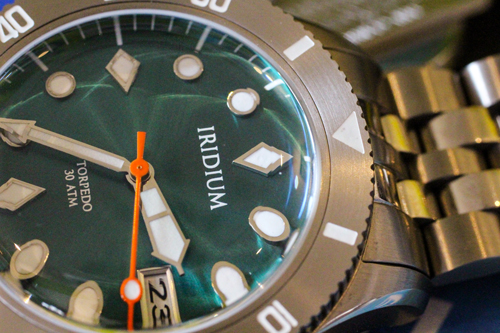 Movement
Whirring away inside the Iridium Torpedo is the Miyota Calibre 9015. Outfitted with twenty-four jewels and built by Citizen Watch in Japan, the calibre 9015 beats 28,800 per hour, employs Citizen's proprietary Parashock shock absorber and, along with having a date-wheel complication also employs a hacking seconds feature. This automatic movement is fairly ubiquitous in the micro brand world, thanks to its robust build quality, 42-hour power reserve, respectable accuracy (within -10 to +30 seconds per day) and low cost.
Case
The case of the Iridium Torpedo (as well as the bracelet) is stainless steel and has been treated to a scratch resistant coating. Finishing is quite nice, especially at this price point, with polished detailing on the downturned lugs and a decent effort to smooth out all of the potentially sharp edges. That anti-scratch coating also imparts a tinge of colour to the stainless steel, which adds some warmth and a vintage feel. Width is 42mm and lug-to-lug and length is around 50mm with 22mm between them. Thanks to its double-domed, sapphire crystal the Torpedo sits a bit proud at just over 13.5mm.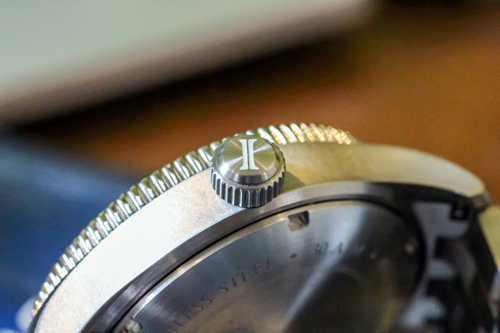 Dial / Bezel / Crown and Hands
The demo unit that I was sent featured a beautiful teal, sunburst dial. In certain light the green would really stand out and in others the watch appeared deep blue. It really is a refreshing colour to behold (especially this time of year) and the orange, sweeping seconds hand is well pronounced in the foreground. The minute and hour hands are thick, chunky and well-shaped for at-a-glance reading. A framed date-window appears at the 3 o' clock spot while 6, 9 and 12 receive diamond markers. All other hour indices are circular and everything has a generous coating of BGW9 Superluminova. That lume also appears on the 120-click diver's bezel and even on the screw-down crown, so there's no sneaking away under cover of night here.
Bracelet
The stainless steel bracelet is Iridium's take on the jubilee style that Rolex pioneered back in the mid-forties. The execution here trades elegance for beefiness, but I think it fits the nature of the Torpedo well. The bracelet link-pins are screwed, which is a nice touch and the end links fit flawlessly within the curved lugs. The production model of the Torpedo will ship with a ratcheting diver's clasp, which will be an improvement over the fold-over style I've been wearing — the diver extension this one has wouldn't allow for use of the micro-adjustment holes to get a proper fit.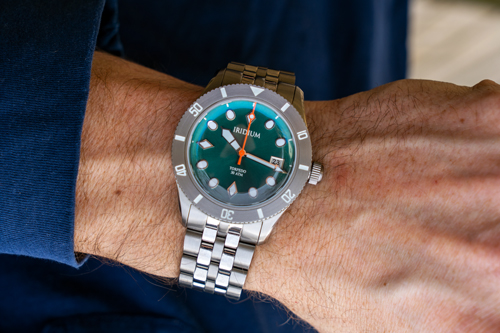 On The Wrist
Aside from fitting a little loose (because of the reason above) the Torpedo sat comfortably on my wrist. The overall case sizing is just about spot on with many of the timepieces in my collection and despite its weight (165g) it didn't feel clunky at all. My only real complaint about using the Torpedo was that the legibility suffered due to the double-domed crystal — its shape obscured the date window and made the minute markers all but useless. I'm guessing you can spot that yourselves in my photos. In speaking with the brand president, I was assured this had been cured for the production models and, judging from the imagery he shared, it would appear it has.
The Torpedo isn't going to slide beneath a cuffed and jacketed wrist without struggle but honestly, that shouldn't dissuade anyone. In casual dress the Torpedo packs presence without being shouty and delivers some impressive fit and finish as well as an admirable pop of colour.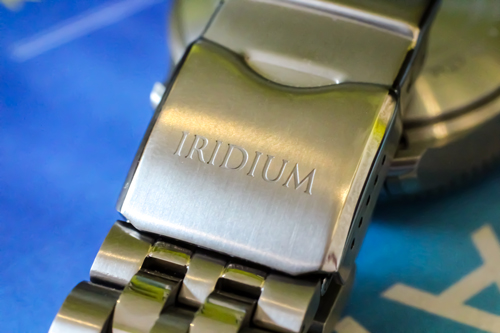 Conclusion
The Iridium Torpedo has a lot going for it. The dial is a work of art and with a 300m depth rating, sapphire crystal and Miyota movement, I know it will stand up to all sorts of abuse to protect both form and function. I like the fact that both the case and bracelet have been treated to the scratch resistant coating. It means the entire Torpedo should be able stay looking box-fresh long after other watches won't.
Really, the only knock the Torpedo can receive is the fact that it is but a single drop in a proverbial ocean of sub one-thousand dollar dive watches — micro brand or otherwise — that are on the market today.
In my eyes, it stands out thanks to the combination of Iridium's attention to detail and of course, their asking price. This one is definitely a bargain to brag about especially if you're looking for something a little less mainstream than a Seiko 5. Of course, like all of those Miata drivers out there, you just need to come to terms with whether you're buying a new wrist trinket for your own enjoyment or if it's to impress someone else.