It's interesting; a short time ago, Hyundai dropped the bomb that the "Ioniq" name was moving from the bumper of a pair of compact sedans to essentially sub-brand status at Hyundai, with promises of three EV models – the Ioniq 5, 6 and 7 – over the coming years. Then, the guns fell silent and not much was heard of Ioniq while we've heard plenty about the redesigned Kona EV, the diversification of the Santa Fe and Elantra line-ups, the all-new Tucson and the pending arrival of the Santa Cruz pickup.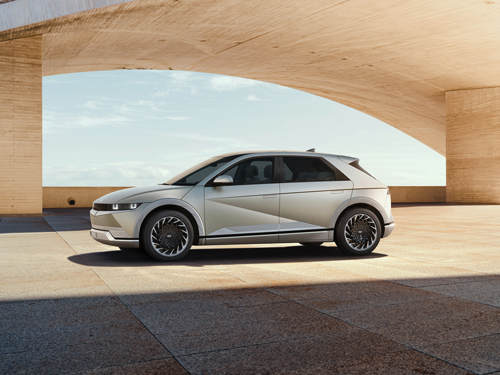 Well, it turns out Hyundai was just biding their time because  on February 23 at about 4 PM South Korean time (that's 2 AM EST/11 PM PST) they slid the sheet off of the first vehicle to come from the "new" Ioniq: the 5 mid-size CUV.
"I think the real reason behind (an Ioniq brand) is we want to have a brand that's known as strictly pure EV," said Don Romano, President and CEO of Hyundai Auto Canada. "I love electrification. It's a good medium step to eventually getting to all electric and I think that's where we have to get and if we have that vision, you want to have a brand that reflects that pure EV direction."
While it will be the most futuristic model in Hyundai's portfolio when it releases some time in the first half of the year, Hyundai has actually gone back – waaayyyy back – for some of the design inspiration, all the way to the cult-like Pony hatch which stands as the first-ever production Hyundai.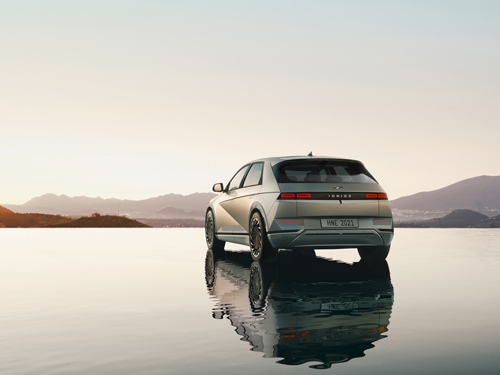 "Inspiration" is the key phrase here because they've really just turned to the Pony when it comes to the 5's profile – the Pony is a hatchback after all, as opposed to a Tucson-sized cute 'ute like the 5 — which gets the aggressively-slanting rear deck and long wheelbase the old car was known for.
After that, it's all future whizz-bangery, from the ultra-slim headlamps to the very cool turbine wheels and wild crease bisecting the whole side at a 45-degree angle. That "crease" effect is also reflected on the front an rear bumpers, where an ultrawide "V" shape at the top of each bumper gives the appearance that there's a crease running the length of the 5, back to front. It looks dyn-o-mite and it's all part of something Hyundai's calling "Parametric Dynamics" design – yeah, we don't really know what that means, either – and it will be the design language for the other Ioniq models down the line.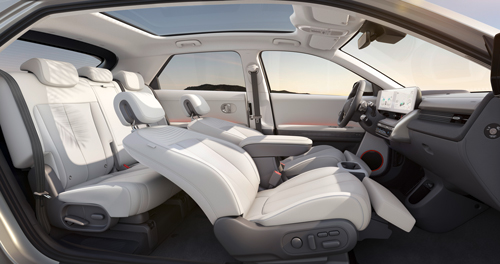 Inside, it comes as little surprise that the future is now, with dual LCD displays and an all-new interior ambiance that can be switched from soft, to exuberant, to delicate settings and more. Of course, with the lack of any form of driveline and the way the wheels are pushed all the way to the corners of the chassis, the interior appears to be a roomy, airy place to be and one that provides up to 1,600 litres of storage space if you fold the rear seats. The best way to really see just how open it is inside the 5 is if you look at the centre armrest. Rather than being part of an intrusive full-length center console, the it's essentially a freestanding item – dubbed "Universal Island" — right there in the middle of the cabin with an open storage bin below it and two cupholders. It can move fore and aft for even more ease of movement throughout the cabin. All of your interior adjustments, meanwhile – seat settings, climate settings, and so on – can be controlled via the Hyundai BlueLink app so you're ready to set off as soon as you strap on your seatbelt.
Other cool tech includes an augmented-reality heads-up display that will integrate your surroundings with the navigation instructions so you know precisely where to make that next left turn and so on. Automated driver aids include lane-change assist, junction assist (this can prevent you from advancing through a left turn if oncoming traffic is sensed), high-beam assist, speed limit assist and one of our personal favourites: a blind spot camera that turns your gauge cluster into a view of the blind spots either side of the vehicle.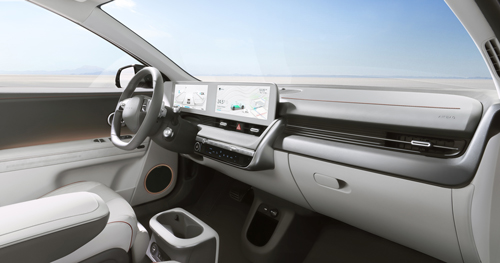 This really is a matter of taking a flat board, essentially, attaching four wheels and some suspension, and dropping a body on top. No muss, no fuss and it will serves as the underpinnings for the Ioniq 6 performance sedan and Ioniq 7 three-row SUV that Hyundai compares to the current Palisade.
At the outset, the 5 will be made available as a rear-wheel-drive (RWD) vehicle making 214 horsepower and 258 pound-feet of torque with the larger 77.4 kWh long range battery and 167 hp and 258 lb-ft with the smaller 58 kWh battery. An all-wheel-drive (AWD) version joins the fray later and it will be good for 301 hp and 446 lb-ft, with the standard-range version of the AWD 5 making 231 hp and 446 lb-ft. Range hasn't been fully vetted by the EPA yet, but expect it to get 450-plus kilometres of range. It should come as no surprise that the 5 will be fast-charge capable and able to go from 10 per cent to 80 per cent of charge after a paltry 18 minutes. That's faster than any EV available to date in Canada.
And all that's great. All of it. The Ioniq brand looks to be off to a raucous start here, but there seems to be a bit of a problem. If you listen to Hyundai, it's almost like they could release all of these now – if we were ready for it.
"We have lots of supply of EVs," says Steve Flamand, director of product and corporate strategy at Hyundai, "now we have to create the demand."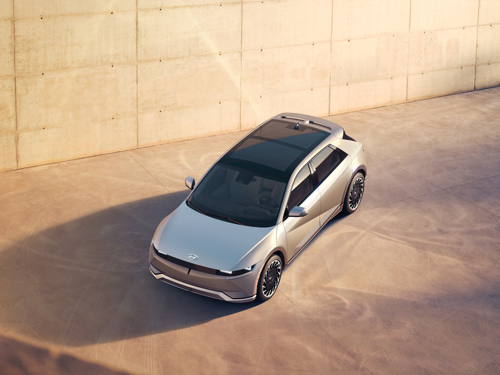 According to Romano, though, it goes a little deeper than that.
"The Hyundai organization has targeted EV sales of 1,000,000 by 2025 globally," he says. "For us to achieve that goal, it's not a matter of building (EVs). Right now we have service stations across North America that service combustion engines. We need that same level of footprint for EV charging across North America if we expect to really achieve these goals." The goals he's referring to? California being 100 per cent EV by 2030 and Quebec following suit in 2035. He thinks that while governments are quick to tell manufacturers to build more EVs, they're not being quick enough in telling the various energy-slash-fuel companies to build more charging stations.
"To be able to move all the combustion engine customers to EVs," he says, "we're going to have to increase the level of confidence they have in recharging." Indeed, the speed with which the 5 can be charged should be some real incentive for buyers, because if you pull up to a service station, plug-in, grab a snack and maybe go to the bathroom, there isn't all that much time left before you can set off again. Add that to the range that Hyundai is looking at for the 5, and you can see that while the company hasn't gone the route of others and announced a "fully-electrified line-up by" date, they are taking the move to EV very, very seriously. And that is going to be fun to watch.