There are times when you want the same thing as everyone else, and there are times when you might not. Buying an iPhone instead of another smartphone, for example, means having a wider range of accessories to choose from. And if your Toyota breaks down in some remote location, you'll stand a better chance of finding spare parts than if you were driving, say, a Bimmer or a Jag. But what if you're spending six figures on a high-end, high-powered luxury performance sedan?
Then the Mercedes-AMG S63 would be your most likely choice. It's one of the fastest, most powerful, most luxurious vehicles you can get with four doors and a proper trunk. It's the high-performance version of the S-Class that, regardless of specification, consistently outsells every other model in the segment, by a handsome margin, and not without good reason.
But if you're writing a check with that many zeroes, you'd be forgiven for wanting something a little… different. Something you're less likely to pass on the highway along your daily commute, or park next to at the country club. Fortunately, even with the imminent demise of the Jaguar XJR and Cadillac CT6-V, there are some rather compelling alternatives for those with both the means and the inclination to stand out rather than blend in. Here are three of our favorites.
2020 BMW Alpina B7
$159,750.00 (base MSRP)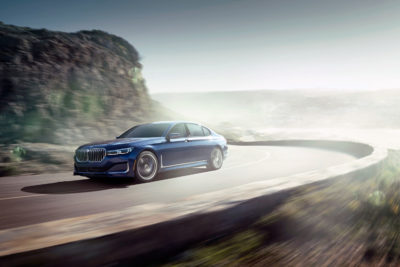 Any time you're cross-shopping a Benz, BMW is bound to be your first call. And to the AMG S63, Munich's flagship 7 Series offers not one, but two alternatives. The M760Li xDrive would seem the most obvious choice, its 6.6-liter twin-turbo V12 good for 601 horsepower and 590 lb-ft of torque. But for our money, we'd go with the Alpina B7.
Its 4.4-liter twin-turbo V8 is smaller, but produces just as much torque and seven more horsepower, sent to all four wheels through an eight-speed automatic – just like the M760Li. But that lighter engine unburdens the B7 of more than a hundred kilos, helping it rocket to 100 km/h a tenth quicker at 3.6 seconds, and with less weight in the nose, it'll inevitably be better balanced. And though they may not be prime considerations at this level, the Alpina is also a good ten grand cheaper, and returns better fuel economy, too.
2020 Audi S8
$151,600 (base MSRP)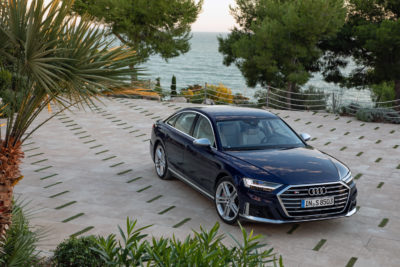 Fresh for the 2020 model year, the latest Audi S8 closely mirrors the specifications of its rivals: a full-size, long-wheelbase sedan with a 4.0-liter twin-turbo V8 mated to an eight-speed automatic and all-wheel drive. With 563 horsepower and 590 lb-ft of torque, it's relatively less potent than the Bimmers or the Benz – not to mention the previous, 605-horsepower S8 Plus – but it'll still reach 100 km/h from a standstill in an impressive 3.9 seconds.
Though visually more aggressive than the standard A8 on which it's based, it's nowhere near as flashy as some of its competitors (like the one with the Silver Star on its nose), making it a compelling choice for wealthy introverts. As the newest entry here, incorporating the very cutting edge in on-board electronics, it's bound to appeal to the tech-savvy as well. And with a 48-volt mild-hybrid assist, it's the only electrified model in this particular class.
2020 Maserati Quattroporte GTS
$161,500 (base MSRP)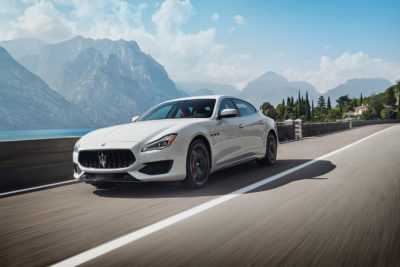 If the Germans that dominate this segment seem too clinical for your taste, look no further than the Maserati Quattroporte – the "exotic" among full-size luxury sedans. The Quattroporte S Q4 that serves as the base model in Canada packs a 3.0-liter twin-turbo V6 and all-wheel drive. But those more concerned with performance than all-weather traction will want to step up to the Quattroporte GTS, boasting a 3.8-liter twin-turbo V8, developed by Ferrari and sending 523 horsepower and 524 lb-ft of torque through the requisite eight-speed automatic transmission to the rear wheels alone.
It takes a relatively sedate 4.7 seconds to reach highway speed, but whether in GranSport or GranLusso trim, it positively oozes with Italian style that its rivals just can't match. If only they'd give it the engine it deserves: the same powerplant in the Levante crossover offers 542 or even 582 horsepower, and anywhere from 592 to 769 prancing horses in Ferrari's own two-door supercars.
In this company, after all, you can't be too big, too luxurious, too expensive, or too powerful.