Like the Tooth Fairy and Lloyd the bartender, the "sexy minivan" doesn't exist. It is a figment, plain and simple. Despite automakers' best efforts to gussy up these familial team busses, the fact that they occupy the realm of child servitude — a domain of lost Cheerios and found, forgotten sticky goos — keeps them far too planted in suburban utility for widespread desirability.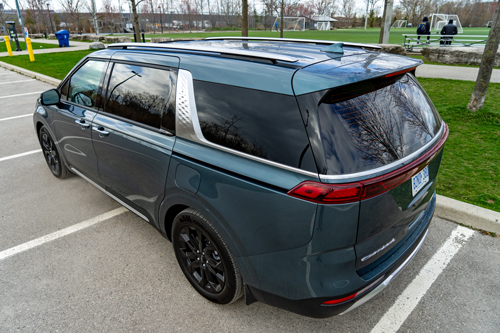 This is why Kia has gone in a boxy and luxurious new direction with the 2022 Kia Carnival. The Carnival promises all of the functionality of their retired Sedona minivan — seven and eight passenger seating, dual sliding rear doors and room to stow gear — without the "time to admit you've given up" egg-shaped styling. In fact, to further distance the Carnival from associations with that irksome "M" word Kia has also used the Carnival to coin the phrase "Life Utility Vehicle" (LUV).
Like this content? Subscribe here to get it delivered directly to you.
Is this rebranding and reboxing of the oft-stigmatized soccer-team shuttle enough to lure customers away from Dodge's perennial best seller or is the Carnival just an "odd Flex" destined for discontinuation?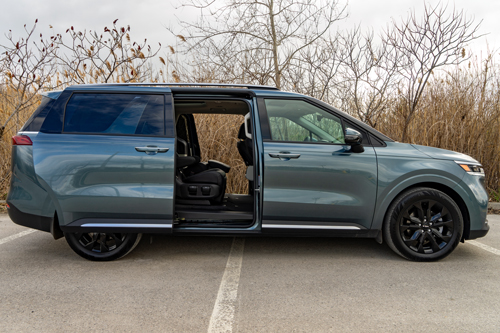 Exterior: From a styling standpoint, Kia has shaped an arguably handsome automobile. Sure, it apes the shape initially proffered by Ford's Flex but Kia's execution is, in my eyes, both more elegant and refined. The textured and brushed C-pillar accent tastefully breaks up what could have been a giant slab of van, while it's full embrace of a rounded box is commendable.
There is a clear visual link to Kia's Telluride and Sorento SUV's as the fenders, hood and surfacing profiles are a match. This should come as no surprise as SUV's and CUV's are the bestselling things out there right now, so disguising (and rebranding) your lower riding family hauler to mimic their more adventurous traits certainly helps. The redesigned, pixelated waterfall grill (familiar to the one adorning Hyundai's upcoming Santa Cruz) provides an interesting textured finish that, again, I find works in the Carnival's favour.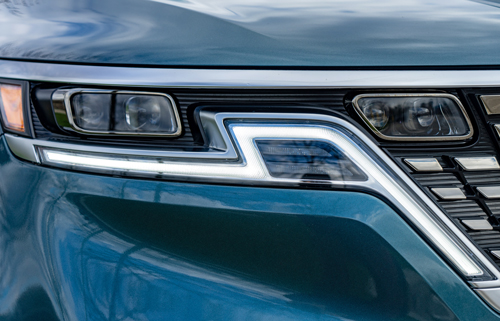 One of the more interesting design cues up front is that the headlights, positioned at the outer edges, aren't equipped with high beams. Those tiny rectangles weren't big enough to house everything, so the brights are actually integrated into that grill. The Carnival is also the first Kia to wear the automakers all-new badge, which sits proudly atop the creased hood (which looks like a capitol "K" sitting beside a faux Cyrillic "И"),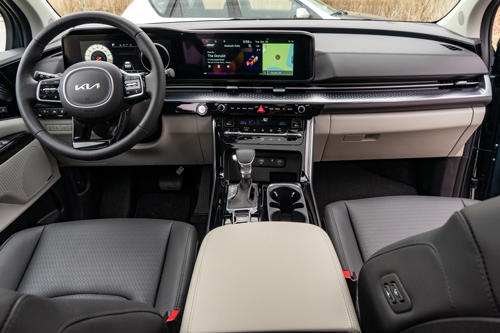 Interior: Many of the exterior design cues are carried over into the Carnival's spacious and luxurious interior. The overall design is clean, minimalist and modern. The dash is bisected by a textured trim piece that echoes the one on the C-pillar. This is a nice touch and, much like everything else in here, both looks and feels of premium materials. The piano black accents, as always, are nice when they're clean but never stay that way, so enjoy them on that first drive home.
The upper portion of the dash consists of a sweeping collection of dual 12.3" displays that make up the instrument cluster as well as the infotainment system. I found that the steering wheel, when adjusted to my preferred position, fought for space with the gauges which was a touch annoying. It meant I had to adopt more of a bus-driver's upright wheel position to be able to see speed, rpm's and to take advantage of the sideview cameras that are activated with a flick of the signal stalk.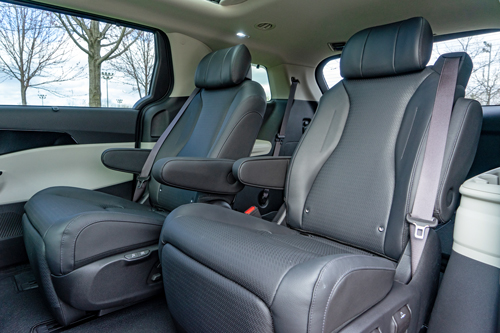 Seating was all-day comfortable up front, with both heating and cooling as an option but in this SX trimmed version the real attention getters are those in the middle row. Dubbed VIP Lounge Captain Seats, these powered, heated and cooled cradles not only fully recline but also have a powered footrest that pops up with the long-press of a button. They are a ridiculous indulgence that will spoil every child that gets the chance to use them. For the adults out there, know that there is also a fully functional, second row moonroof that, with those seats, makes an evening under the stars a thing you can now do in a minivan. Rest assured if you're not taking advantage of this, any teenagers with access to the keys probably will.
Those VIP seats do come at a cost though as interior cargo space is reduced — these won't stow away — and it does make access to the bleachers a more tedious affair (there is no fast-access handle to mechanically fold the seat forward for entry).
Behind the third row, there is a spacious cargo well and, if needed, those seats will stow within it to deliver a decently sized, flat-floored area for up to 1,139l of stuff.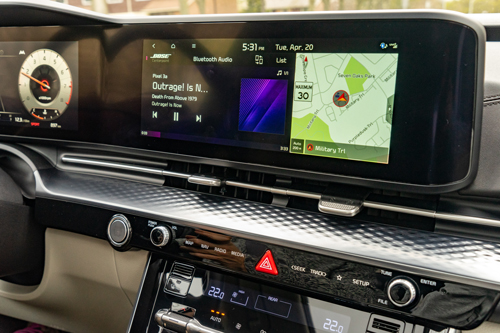 Infotainment: Keeping multiple types of multiple people entertained is one of the more important aspects of minivan life. To that effect, the Carnival SX is well equipped. The 12.3" Supervision TFT monitor provides fairly intuitive control over everything from the media being played to activating the rear seat camera and intercom system, to keep eyes on your more precious cargo. Everything can be controlled via the TFT screen, capacitive buttons below it or via the steering wheel mounted switchgear.
Rear seat passengers can control their HVAC settings and hijack the media too. Also, they can tap a button overhead to use the voice control option to tackle adjustments, just like the driver can. While my tester did not include the rear seat (mid-row) entertainment option I do know that the US version of the Carnival SX Prestige can be so equipped already and it will find its way to Canadian dealers in the near future.
Apple CarPlay and AndroidAuto are both standard features but neither work wirelessly. Worry not as there are 9 USB ports for connectivity, although having to plug in does make the wireless charging area a bit redundant.
Powertrain: The Kia Carnival comes equipped with a 290 horsepower, 3.5L V6 engine, regardless of trim level. Mated to the 8-speed automatic transmission, 262 lb-ft of torque are available at 5,000 rpm, so you can happily chirp the front tires from a stop light and cruise up to 100 km/h in about 7 seconds.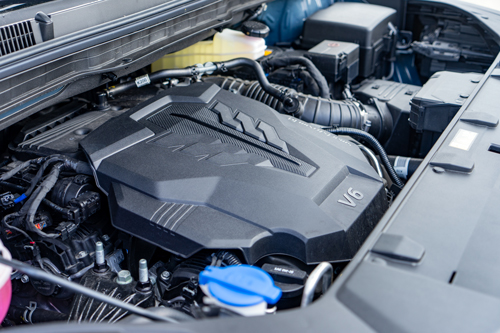 There are multiple drive modes (including Sport, Eco, Smart and Regular) that modify things slightly but regardless of choice, power delivery is ample for day to day driving and the Carnival can easily out hustle an 18-wheeler at highway speeds. Kia indicates that the Carnival can tow up to 1,587.5 kg of toys too.
There is presently no all-wheel-drive option for the Carnival. Some may see this as an oversight, especially in the Canadian market, but only the Chrysler Pacifica and Toyota Sienna currently have it as an option, so it's not an industry standard.
Drive: The Carnival is compliantly sprung and handled both urban and suburban conditions with grace and ease. Despite the inclusion of a Sport mode, you will never forget that you're driving a minivan here but I'd wager this is a case where that's a good thing as it is designed with passenger safety and comfort in mind. I did notice and appreciate that, despite the comfort-mode engineering, there was less body roll than is offered by most SUV/CUVs.
Steering is well weighted and communicative, although I'd prefer the wheel were mounted in a more linear position. Pedal feel from the brakes was confident and even in a last-gasp of winter, I never felt ABS (or traction control) kick in.
It should be noted that the Carnival SX was equipped with all of the e-nannies to make sure I didn't deviate from my lane, pull out in front of others, tailgate or even speed without some form of audible warning. I like the use of the side view cameras during lane changes but again, the dash to wheel angle meant I had to deke my head to get a proper view. No matter as the visibility from the driver's seat is actually really good.
Conclusions:
True story: aside from the Porsche 718 Spyder and Lamborghini Huracan I drove last year, the Kia Carnival is the only press vehicle I've had that someone wanted to photograph. That struck me as being a little weird too but I'll admit to giving the Carnival the old "look back" every time I parked it. It is a handsome vehicle, no ifs ands or buts.
I don't have any kids nor do I have any plans for some in the future, so #minivanlife doesn't register with me. Regardless, I found the Carnival to be an excellent ride. It's neither dripping with opulence nor over compensation. The Carnival knows what it is and presents that confidently, both when parked and on the road. And while I'd never say or write that the Carnival is a sexy minivan, it certainly has an air of desirability about it that others lack.
Link: Kia Canada
2022 Kia Carnival SX
Price: $34,495.00+ ($50,534.00 as tested)
Freight: $1,850.00
Configuration: front engine, front wheel drive
Engine: 3.5L 6-cylinder
Transmission: 8-spd automatic
Power/torque: 290 hp/262 lb-ft
Fuel economy ratings: 12 L/100 km city, 8.9 L/100 km highway
Warranties: 5 years/100,000 km
Competitors: Chrysler Pacifica, Dodge Grand Caravan, Honda Odyssey, Toyota Sienna