By John Walker
Reprinted from Vicarious magazine issue #6
Like most automobile enthusiasts, it all began back when we were kids growing up in the peak of the baby boom car culture. The 50's and 60's gave birth to some of the most iconic brands and designs that in the day were symbols of the dawn of a new age. Just go on any collector car website or go to a high-end vintage auto auction and see everyday cars of this time going for astronomical prices. Classic well maintained original survivor cars have been run into the ground or wrecked on the road or the racetrack and are few and far between.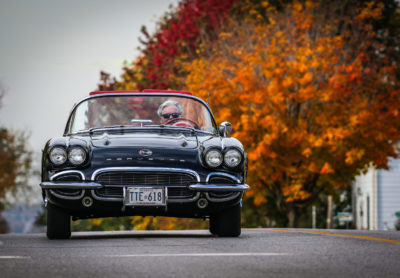 Phil Meagher's numbers matching, Tuxedo Black, Roman Red, 327 cubic inch, 340 horsepower, 4-speed manual 1962 Corvette is a perfect example of this.
Phil's love for cars began at a very young age studying and spotting every make and model of every car that passed by in his North Toronto neighborhood. Growing up, Phil had a local gas station where mechanics had a few Corvettes in the lot and under restoration in the garage; his love affair was in full gear!
As a teenager Phil enrolled in a basic automotive course and modified and fixed his buddies cars after school. His first car was a Fiat 850 that did not last long and died abruptly soon afterward. He moved to a North American brand with a stylish '72 Monte Carlo that was a good car; easy to work on and served him well for the next few years. In 1982 Phil wanted a state-of-the-art import so he purchased a Mazda 626, a car slightly ahead of its time.
As luck would have it, Phil won a 1982 Ferrari 308 GTSi in the Royal Winter Fair Lottery. He kept the exotic for about a year but found it a challenge to afford and maintain. He sold it to a local collector and during the transaction the black 62 Vette appeared and became a part of the negotiation. Phil has owned this matching numbers Canadian ever since, making it a survivor that has been lovingly maintained and restored. He has kept it in original condition 55 years later. Phil has owned a few other Corvettes over the years but only held on to this soft and hard top beauty and loves to get the V8 out on the open road to stretch its legs before putting it away for the winter.
So what better thing to do on a 20° C fall Saturday than meet up just North East of Toronto in Brooklin Ontario with cameras in hand and go on a little road trip through Southern Ontario to check out the fall colours…topless of course.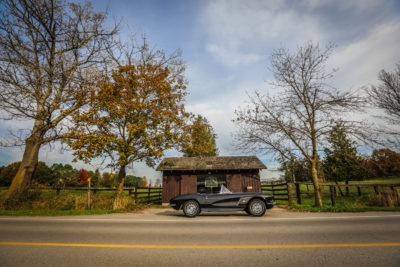 First stop as we head out across Concession 7 is the McLaughlin Carriage Factory Heritage site in North Oshawa, the birthplace of General Motors in Ontario. It's a quaint little building at the side of the road which you could easily drive by without a second thought if not for the Historic signage and sample carriages of the day. Next stop is at Tyrone Mills for coffee and a butter tart. This historic location has been a gristmill, blacksmith shop, lumber mill, apple cider producer, bakery and now a rural historic community centre all over the past 168 years.
With Halloween just around the corner, we couldn't resist a pumpkin shot with the '62 Vette. This car draws a crowd wherever it goes with its good looks and that unmistakable V8 dual exhaust note rumble.
The Ontario fall colors are not on full display as of yet, but we manage to find some patches of orange and red with some great light in the town of Tyrone near the vintage General Store and the Blacksmith shop. The owners of the Blacksmith shop ask us in and let us use their wonderful Heritage building as a backdrop.
Since we are so close, we have to drop in on Canadian Tire Motorsport Park to see what is going on and visit the Ron Fellows Driving Experience to compare the 62', last of the C1's, with the current fleet of Corvette C7 Sting Rays. Amazing how this iconic Chevrolet brand has evolved over 50 plus years.
Leaving the park and all its history behind, we make our way east to the Kawartha Lake region looking for that perfect multi-coloured backdrop. Late fall is prime for this part of Ontario cottage country to be at full strength, but we do find a few pockets on our journey that make it a drive to remember.
The '62 Corvette gobbles up the asphalt like a ravenous beast. The V8's dual exhaust babbling through 40 km/h small towns and then explodes out on to the open 100 km/h county highways wishing it had another gear or two.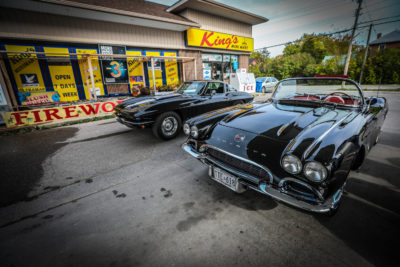 Having the top down makes this experience special and every one of your senses come alive. After an hour or two circling Buckhorn Lake Region; the '62 was built before GPS, we make it to our destination of Bobcaygeon, 'The Hub of the Kawarthas' made famous by the Canadian band the Tragically Hip and the late great singer songwriter Gord Downie.
"…When I left your house this morning it was a little after nine. It was in Bobcaygeon, I saw the constellations reveal themselves one star at a time…" The Tragically Hip 1998
We roll into town and as luck would have it meet up at a gas bar fireworks outlet with another classic Corvette owner. A beautiful 1965 Sting Ray in Tuxedo Black immaculately restored coupe with a 454 cubic inch L71 engine. Crazy car talk ensues, and we get an invite to the Bobcaygeon Antique, Classic and Custom car Show. Lunch is on the patio at the Waters Edge Café on Canal St overlooking the Trent system locks, with a few cruisers passing by before the system closes for the season.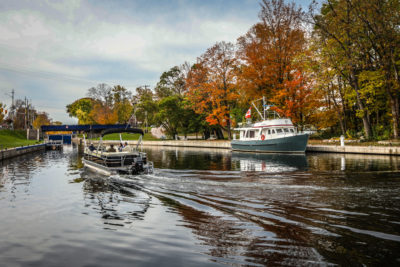 The 50-year-old Corvette is a treat. The ride is much better than I could have imagined and for sure the power is all there. The interior is perfect; great color combination, oversized steering wheel, roll up windows, dash mounted rear view mirror, floor mounted ashtray, aircraft seat belts and even reflectors in the doors for safety. This is no trailer queen; it is a driver and Phil makes sure it is driven to its limits. This open top roadster is noisy, turns heads and runs like a dream, the perfect classic car.
A great day on the road with two vintage guys and a classic car realizing that the best made plans are no plans at all.