You really do have to see it to believe it.
I'd driven at WeatherTech Raceway Laguna Seca before – but only once in the real world as the rest was all virtual, across an array of Gran Turismos and Forzas. The one time I had driven it for real, meanwhile, was at the helm of a high-riding crossover, so it's not quite the same thing, mainly because you can see so well out of it. What's unique about Laguna Seca, meanwhile, is what you can't see. More specifically, what's unique about Laguna Seca are turns 8 and 8A.
Allow me to explain.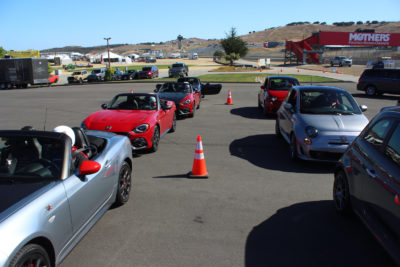 Those turns make up the Laguna Seca corkscrew, a thrill ride that drops you about 18 meters in the span of what seems like three seconds. Naturally, a drop that steep means you can't really see what you're getting into until you're literally on top of it. You know it's coming, but the scope is tough to fathom when you're at the helm of a low-slung sports car, such as the Fiat 124 Spider Abarth I was driving.
"That turn wouldn't even be legal by today's standards," says Terry Earwood, Chief Instructor at the Skip Barber Racing School, which was hosting us that day. "The elevation change is too great." He may be exaggerating a little but indeed, when you think of modern tracks (WeatherTech Raceway Laguna Seca is 62 years old), it's incredibly unique.
When you do eventually "stick the landing" as it were, though, it's a feeling like little else when it comes to driving a car. Which is why attending a course like any of the courses Skip Barber offers is such a great experience. When else are you going to be able to experience – actually­ experience a track like this? Sure, many offer track days but they won't be including in-class briefings or radios to help keep you in-line.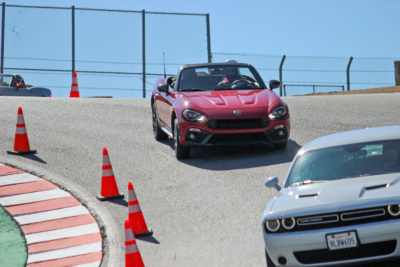 We participated in a modified version of their "intro to racing" program, as it's the first level Skip Barber offers when it comes to on-track stuff; they also offer a class that's more about real-world stuff such as panic braking and crash avoidance manoeuvres.
Our school was much more about working with the car to get you down the track as quickly as possible; weight transfer, trail braking, understeer, oversteer – it's all here, and it's all included in Earwood's in-class presentation (delivered in a delightful Floridian drawl, often at 2x speed) before we hit the track.
Once on the track, we were put in a lead-follow scenario where a Skip Barber instructor led five us on the track, and we metered our speed based on what they were doing. We started out slow; probably four- or five tenths but such is the gradient of the lesson that before I knew, I found myself having to work harder, harder and harder still to keep on my instructor's bumper, but never to the point where I felt out of my comfort zone.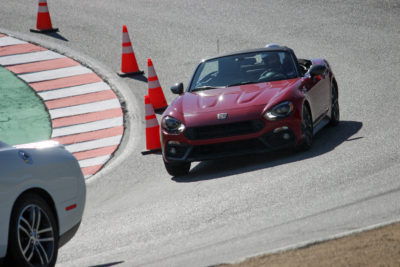 Such is the way that they move you along, that it's almost like you start aiming for apexes, finding your braking zones and getting on the throttle for your exit, all the while thinking less and less than the previous lap and letting your natural instincts take over. Before I knew it, I was in front of my TV screen once again, only I wasn't – there was no reset button, no pause button but since they'd eased us in so well, I felt myself becoming more comfortable by the lap. I was learning the car's limits and because I was doing that, I was learning my own limits, too.
There's lots to be said for what some good driver training can do for you abilities and your confidence behind the wheel.