You'd think Andrea Baldi, the newish CEO of Lamborghini America, would feel the pressure, stepping into this most important role for Lambo worldwide. Being the flagbearer of a luxury brand that fans and owners feel passionately about seems a heavy burden.
But the role came naturally to Baldi. He was born and raised not 50km from the Lamborghini factory near Bologna, Italy.
"In many ways, the Lamborghini brand reflects the values of this region, including a love of beauty. I share these values, so it's relatively simple to embody the brand itself." Besides, despite his youth, Baldi had the same gig in other major markets including Asia and Europe before assuming American leadership.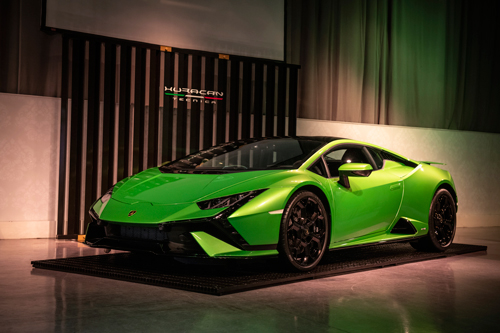 Today, he's in Toronto to unveil the Huracán Tecnica, speaking of beauty, a rolling masterpiece that achieves 325km/h, those first 100 in just 3.2 seconds.
Why launch here? "When you talk about extreme sports cars, not just Lamborghini but all of us, Toronto is second only Los Angeles in the cluster of sales."
The Huracán Tecnica is the culmination of continuous improvements and lessons learned since 2014. Some of which may not be visible. Example? "Air ducts directing air to the wheel chambers to help reduce the temperature of the braking." If you own one of these, "you'll probably play hard at the race track at weekends."
Then there's the stuff you do notice, from its low-slung posture to the unequivocal green. He calls this balance of performance and stylishness the "putting together of different souls. It combines everything you love about driving in a luxury sports car." As for the colour, "you'll know it's a Lamborghini a kilometre away." Daring colours have "long been part of Lamborghini DNA — but with continued experimentation with customization," something equally important to his customers' brand experience. "The number of colour solutions we offer is countless."
Lamborghini's moving gradually into electrification via hybridity, and plan to present a fully electric vehicle by 2028. "We are doing this in style!" is how Baldi described saying goodbye to internal combustion engines, "celebrating them as much as regulations allow." This Tecnica "was an opportunity to please customers who are really into the internal combustion engine's mechanical complexity."
So, is Baldi as passionate about EVs? "I've driven a lot of them and found the way to go into the market preserving the brand of Lamborghini." Plans are well underway. "You can imagine it takes a few years to bring something so new. I cannot tell you more at the moment but" he smiles puckishly, "I know you're going to like it!"
Then conversation veers — like what other brands inspire Baldi and what lessons does he take from them?
A true Italian, he admires "how some fashion designers understand how to produce more demand than product" leaving their customers a little hungry — and, again, those brands who push customization.
"It's part of the waiting time, the scarcity of the product. We want to keep customers close to us while we customize their car because sometimes they need to wait 1 ½ or 2 years." The result? "A product that is low in supply but with a quality that is made to last is a collectible item."
With time evaporating, Baldi agrees to answer some random questions few publications dared ever ask, producing the following.
V: Who's your favourite Spice Girl and why?
AB: "What?" A pause. "Spice Girls?" Another pause. "I can't remember the name, except it's not Victoria Beckham."
Fair enough; few Italian are fans of English football culture.
V: What's the last movie you saw?
AB: Pause. "Umm, do you mean Netflix?" Pause. "I can't remember." Longer pause. "I haven't seen Top Gun yet but want to. Does that count?" No wrong answers!
V: It must happen all the time, so what do you say to people — actually, to men — who tease "I wish I had your job?"
AB, smiling at one he's had before: "It's not as easy as it looks."
V: What will you miss most internal combustion engines?
AB, now grinning: "THE NOISE!"