While most of us turn to the mighty Defender (both old and new) when speaking of omni-capable SUVs from the land of tea and crumpets, the flagship Range Rover is no slouch either. Ginger Baker schlepped one across Africa in the 70s, just to make it to a jam session and in '72, Range Rovers were the first vehicles to conquer the Darien Gap.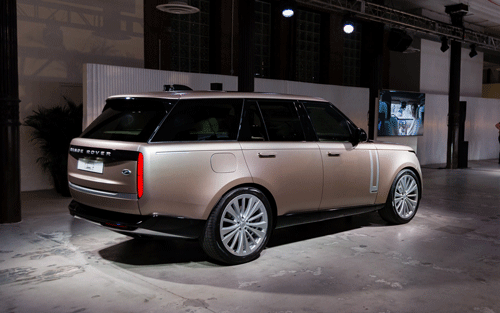 Of course, things have changed in the half-century since those benchmarks were set. One must not only arrive anymore, one must arrive in style. And the 2022 Range Rover not only delivers a stylish arrival but a right posh means of travel too.
Prof Gerry McGovern OBE, Chief Creative Officer, Jaguar Land Rover, said, "The New Range Rover is a vehicle with a peerless character, from the impeccable restraint of its exterior to the flawless tranquil sanctuary of its cabin. Informed by creative intellect and a desire for perfection, it doesn't follow fashion or trend, but by a modernist design philosophy, combined with over 50 years of evolution, it is quite simply the most desirable Range Rover ever created."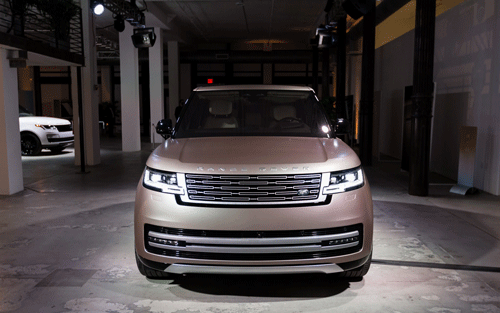 The exterior silhouette maintains the sloping roof and rising sill that have largely defined the model since day one, but this latest execution creates a modern-minimalist aesthetic that builds on the previous generation. In my eyes it creates an SUV that is as striking as it is imposing. In particular, the boat tail rear, accented by flush-mounted, blacked-out lighting, looks absolutely cracking and yes, it does incorporate the requisite split tailgate.
Of course, the interior is where much of the fuss was made. When optioned with the 1,600 watt Meridian Signature Sound System, the new Range uses active noise cancellation to virtually eliminate road and wind noise. However, if you'd prefer something other than sonic silence, that system will pump via the 35 (yes, thirty-five) speakers.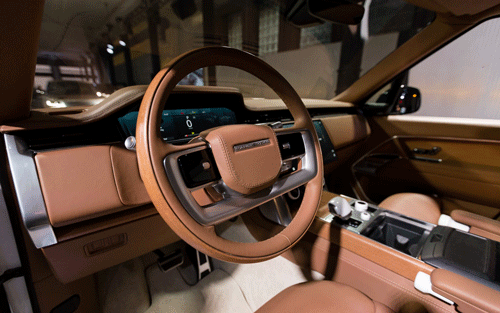 There are also screens aplenty. A 13.7-inch digital gauge cluster greets the driver while a 13.1-inch unit handles infotainment duties on the centre stack. A rear seat entertainment package can be optioned as well, and includes twin 11.4-inch units embedded in the seatbacks as well as an 8-inch touchscreen to tackle adjustments. Alexa has also been integrated to enable voice commanded control and works with both Apple CarPlay and Android Auto, wirelessly.
The digital integration isn't confined by those self power-assisted doors, either.
Rory O' Murchu, Vehicle Line Director said, "The New Range Rover combines advanced hardware with a pioneering toolkit of digital technologies and software, all enabled by our advanced electrical architecture–moving Range Rover from a mechanical world to a mechatronic ecosystem that delivers an intuitive drive. Our new Integrated ChassisControl system is a prime example of this philosophy and co-ordinates suite of predictive and reactive technologies, that make this the most comfortable and agile Range Rover ever produced."
The underpinning MLA-Flex (Modular Longitudinal Architecture) is in communication with an Integrated Chassis Control unit and the navigation systems to read the road ahead and tune the air-spring suspension accordingly. This ensures a road hugging ride as relaxing as a Pimm's cup on a hot July afternoon while also being able to adjust for optimal off-road tractability. All-wheel-drive and all-wheel-steering mean the Range should be able to get into and out of many a tricky spot, too.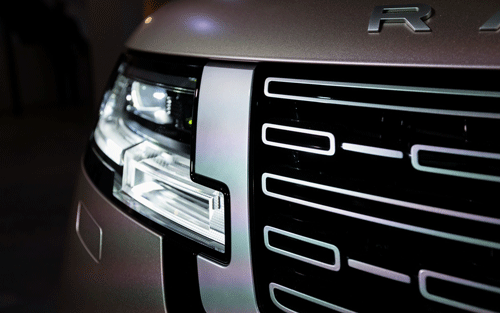 Motivation of the new Range Rovers comes via few available options. At the low end of the spectrum ($126,400) is the same hybridized, 3.0L turbocharged inline-six engine from the Defender P400 SE, packing 395 horsepower and 406 lb-ft of torque. A 4.4L twin-turbo V8, can be chosen for SE ($139,300) trim but is standard for Autobiography ($174,800) and First Edition models ($182,000). It pumps out 523 horsepower and 553 lb-ft of twist. For those willing to wait a bit, there will be a plug-in hybrid option as well as an all-electric Range Rover. The PHEV will debut in 2023 with 434 horsepower with the battery powered model to follow in 2024. Further information on those will be provided as soon as we get word.
Expect to see these new Range Rovers fighting for parking at Holt Renfrew locations across Canada in time for the spring line change.