June 7, internet — You'd be forgiven for not knowing you're already seven days into EcoMonth, presented by the Automobile Journalists Association of Canada (AJAC). And for not knowing AJAC. But the two are here and very active at the moment.
The function of AJAC is self-explanatory, but EcoMonth? Let's let our friends at AJAC explain, from their site: "EcoMonth activities will take place across Canada in AJAC journalists' home markets with location visits and drive routes mapped for between 20 to 25 member participants. This allows us to communicate the many health and economic benefits of clean driving and technology to Canadians in a manner that's safe yet effective for all involved." I'm participating.
This week, I'll be driving the all-electric and all new 2021 Ford Mustang Mach-E utility vehicle, and hope to tell you a bit about the experience daily. Indeed, it's morning and I'm scheduled to pick it up, midday.
This trim is an all-wheel drive (AWD) called the First Edition, but Ford is offering four other trims: Select, Premium, California Route 1, GT Performance. Interesting. No manufacturer offers five trims of a new vehicle unless they're deadly serious about making sales. 
Ford means business. Hence, the nod to the grand name, Mustang.
The Mach-E was introduced to the world in 2019 and was huge news. Unlike the gasoline powered Ford Mustang, the Mach-E is not a muscular sedan, but a performance crossover. However, by harkening back to that legendary marketing home run, the Mustang, Ford signaled to the world that electric is where the company is moving. Just in case we didn't get the message, not even a month ago, Ford and President Biden introduced an electrified version of the F-150 by far North America's most beloved vehicle.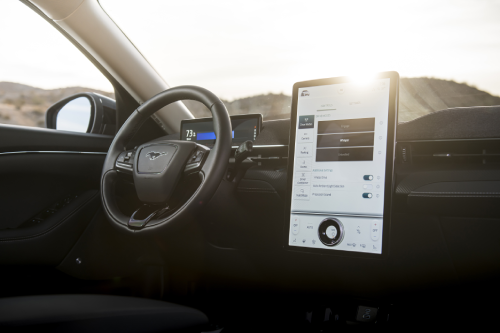 One Mach-E trim, the California Route 1 comes with only rear-wheel drive. For most auto enthusiasts, getting first crack at driving a rear-wheel drive electric vehicle (EV) is like getting a son into the priesthood or daughter into law school. But the very name California Route 1 says this isn't something most Canadians will salivate over. We love our AWDs too much.
A few other important stats to contemplate for the week.
An estimated annual fuel cost of $603, assuming you drive 20,000km at the average speed.
An estimated juice range of 435 km — remember this is AWD.
Peak HP and ft-lb's of torque at 346 and 428 respectively.
Postscript and quick observations: First tootle in the 2021 Ford Mustang Mach-E First Edition
It's the middle of the afternoon and I've just returned home with the Mustang Mach-E via that dark sea of boneheads that Ontarians call Highway 401. In default drive mode, I barely needed to tap on the brake ever during the almost 30km drive. Even at highway speeds, if you lift your foot from the accelerator it slows to nearly no speed almost instantly.
The infotainment interface on the huge screen is intuitive and a quick read but at 15.5 inches the screen itself is a comely distraction. Keep your eyes up. Not that the safety technologies wouldn't warn you of coming danger. At my first left turn, not 900 meters from the pick-up spot, the driver ahead of me decided to exaggerate his curve into a U-turn and the pre-collision warning sounded like a banshee trapped within the instrument cluster.
When GTA drivers see something that catches their eye (and the Mach-E is eye-catching) they slow to stare but without offering space to let you in. On Highway 401, that's not safe. No bother: the torque on Mach-E is neck-snapping.
And lastly — pent up after months of doing nothing, a huge minority of neighbours along on our narrow downtown street are having work done on their homes. Cement mixers, diggers, articulated loaders and domestic pickups of every trim and vintage further clog an already metastasized 300m of road. The heads of dozens of envious construction workers turned, and they gawped. They were blocking our lane and I had to ask a Bobcat operator to move his Ram. Better get used to this.