After quite a bit of ballyhoo, Mazda has finally pulled the wraps off its replacement for the CX-9 three-row crossover: the 2024 CX-90.
The CX-90 is the first vehicle to make use of Mazda's new Large Vehicle (that's the official nomenclature, hence the capital LV and it replaces the Skyactiv architecture that most other Mazdas use) platform, meaning it will be the company's flagship vehicle when it releases later in spring of '23. It's also going to be wider, longer and have more cargo capacity than the CX-9 and will be more efficient as well.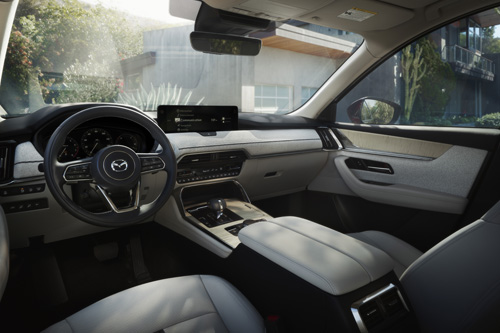 It will be more efficient because when it releases, it will do so with two electrified powertrains: a plug-in hybrid (PHEV) version with 2.5-litre naturally-aspirated four-cylinder and EV motor and 17.8 kWh battery good for 323 horsepower and 369 pound-feet of torque, and a turbocharged 3.3-litre straight six good for 340 hp and 369 pound-feet of torque. The 3.3 is an all-new engine, while the PHEV powertrain is already in use in the European market CX-60. Both powertrains are governed by a new 8-speed automatic gearbox with no torque converter, ensuring smoother shifts. Since the engines are both mounted longitudinally — a segment first — the CX-90 will get a rear drive bias and handling rarely seen from vehicles in the segment.
While not of the PHEV variety, the six-cylinder does get a 48V mild hybrid system that helps the engine operate more efficiently in low-load scenarios and on startup. It also allows for some very mild cruising on full-EV power. In terms of the PHEV's EV range: Mazda isn't claiming anything as of yet, but the CX-60 – which is smaller, but uses the same powertrain – gets 63 km of EV driving range on a full charge. Figure slightly less than that for the larger, heavier CX-90.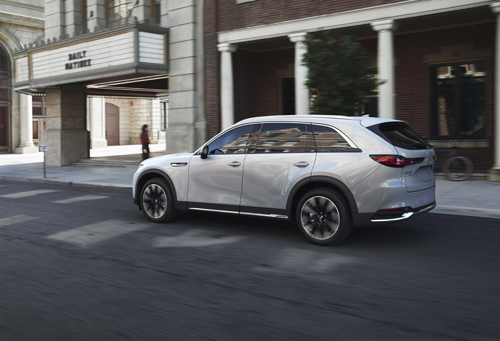 Of course, the CX-90, for all its futuristic powertrain bits remains a Mazda and Mazdas have always been great drivers. Through the range, their steering has always been direct and well-weighted, their mass well controlled. In that light, the CX-90 gets what Mazda calls Kinematic Posture Control (KPC). First seen on the MX-5 sports car, what KPC does is use software to prevent the body lifting through corners for a more comfortable, controlled drive. It should come as no surprise that AWD comes as standard.
Styling-wise, we see a lot of CX-50 in the CX-90 thanks to the latter's wide and somewhat flared fenders, plus the longer wheelbase. There's also the option to add some shinier chrome bits and according to Mazda, the body panels have been shaped so that when the light hits the CX-90, the reflections kind of change the shape of what you're looking at. We'll have to take some time in some light to see how this actually plays out but if it works, that could be very cool and reminiscent of the colour-shifting paint options seen on many high-end sports cars. Speaking of colour: the CX-90 will be the first Mazda to bee offered with new Artisan Red paintwork. Indeed, if Mazda knows one thing, it's how to make a good-looking red paintjob.
You have to love that spindle grille, too; that's a high-class item typically reserved for the likes of Lexus.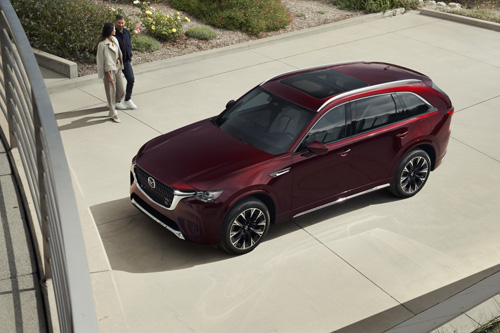 Speaking of chrome trimwork: this can also be added to the interior of the CX-90, offsetting more luxurious materials such as Nappa leather and real wood, as well as two-tone fabrics (stitched together using the Kumihimo stitching technique, meaning "gathered threads") for a more luxurious feel with just a little added adventure. The second row can either be a three-person bench seat or captain's chairs.
Of course when it comes to interior styling is one thing, but tech is an all-important other thing and the CX-90 appears to have it in spades. It gets a 12.3-inch center display on which appears a "see-through monitor" that uses cameras to make parts of the vehicle "disappear" to more easily be able to see the goings-on around you as you park or manoeuvre through tighter city situations.
With the new styling, powertrains and luxurious interiors, the CX-90 is an exciting step for Mazda.
Watch this space for more on the 2024 Mazda CX-90.