For the 2021 model year, it's come time once again for North America's bestselling vehicle – the Ford F-150 – to get a refresh. With said refresh comes a host of new design and tech features, yes, but the big news is the arrival of the automotive world's least best-kept secret, a hybrid version of the F-150. The new truck, Ford claims, is the toughest and most productive F-150 ever, and also the most powerful in its class.
Available on XL SuperCrew trucks and up, the F-150 Powerboost Hybrid makes use of a 3.5L twin-turbo V6 as well as a 35 kw electric motor and 1.5 kw lithium-ion battery. They all combine to achieve a claimed best-in-class towing capacity of 12,000 lbs. Power figures will be revealed closer to launch.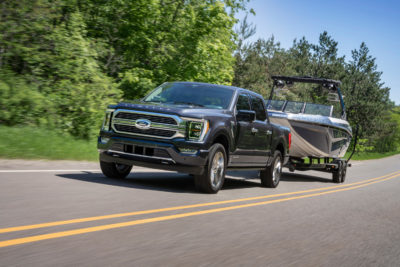 The hybrid system also makes for a claimed range of 700 miles (about 1,125 km) on a single tank of gas. Unlikely that will be the case if you do happen to do a lot of towing and hauling (and according to Ford, 80 per cent of F-150 owners do a lot of both), but for those that use their trucks as a more day-to-day vehicle, that fuel economy will be a boon. Further: Ford says that thanks to efficient packaging of the hybrid system, there is no less space in Powerboost trucks than there is in similarly-equipped gas engine models.
In addition to the hybrid, the same five engines you can currently get are making their returns for 2020: a 3.3L naturally-aspirated V6, 2.7L Ecoboost turbo V6, 3.5L Ecoboost V6, 5.0L V8 and 3.0L turbodiesel four-banger. They all make the same power as previous, with the one big change coming from the V8 which now gets cylinder deactivation for better fuel economy when not under load. There will also be three cab options – Regular, SuperCab and SuperCrew – and three bed lengths: 5.5 feet, 6.5 feet and 8 feet.
In order to better improve fuel economy of gas engines, all F-150 models get active grille shutters and lower air dam, an F-150 first.
Of course, many will still be using their F-150 for work and much has been done by Ford in order to make that as easy as possible.
According to them, one of the big issues for those that use their truck for business was the ability to use their laptops or tablets while inside. It was to the point where folks were buying expensive laptop-mounting solutions as you'd see in a police vehicle, for example, or fashioning their own laptop "rigs".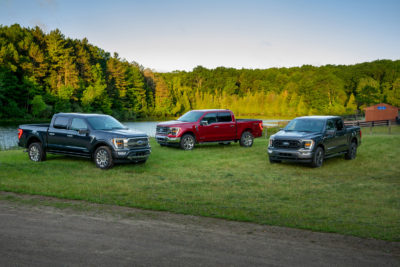 Ford is aiming to put an end to that with their new pickup. The entire console does feature a shift lever, yes, but it's one that actually collapses into the space below so owners can then flip down two panels for a large flat surface on which to place their equipment.
It doesn't stop there, either; the tailgate has built-in c-clamp latches, a tablet holder and ruler, and is meant to be used as a workbench. In true truck-as-a-workplace form, owners will be able to power the tools used on said workbench, with an optional truck-mounted generator. Customers of Powerboost hybrid models will get to choose between a 2.4 KW or 7.2 KW option, while the traditional gas-powered  trucks get a 2.0 KW generator as their only choice. In addition to the convenience of always having a generator with you, it also frees up the room in the pickup bay often used to haul a generator.
If you're tired after all that work and would like a rest between jobs (or during a road trip), the front seats fold almost 180 degrees and the bottom cushion rises for a completely flat surface. A workshop, camper and truck all in one, then.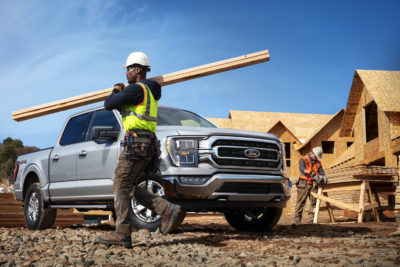 Of course, as more and more folks use their trucks as daily drivers, Ford needed to up the ante in the more pedestrian departments as well. Namely: in-car tech and app support.
On the tech front, the F-150 is the first Ford to get the latest SYNC 4 infotainment tech, which Ford says is twice as powerful as the outgoing SYNC 3 system. XL and XLT models get an 8" display, while models above that (XLT High Series, Lariat, King Ranch, Platinum, Limited) get a big 12" number. And while the latest Explorer gets an optional vertical touchscreen display, the F-150's example is horizontal as that allows more traditional buttons to be placed around it and according to Ford's research, F-150 customers prefer a horizontal display anyway.
Other tech includes a digital gauge cluster, wireless charging and connectivity for Apple CarPlay and Android Auto, optional 19-speaker Bang & Olufsen sound as well as live maintenance tracking with over-the-air updating.
While the full gamut of driving aids will be present (lane keep assist, blind spot assist, active cruise control as well as Pro-Trailer Backup Assist trailering tech) the big add for 2021 is how Ford's Co-Pilot360 autonomous assist tech can now allow for completely hands-free driving on certain roads, which include over 100,000 miles of divided highways in Canada and the US. It's a tech that's shared with the new Mustang Mach-E.
While on-board tech is important, it seems that these days, if you don't have app support for your vehicle, you're in the wrong business. To that end, FordPass connectivity services will also be included, and they can be used to start and unlock the truck, turn on the various exterior lighting (that now includes lighting for your entire bed) and the generator system.
Styling-wise, the new F-150 gets 11 – eleven! – grille styles, 13 wheel styles ranging from 17 to 22 inches, larger tires, new head- and taillights, three headlight styles, and what Ford claims is a more aggressive stance achieved by moving the wheels out three-quarters of an inch and pulling the lower side panels closer to the body.
Look for pricing and power figures closer to the trucks release date in fall of 2020.