If the Kawasaki KLX230 ABS we reviewed earlier in the year caught your eye, but you were thinking it's just a bit too-wee-for-me, Team Green has a bigger, brawnier answer to your dual sport dreams.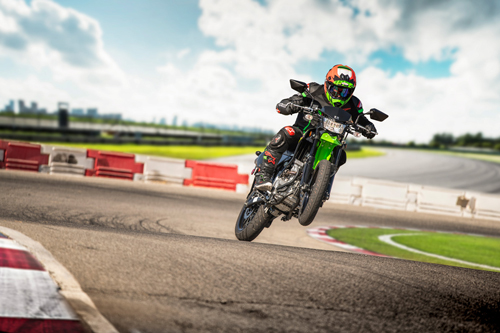 Powered by a fuel-injected, 292cc, liquid-cooled, single-cylinder engine, the all-new Kawasaki KLX300 ($6,499+) is promised to be both more powerful and torquier than the 249cc bike it replaces. There is electric-start and we're told the radiator fan has been rethunk to blow hot air away from the rider, which will be nice on those hot summer days.
The chassis is a box and tube design that floats on an adjustable (compression) set of 43mm cartridge style forks and a Uni-Trak shock in the rear, with both rebound and preload adjustability. Tipping the scales at a scant 137kg, ready to ride, it's only about ten pounds heavier than that entry-level featherweight KLX230. Wheels are off-road friendly at 21-inches front and 18-inches rear.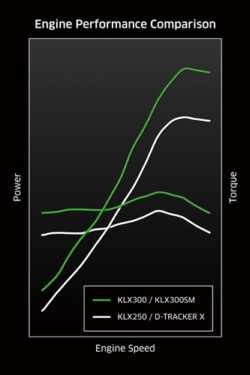 However, if you'd rather skip the dirt and unleash your inner hooligan onto the streets, there is also a supermoto version of this bike, the KLX300SM, that rides on a matched set of 17-inch rims.
The SM retails for an extra three-hundred loonies ($6,799) over the off-roader but it also snags a beefier front brake — which is upgraded to a 300mm (from 250) semi-floating disc — and suspension travel sinks about an inch in the rear. If it were my money, I'd probably plunk it down here and source an extra set of off-road wheels so I could have the best of both worlds — just sayin'
The debut of these bikes (the KLX300 in particular) is timely as sales of dual-purpose bikes are up almost 34% since this time last year. Oh, and we also anticipate a similar move from Honda as they've already debuted their CRF300L dual-sport to the European market.
And for everyone still pining for a KLR 650 replacement (myself included), there are rumours that Kawasaki has another two-wheeled debut scheduled for early in 2021, so keep those fingers crossed.