Harley-Davidson's historic Sportster line of motorcycles has been around and in continuous production since 1957. And while the model did start life as H-D's "sport" offering, it evolved into an entry level, retro cruiser over time.
In a return to roots move, the Motor Company has now debuted the 2021 Sportster S and, for the first time in a long time, there's reason to be excited by the Sportster badge.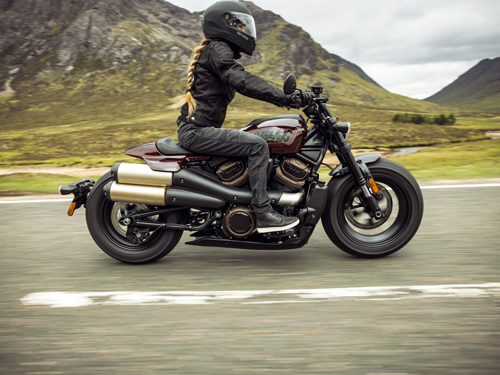 "The Sportster S is the next all-new motorcycle built on the Revolution Max platform and sets a new performance standard for the Sportster line," said Jochen Zeitz, chairman, president and CEO, Harley-Davidson. "This is a next generation Sportster defined by power, performance, technology and style. And it's part of our commitment to introduce motorcycles that align with our strategy to increase desirability and to drive the legacy of Harley-Davidson."
The power portion of that equation for this Sporty comes via a re-tuned variant of the Revolution Max 1250 engine that performed so well in the Pan America. That retuning shifts the power curve down a little lower in the rev range, and while it does dull the horsepower number a bit, the Sportster S still offers up a healthy 121 hp and 94 lbs-ft of torque.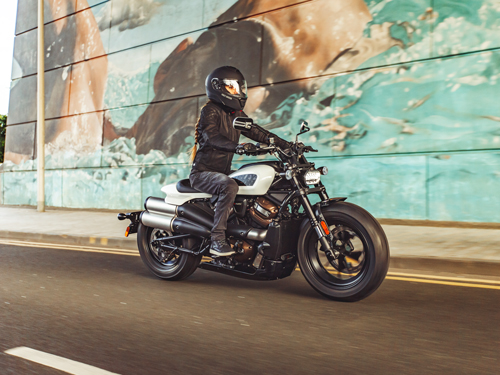 The other metric that matters in bikes with sporting intent is weight, and the Sportster S comes across the scales at 228 kg. That is twenty full kilos lighter than the current Iron 883. More importantly, this new Sportster S is also slightly lighter (and has more torque) than Indian's FTR S, for very similar money ($17,999).
Of course, to compete with Indian and all of the other naked sport bikes out there, Harley couldn't just drop that gem of a motor into an antique frame and call it a day. As such, the chassis is all new with the Revolution Max 1250T engine acting as a stressed member. This not only keeps weight down but it also aids in rigidity. The swingarm is a stellar looking trellis creation that incorporates a stamped cross-member to keep things tight out back.
On the suspension front, the Sportster S will ride on fully adjustable units from Showa. While not as fancy as the active units on the Pan Am, the 43mm inverted cartridge forks and piggy-back reservoir rear monoshock are a huge step up in performance from previous generations of Sporty. Braking is handled by Brembo and while I would have preferred to see a twin-disc set-up in the front, the four-piston monoblock (combined with a dual piston unit in the rear) should provide ample stopping power.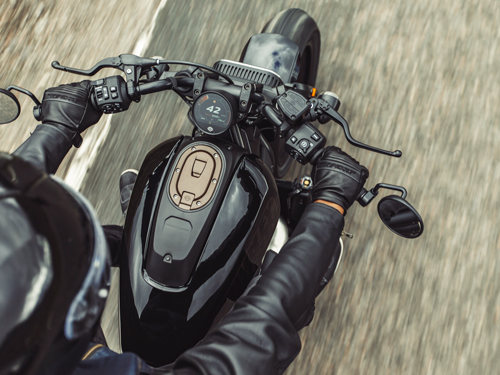 Harley has also seen fit to imbue the Sportster S with a full suite of technology as well. On the safety front there is Cornering Rider Safety Enhancements — essentially an IMU controlled ABS and traction control feature — and riders will have three pre-programmed modes (Sport, Road, Rain) as well as two additional custom modes to personalize performance. Additionally, the round 4-inch TFT gauge will enable Bluetooth connection to your phone in order to work as a conductor between it and your helmet mounted communications device.
From a styling standpoint, the Sportster S certainly embraces the "bareknuckle" moniker that H-D has been tossing around. The low, mean, fat-tired approach definitely gives off an angry vibe. Personally, I like what I see although I'd lose those gargantuan pipes (no doubt a Euro5 necessity) in favour of something slimmer, and I'd opt for the mid-controls option that H-D has on offer to make things a bit comfier. Either way, I'm pretty stoked to swing a leg over one of these and I imagine a lot of you are, too.
However, what I really like about this is where it could go next. In true Harley fashion, I imagine this platform will spawn some compelling variants in the coming years — an XR1250 seems like a no-brainer to me and with revised geometry, something a little more upright and scrambly could easily happen too. A quick look at the success Triumph has had with its line of modern classics should be evidence enough to convince Milwaukee's bean counters.
And then of course there's the question of what happened to the engine developed for the Bronx, the other teased streetfighter concept that was due around now? You see, that bike was supposed to be powered by a 975cc variant of the Revolution Max motor, which I imagine wasn't just mothballed when the Bronx was axed. That leads me to believe that a line of Sportsters (sans capital "S") will arrive in due time and hopefully rekindle that streetfighter flame while also offering a lower-priced way to experience the Revolution Max mill. Exciting times ahead!
Link: Harley-Davidson Canada