You have to hand it to Ford when it comes to giving their customers what they want, especially when it comes to the latest generation of their popular Explorer.
On one end of the spectrum, you have something for the gearheads that want a little more performance from their seven-seater crossover (?) with the ST. At the other end, you have the Greenthumb's choice with the hybridized models and right up the middle, you have the luxury buyers in mind with the Platinum version.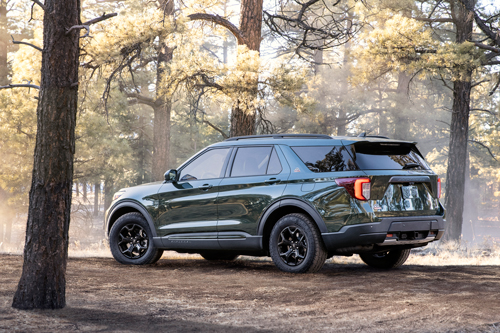 That pretty much takes care of it all, right? Well, just hold on a sec there, slick: these are all-wheel-drive vehicles, right? Chances are they will be going off-road every so often? They sure do; according to Ford, 56 per cent of Explorer buyers (which is a big number, as they sell a lot of these things) take their vehicle off-roading and that number has been increasing in the pandemic era because, well, that's all one can really do. So, it seems, there's one arrow missing from the Explorer's quiver – an off-road special.
Until now, with the announcement of the Ford Explorer Timberline.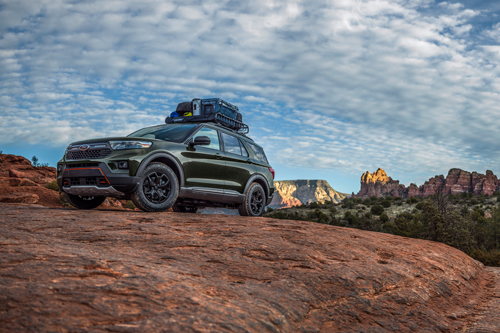 Ford says the Timberline slots in as an alternative to the Bronco, for folks that wanted some off-road ability but with the size to comfortably carry more people, or more gear.
It gets more ground clearance – 220 mm in total — than other Explorers and it can tow up to 2,404 kg (5,300 lbs.) because 35 per cent of Explorer owners tow kayaks, camping trailers, ATVs and so on. The transmission and front and rear subframes get protective skid plates, the heavy-duty shocks are shared with the Interceptor police version and there are specially-calibrated stabilizer bars and springs. There is also a specialized front rebound spring to reduce jarring and beefier Bridgestone Dueler off-road tires and 18" wheels, a Torsen limited-slip rear differential with a 3.58:1 rear end and standard hill-descent control plus seven drive modes such as trail and deep snow/sand as well as a predictive torque-split system that can sense what's coming on the road ahead and distribute power to whichever wheel can make the most of it.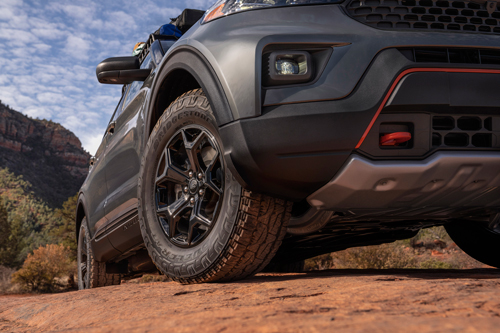 The higher ride height allows for a 23.5-degree approach angle and 23.7 departure angle. All of that, meanwhile, is helped from the get-go by the fact that the Explorer's powertrain starts life as a rear-wheel-biased system, so you benefit with an improved turning radius. When you think of it, it was only a matter of time before Ford released something like the Timberline.
It really looks the part, too; starting with those beefy tires and black wheels, the Timberline gets a new Forest Green paintjob as well as a blacked-out grille (with optional LED marker lights), some orange trim that gets repeated inside and of course that shiny skidplate peeking out from underneath the front bumper.
Inside, "Forest Green" gets replaced by "Deep Cypress", and the surfaces most often frequented by stray elbows, dirty hands and dirty pants are covered in easily-washable material and rubberized floor liners are included as standard.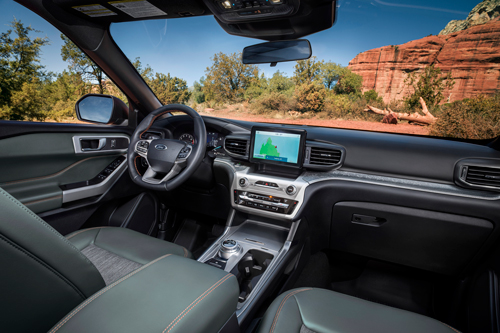 The Explorer, meanwhile, is just the start for the Timberline badge. "This will be something we'll be looking into more with the SUV line-up," said Lee Newcombe, marketing manager for Explorer. While we doubt that badge will be attached to a Bronco or Bronco Sport as those vehicle already have a number of off-road centric trims, the Escape seems ripe for a Timberline treatment.
Like the base XLT, the Timberline is limited to a single engine choice: a 2.3-litre four-cylinder EcoBoost good for 300 horsepower and 310 pound-feet of torque; pretty impressive figures for a four-banger, but one will undoubtedly wonder why there wouldn't at least be the option to go for the 3.0L EcoBoost V6 the ST and Platinum versions get; then again, that would make the Timberline the only model in the line-up that gets two gas engine choices; other models get both gas and hybrid engine choices. Indeed, like the ST and its performance intentions, the Timberline and its off-road intentions would probably be hampered by the heavier hybrid powertrain.
The 2021 Ford Explorer Timberline arrives in dealers later this summer, with a starting price of $50,799, putting it between the Limited and ST one the Explorer pricing scale.