Indeed, it was probably the least well-kept secret the car and SUV world has seen in quite some time, but that doesn't change the fact that July 8, 2020 marks a red-letter day not just for the Ford Motor Company, but for the SUV world in general. Actually, it's not a stretch to say that this day, the day we finally get to see the production version of the rebirth of the Ford Bronco, is a red-letter day for the automotive world as a whole both in North America and the world.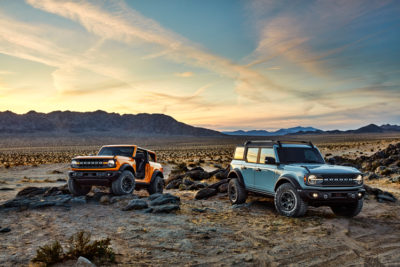 Put simply: the Ford Bronco is an icon. Whether we're talking off-roading or O.J. Simpson, SoCal or the Yukon, the Bronco is forever etched in our consciousness as one of the most legendary Fords this side of the Ford Mustang or F-150. It was built to compete against the Jeep, and it was built after Ford talked to Jeep owners and found out what they didn't like about their vehicle, and changed it for theirs. Indeed, the more things change, the more they stay the same: Ford's special online presentation for invited media was peppered with testimonials from people who own other SUVs and CUVs, but are now thinking of switching to a Bronco. Yes, that's obvious braggadocio on Ford's part, but I like that kind of competitive spirit in the car world because as we all know: competition breeds quality.
Now, after much ado about something, it's back. Like, officially, here-are-the-facts-and-pics-from-Ford-itself back. No more spy photos, no more guesses; what you see here is what you're going to get when the 2021 Bronco goes on sale later this year, in three forms: Sport, two-door and – for the first time ever – 4-door.
While there is some model variety here, there's a common theme through all three.
"It had to look like a Bronco, and had to work like a Bronco", said Paul Wraith, chief designer for the Bronco and Bronco Sport. That means common themes like a single piece front grille, "peaked" (read: flared) front fenders and contrast colour roof. A Bronco must be 4×4, as well, which isn't hard to understand. All three Broncos will have these features, though they still manage to go about their business in different ways.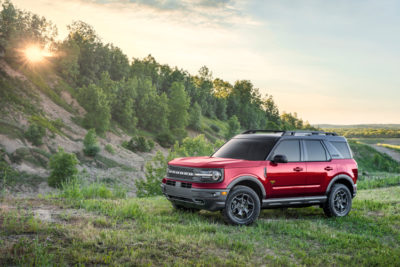 Take the styling of the Bronco Sport, for example. It is smaller than both the two- and four-door models released alongside it, but it's still got that unmistakably squared-off profile. After that, though, it gets a pair of headlights that look to be somewhat inspired by – and I can't believe I'm saying this – the Nissan Cube, and a c-pillar/rear side-window assembly that bears a striking resemblance to the Land Rover Freelander just before it became the Discovery Sport.
Strange, right? Well, perhaps somewhat but those two details still manage to come together to form a pretty cool shape finished with some nice details like the contrast-colour roof, dark wheels (on some models), flip-open rear window (to better fit kayaks, you see) and chunky roof rails.
Why the "Sport" designation, though? How is it separated from the other two? Well, the 2/4 models are aimed at a more diverse group of owners, while the Sport has the "adventurer" squarely in its sights. Features like the ability to haul two mountain bikes stood upright in the back seats (if you opt for a Yakima-branded rack system at the dealer), over 100 factory-backed accessories, slide-out work table (with on-board bottle opener!) and safari-style roof that's built to be able to handle the rigors of overlanding.
Like the Sport itself, the engine choices – there are two – are smaller than what can be had in the 2/4 models: a 1.5 L EcoBoost turbo three-banger good for 181 hp and 190 lb-ft of torque, and a 2.0L EcoBoost turbo four-cylinder good for 245 hp and 275 lb-ft; both engines are linked to an eight-speed automatic gearbox, though the 2.0L can be spec-ed with a select-shift option. Both powertrains, meanwhile, get a 3.81 rear axle ratio and 18:1 crawl ratio as well as a locking differential as standard.
The Bronco Sport gets four trim levels: Base, Big Bend, Outer Banks and Badlands, all named after various geographical areas in the US; Badlands, for example, is named after Badlands National Park in South Dakota and it is the most hardcore model, with the ability to wade through up to 23.6 inches of water, and gets more aggressive off-road tires as well as uniquely-designed front struts with hydraulic rebound stops. The Outer Banks model, meanwhile, is named after a popular surf beach in North Carolina and gets stuff like a more refined colour palette, ebony black painted wheels and interior accoutrements such as heated steering wheel, 6.5" digital gauge cluster and ambient lighting. Those two trims are joined by the Base and Big Bend models. MSRPs for the Bronco Sport range from $32,199 to $40,199.
The Sport, then, can be seen not only as a good starting point to get into the 4×4 lifestyle (Ford so much as said so during its media presentation), but kind of a starting point into the world of Bronco, as well.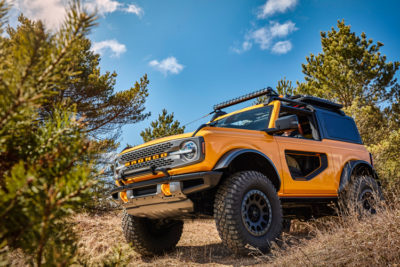 If the Sport's the starting point, then one might say the two- and four-door models are the peak of the Bronco experience and if you believe what Ford tells you, the world of off-roading as a whole; they've gone ahead and applied the "G.O.A.T." label to the Bronco, but it doesn't stand for what you may think it does.
Usually, the popular "GOAT" acronym stands for "Greatest Of All Time" and while Ford may believe that to be true of the Bronco (base MSRP: $40,199), "G.O.A.T." here actually stands for "Goes Over Any Type of Terrain". Not quite as catchy, perhaps, but darned if it doesn't look the part what with its massive wheels and tires (the latter measuring up to 35 inches – thirty-five inches! — in the ultra-off-road Wildtrak version. That's the first time we've seen such big tires fitted to a stock vehicle — from any manufacturer, anywhere) and the massive fender "peaks" to accommodate them, huge "Bronco" script across the grille and that all-important Bronco feature: the ability to essentially turn both the four-door and two-door models into convertibles (and to store the roof panels in the tailgate while you're at it). Better yet is how they've managed to allow the removal of roof panels without having to leave a crossbar connecting the middle roof pillars, instead moving the crossbar to a spot behind the rear seats.
It should come as no surprise that it's not all just for show, either; those big wheels and tires are attached to a fully-boxed chassis, either a two-speed electronic transfer case or a two-speed electromechanical transfer case and Dana 44 axles, as well as specialized Bilstein suspension and there's a final drive ratio ranging from 3.73:1 to 4.7:1. There's also up to 11.6" of ground clearance, 43.2-degree approach angle, 29-degree breakover angle and 37.2 degree departure angle, as well as the ability to ford – or should we say "Ford"? – over 33.5 inches of water.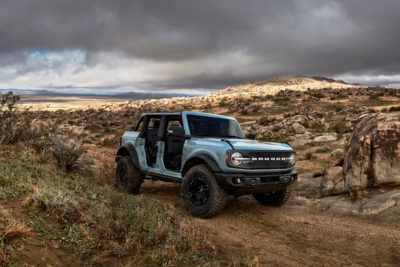 Like the Sport, power for the bigger Bronco comes from two turbocharged EcoBoost engines, both larger than what's found in the smaller vehicle: a 2.3L four-cylinder unit good for 270 hp and 310 lb-ft of torque, and an optional 2.7L V6 good for 310 hp and 400 lb-ft of torque. Unlike the Sport, though, those that opt for the smaller engine get a 7-speed manual transmission as standard, but with a twist: the seventh gear is actually a crawler gear and when selected, provides a 94.75:1 crawl ratio, which is certifiably bonkers. The manual is only offered with the smaller engine, though, so if you want the V6 a 10-speed auto is your only choice.
Like that crazy crawl ratio, so many of the available features are all about off-roading. There's the crawl feature that uses the cruise control system for low-speed off-road driving and a torque vectoring system that distributes torque at low speeds to help the Bronco rotate through tight bends. There's even an optional specialized stabilizer bar that can disconnect for better wheel articulation. It seems there is very little that's going to be able to stop the new Bronco, much like the Jeep Wrangler it will surely be compared with over, over and over again. Which is a good thing; about time the Wrangler had some proper competition.
Of course, with an MSRP that tops out at $61,994, you have to think that there's going to have to be more to offer than just outstanding off-road ability; indeed, even the Wrangler gets stuff like Uconnect infotainment.
In that light, the Bronco gets features like an LCD instrument panel, all new Ford SYNC 4 infotainment and even off-road navigation to help better prepare for any off-road adventure. Add Bang and Olufsen sound, and while the Bronco does get that squared-off shape, Ford is ensuring that it doesn't remain a "square" when it comes to in-vehicle tech. Five trims will be offered in total: Base, Big Bend, Black Diamond, the aforementioned Wildtrak and Badlands. They all come with varying option packages, but all Bronco owners will get to choose from between 200 dealer-installed accessories, many of which can be easily attached to various surfaces in the cabin. They're also all available in crazy colours like Cyber Orange Metallic and Antimatter Blue. Antimatter Blue!!!! Who the heck thought that one up?
Regardless, we're glad that someone managed to think the Bronco up and actually make it available to market because it looks like an incredibly cool truck – in all its versions, but especially the certifiably bonkers two-door effort, and especially if you remove the doors; yes, you can do this – that takes the term "lifestyle vehicle" to a new level.
We can't wait to drive it, and we suspect the same can be said for legions of Bronco fans the world over.