In my experience, the Kia Soul a vehicle that elicits strong reactions from just about everyone.
People will either really like it, or want nothing to do with it. Either way, they pretty much will instantly recognize it as a Soul.
Many consumers might not give it a second chance after that first negative impression, which is a shame. It's really not a bad ride, and when one of my family members was forced to take a long trip with me in a 2017 Soul SX Turbo Tech, his opinion of the Soul quickly changed.
That change of mind was helped along by the fact we were driving in the top of the line trim, which gave the Soul a little more attitude.
For starters, it offers up 201 horsepower and 195 lb-ft of torque from the 1.6-litre turbo GDI four-cylinder engine, a first for the Soul. On a long highway trip, I found the Soul handled itself pretty well, offering good power for passing slower vehicles.
The engine is paired with a 7-speed dual-clutch Sportmatic automatic transmission, and I really had no issues with it.
For the most part, I found the DCT transmission to be effective, but it did have some jerky moments at times.
Fuel Economy for the Turbo is rated at 9.1 L/100 km in the city and 7.7 L/100 km on the highway.
My average, which was mainly in highway driving, came to 8.9 L/100 km.
Part of the reason the Soul is such a polarizing vehicle is its exterior styling.
The boxy shape and stubby nose isn't everyone's cup of tea, but it is distinctive and, quite frankly, not bad looking.
Each trim – LX, EX and our SX tester – have distinctive looks. For the SX, the front end becomes a little more aggressive than in other trims, with large fog lights at the lower bottom corners.
There's also a red racing stripe that runs around the entire lower black trim on the Soul, which almost gets lost with the Inferno Red exterior paint colour. It would definitely stand out with other colour exteriors.
The SX also gets some nice 10-spoke 18-inch alloy wheels to cap off the exterior look.
Once inside the SX Turbo Tech tester, the Soul is somewhat surprising.
It comes with features like heated and cooled front seats, a heated steering wheel – which is flat bottomed in this trim – and a large 8-inch display screen.
It is a roomy interior, with lots of headroom and just enough soft materials in the areas that matter most – where your arms and hands would usually come to rest.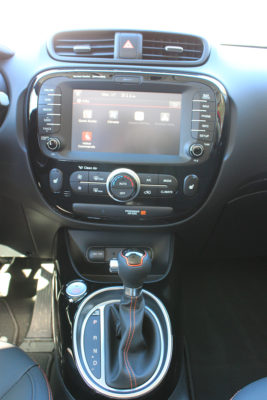 And the Soul has a surprisingly roomy back seat. I know this because I didn't hear a single complaint from my passenger back there for the entire drive back from Toronto despite the fact he was recovering from a knee operation and that sitting in tight spaces can be uncomfortable for him.
However, as good as the room for the rear passengers are, the opposite has to be said about cargo space. Trunk room is limited, which forced me to come up with some creative packing to fit suitcases for four people. All I can say is thank goodness we packed light for a quick 2-day trip.
As mentioned, the SV Turbo Tech comes with that large 8-inch screen (lower trims get smaller screens), as well as Apple CarPlay and Android Auto. As I become more familiar with Apple CarPlay, I come to appreciate it more and more, and that was certainly true during the road trip.
The Harman Kardon audio system, with eight speakers, is also standard on the SX Turbo Tech.
On the whole, the Soul was a very pleasant surprise during my drive with it.
The aforementioned transmission stutter was one small issue, but I did encounter a larger issue when driving through blowing snow.
Hopefully it was just the way the snow was falling on this night, but the reflection of the headlights off the snow made the already limited visibility even worse. It was so bad at one point that I almost switched my headlights off before thinking better of that.
But overall, the Soul is a peppy, comfortable small crossover that, slowly but surely, is able to convert some people into believers.
2017 Kia Soul SX Turbo Tech
Price as tested: $31,835.00
Freight: $1,740.00
Configuration: front engine/front-wheel drive
Engine/transmission: 1.6-litre turbo GDI four cylinder / 7-speed dual-clutch Sportmatic automatic
Power/torque: 201 horsepower/ 195 lb-ft
Fuel (capacity): Regular (54 L)
Combined fuel economy ratings (L/100 km): 8.5 L/100 km
Observed fuel economy (L/100 km): 8.9 L/100 km
Warranties: 5-years/100,000 km (basic)
Competitors: Honda HR-V, Mazda CX-3, Jeep Renegade, Fiat 500x
Related links:
Kia Canada
AutoWeek