Ask anyone purchasing a new car what it is they're looking for and you're generally met with answers like; performance, satellite radio, interior space for kids/dogs, A/C, etc. It's rare you hear someone mention a vehicle's estimated fuel consumption as being on the list of "must-haves." However, every manufacturer is obligated to provide said information to consumers for highway, city and combined ratings.
I'm the first to admit that fuel ratings are not high on my "importance" list when I drive a car. I do not drive to save fuel. I drive to burn fuel (and usually lots of it). I drive to feel the engine to hear the exhaust note to see how quickly a car can go from 0-100km/hr from a standstill to see how quickly it can corner, and to exploit the handling and suspension. The fuel mileage reading at the end of my test drives generally aren't at all close to what the manufacturer claims, and so it's not something I often talk about as I know I'm not driving consciously enough to have an opinion about it. I choose to have a heavy right foot, therefore I choose to pay the price at the pumps, simple as that.
However, when I was invited to participate in AJAC's 6th annual EcoRun, I knew I'd have to seriously change my style of driving.
First, let me explain what EcoRun is: It's a rally of sorts (not a race!) that gathers up a wide range of vehicles that are gas-powered, hybrid or electric, diesel or even hydrogen fuel cell. Over the course of two days of driving (Ottawa-Montreal-Quebec City) they are monitored for fuel consumption with ratings recorded and averaged out at the end. In total, this year, 18 cars started on the EcoRun driving grid in Ottawa, ONT, ranging from full electric vehicles like the Ford Focus EV and all-new Chevrolet Bolt to hybrids like the Porsche Cayenne S e-Hybrid and full gas models like the Subaru Forrester. The idea is that the journalists on the drive are out to prove that manufacturer fuel ratings, as well as the Canadian Fuel Association's numbers, are achievable, without too much effort.
To ensure us often heavy right-footed journalists actually took some care when driving the EcoRun vehicles, a bit of healthy light competition is added to the mix, and the winner (read: the driver with the best overall fuel mileage score) takes home the elusive Green Jersey.
I had to win.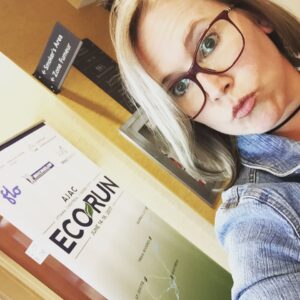 I am the most un-eco-friendly driver around, but I had to win. Of note: Hypermiling is not allowed nor encouraged. We are simply asked to drive in an eco-friendly way. Time limits were set for each leg that were anywhere from 120km to 50km in length. Roads were a combination of winding country backroads, highways, city and small-town with varying speed limits, stop signs, lights and even a few roundabouts.
What exactly did that mean for me on the EcoRun? Well, cruise control became my best friend on the highway. I was generally locked in 5-10km/hr below the posted speed limit in order to keep revs in the 2,000-2,500 RPM range (or lower if possible). Coasting to a stop meant paying attention to the traffic ahead more than usual, and sticking to the right lane whenever possible. Passing was rarely done, however those around me were whizzing by at great speeds. Well, not really great speeds, just at least 10-20km/hr more quickly than me.
I tried my best to avoid slamming on the brakes and instead would let the car's momentum slow naturally or I'd start to brake extremely early to ease the vehicle to a standstill. Of course, this method also changed depending on which vehicle I was driving. For the all-electric Chevrolet Bolt and Volkswagen e-Golf, I made sure to use the B brake system to capture as much battery energy as possible when braking. In the 5-speed manual Nissan Versa Note, I avoided downshifts, and instead popped the gearbox into neutral to coast to a stop.
Leaving a stop light or stop sign was done gently and deliberately, without jerky throttle input and to keep those revs low. In all, it really just calmed the drive down.
And made it slightly boring.
Let me explain: Again, I am not the most eco-friendly driver and I fully admit that (also, thankfully, I'd spent time behind the wheel of an Aston Martin DB11 just the day before the EcoRun, so my yahoos had been yahooed). If and when I buy my next car, I will not be considering the fuel consumption rating as a top priority in terms of what I go home with. However, I know there are those who will look to that information, and that's precisely what a rally like the EcoRun is all about.
There were two legs that really pushed my competitive spirit and almost broke me of my eco-driving ways: The first was on the very twisty, very secluded and gorgeous country backroads when I was behind the wheel of the all-new Toyota Prius Prime plug-in hybrid. I found myself pulling over to let other drivers by as I was miraculously keeping my speed well within or below the posted speed limits as I traversed glorious switchbacks and elevation-change hills with sharp-angled corners at the bottom. I was actually happy I wasn't in something slightly sportier or I would have been even more tempted. At the end of that run, I got the Prius Prime down to 2.5L/100km, and National Resources Canada rates it at 3.4L/100km. Self high-five to me right there.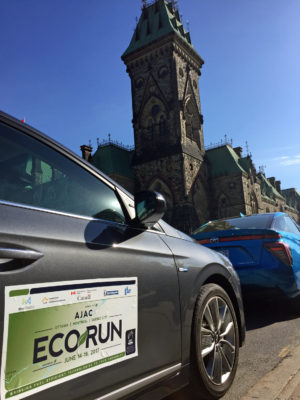 The second leg that really tickled my heavy right foot and had me reconsider how much I really wanted that green jersey (if at all, really) was when I slipped behind the wheel of the brand new Lexus LC500h. For starters, this thing is absolutely gorgeous to behold. From any and all angle, this coupe is stunning. Its silhouette is sexy, sleek and dare I say un-Lexus-like. It gets a serious amount of attention on the road, like a lot. The LC500h looks like a concept car that's escaped from a design studio, it's that cool looking.
With an available net power of 354 ponies, rear-wheel drive, and paddle shifters, my soul was literally screaming at me to push the Lexus just a bit. Just. A. Bit. As I cruised on the highway locked in at 97km/hr and other motorists cruised by me, mouths agape, camera phones out, I made sure to keep the windows down and the music loud, enjoying the drive as much as I could without giving in to my need for speed. My self-control paid off in the end as I managed to average 6.1L/100km, the best of the bunch, and well below the National Resources Canada fuel rating of 8.0L/100km.
So, how did it all end you might be wondering? And what were the eight cars I traversed at bit of Eastern Canada with? Well, for starters, here are the cars I participated with (and in the order I drove them):
Nissan Versa Note CVT – Miranda's fuel consumption: 5.7L/100km; NRCAN rating: 7.0L/100km
Toyota Prius Prime – Miranda's fuel consumption: 2.7L/100km; NRCAN rating: 3.4L/100km
Nissan Versa Note 5MT – Miranda's fuel consumption:  4.9L/100km; NRCAN rating: 7.7L/100km
Lexus LC500h – Miranda's fuel consumption: 6.1L/100km; NRCAN rating: 8.0L/100km
Hyundai Ioniq Hybrid – Miranda's fuel consumption: 4.1L/100km; NRCAN rating: 4.1L/100km
Subaru Forester – Miranda's fuel consumption: 6.3L/100km; NRCAN rating: 8.4L/100km
Volkswagen e-Golf – Miranda's fuel consumption: 1.5L/100km; NRCAN rating: 2.0L/100km
Chevrolet Bolt – Miranda's fuel consumption: 1.7L/100km; NRCAN rating: 2.0L/100km
Along the way, we learned a great deal about hydrogen fuel cell technology  (since there was a Toyota Mirai on the drive, as well) from the super intelligent and incredible students at the UQTR Hydrogen Research Institute in Trois-Riviere, as well as the future of electric-car charge stations from the good folks at FLO, and the future of wheels and tires from Michelin who introduced us to the "twheel" of the future. It was about so much more than the drive, and at the end of it all, even those of us with a less eco-friendly drive mind had our eyes opened ever so slightly to the movement.
Did I win?
Despite my best efforts, I did not. However, I did manage a respectable 3rd place, and as my very first time driving the EcoRun, I gotta tell ya I'm pretty proud. My average overall fuel consumption was 11.2L/100km, just 0.6L/100km off the No.1 spot.
After being in this business for well over a decade, it was really interesting to see that those fuel rating numbers are more than just lab-result specific. With a conscious effort, any driver can achieve them (or better them!) and in the end save money at the pumps and make a tank of gas last that much longer.
Here's to another successful EcoRun had by all, and bring on next year's competition.  I'm comin' for that Green Jersey.