This is a continuation of our cheekily titled series of summer road trip stories. Our goal is to have a bit of fun visiting a few of the numerous oversized roadside attractions which dot the Canadian landscape, using a vehicle that is a superlative of some sort in its category.
We're starting with each of the Maritime provinces but if we inspire our readers to hit the road this summer on a similarly themed trip of their own, so much the better.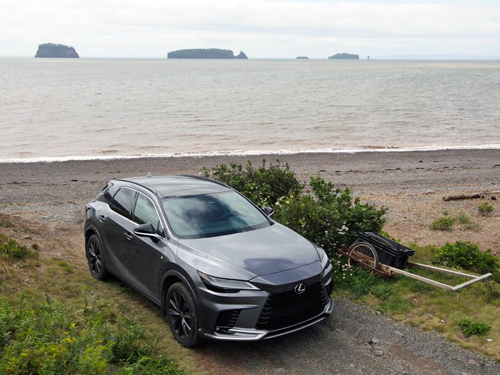 There's a solid argument to be made that the Lexus RX sits as the genesis of why there is a luxury-focused all-wheel drive crossover in garages of expensive addresses across North America. When the model first appeared roughly twenty-five years ago, it marked one of the first forays into upscale for what was then a hot new type of family vehicle. Decades later, this type of rig is still hot – even if they've become more ubiquitous than Friday fish in Ferryland.
And the Lexus RX continues to enjoy a towering status today, with competitors often cribbing its homework and eyeing with envy its place on the sales chart. With this superlative influence on such an important segment, we thought it the ideal machine to take on the Nova Scotia leg of these road trip journeys to see outsized bits of these eastern provinces.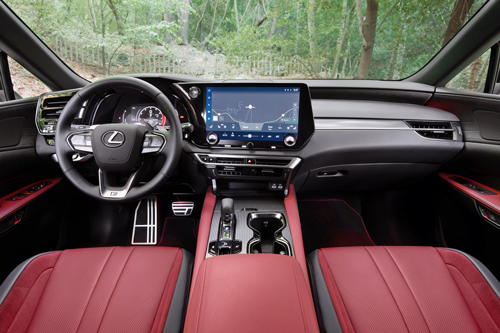 Bay of Fundy tides are the highest on our planet and are a gobsmacking natural wonder. The height difference from low to high is said to range from 3.5 meters (about 11 feet) along Nova Scotia's southwest shore but steadily increases as the flood waters travel up the shoreline to the head of this Bay where, in what's known as the Minas Basin, its tide height can reach an incredible 16 meters (53ish feet). For perspective, that's roughly the height of a five-storey office building – and, yes, some boats actually do just lay in the seafloor mud during low tide.
In fact, the Cliffs of Fundy Geopark exists as a UNESCO site dedicated to folks who wish to the connections between geology, local communities, culture, and nature. The park stretches 165 kilometres in length, surely making it one of the world's longest parks as measured from end-to-end, and dishes up thirty different geosites, some with entertaining names like Three Sisters and Old Wife (no relation).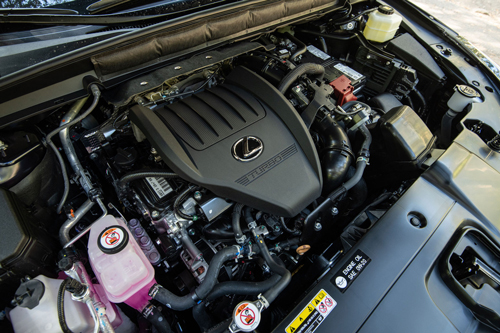 The two-lane rural highway which traces this part of the Nova Scotia shoreline occasionally plunges to the coast like a chart tracing Tesla's stock price, giving us a chance to sample the RX 350's power reserves. Standing at the entry end of the RX line, the all-wheel drive 350 variant packs a 2.4L turbocharged gasoline-powered engine good for 275 horsepower and a run to highway speed in a little over 7 seconds. Response is more than adequate upon stabbing the throttle with yer right foot, though a few hills made it clear the four-banger is working for its money.
In fact, this writer didn't find much real-world difference in terms of performance between this trim and the RX 350h, a hybrid model which packs on roughly 100 pounds and gives up about 30 horses but returns far better average fuel economy (approximately 10.0 L/100km versus an easy 6.5 L/100km). For the sake of an extra $1,500 at purchase, go for the hybrid which also comes with all-wheel drive as standard equipment.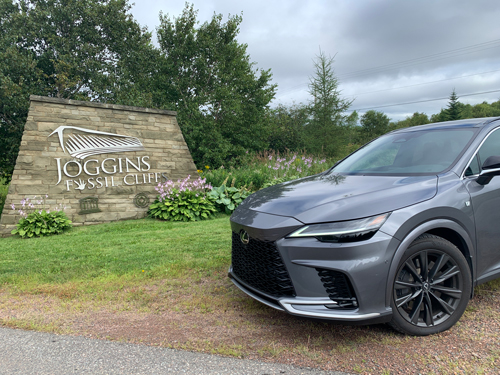 Further up the road on this end of Nova Scotia are the Joggins Fossil Cliffs, also recognized by UNSECO and home to some of the world's oldest visible fossil remains. Thanks to constant erosion by the tides – yep, part of the Fundy phenomenon and checking in at around 13 metres – hikers can explore the area and may fossils on the beach which have fallen from the cliffs or take in spectacular sandstone layers that contain fossilized remains of a 300-million-year-old forest.
Lexus likes to layer on numerous option packages instead of offering their wares in different trims. Its two-pronged approach can be described as formal versus sporting, as if two brothers with equally deep bank accounts chose to split off with one headed to Bay Street and the other to Mosport or Rogers Centre. Marketing dweebs at Lexus have coined these 'Luxury' and 'F Sport' packages, each of which is priced similarly and actually offers similar key features such as an increasing number of semi-autonomous driving aids and stereo sound systems as one moves up the pay scale.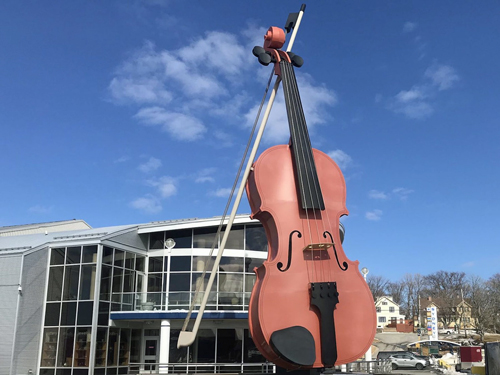 The difference? F Sport, shown here on our tester, offers a more gregarious personality that shows up for duty in the form of optional blazing red interior upholstery and a skiff of blacked-out trim to complement a choice of paint hues. This example was stuffed with the F Sport 3 package, deigning it with the likes of lane change assist, 360-degree camera system, and a digital rearview mirror along with other features. Our recommendation is to sample the F Sport 2 package, priced about $6,000 cheaper yet still grants access to the 14-inch infotainment tablet, wireless charging, panoramic moonroof, and a no-charge option of those tremendous Rioja Red seats.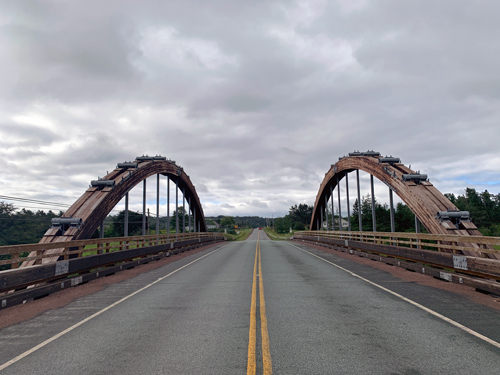 While the infotainment controls and operation are light years ahead of last year's RX, your author will carp about the infernal safety system intended to keep tabs on driver awareness but actually just becomes a nagging companion. Its camera peers at the pilot from a perch on the steering column and sounds alerts if it thinks the human at the tiller is not paying attention. It sounded the alarm far too often, such as when simply looking at house numbers for an address. The blasted thing also chastised me to 'Sit Up' when it couldn't spot my face because one of my arms was gripping the wheel in such a way that it blocked the camera. Lovely. I'm surprised there weren't messages telling me to eat my vegetables and wash my hands.
Nevertheless, the cabin's high comfort levels were on full chat during the highway drive through Oxford (home to an 8-ton blueberry statue in honour of local industry) on our way to Cape Breton and its claim of housing the world's largest fiddle. Such a monument, crafted from solid steel, is appropriate for this neck of the woods, standing 60 feet tall in tribute to the folk music and traditions of the region's Celtic community. Also found in our travels was what's claimed as the longest clear span, three-lane design timber bridge in Canada which is about 65 metres long and built from pressure treated glue laminated timber including coastal Douglas fir instead of steel. That's a mighty fine splitting of hairs to claim 'Nation's Largest' but good on 'em for pulling off this engineering feat.
And good on Lexus for not resting their laurels for 2023 even though the Canadian-built RX was already at the fore of its class in terms of popularity. With the improvements for this iteration, expect to continue seeing plenty of them in tony parts of town.