Any reader who has taken a road trip in this great country knows that every province has some sort of claim to fame. Newfoundland is known for an Irish-bent culture all its own, Alberta lays claim to beautiful scenery with the Rocky Mountains, and Ontario can say they have the world's highest per-capita sales of hair gel thanks solely to Doug Ford.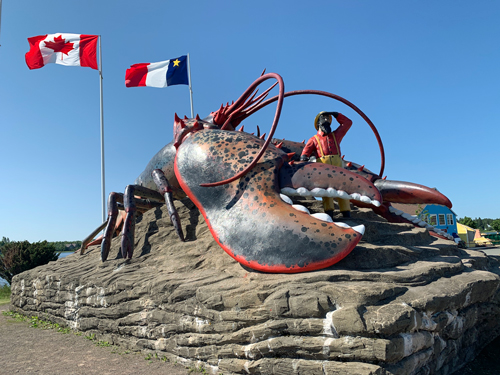 Something else most provinces have in common? Amusing and ridiculous roadside attractions. You know the ones – structures or sculptures or statutes purporting to be the world's largest … something. Whether they are official efforts put forth by local leaders to try and drag a few tourists into town or simply a spectacle created by an artist as a personal project, these creations are often as fun as they are funky.
All of which explains our cheekily titled series of summer road trip stories. Our plan is to visit Canada's four most easterly provinces in search of these enormous oddities, using a vehicle which is a superlative of some sort in its brand or category. After all, if we're headed out to see a statue claiming to be the world's largest lobster, an appropriate whip is required. If we inspire our readers to take a similar trip in their own province, so much the better.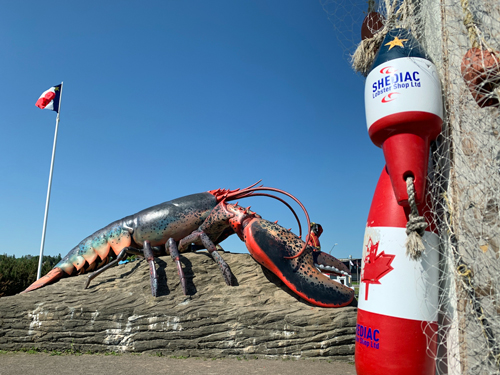 This particular route took us through New Brunswick, a place which turns out to be a lot more than just Irving Oil fuel stations and Jean Coutu pharmacies. Not far from the city of Moncton lies the waterfront town of Shediac, home to an annual lobster festival thanks to its proximity to fertile lobster grounds in the Northumberland Strait. Appropriate for the self-proclaimed lobster capital of the world, a 35-foot monument – correct in terrifying detail – of the crustacean sits a short jaunt off the highway just before the Main Street bridge. Placed there in 1989 and pressing into the earth at a mass of roughly 90 tons, the sculpture towers about 16 feet tall and is surrounded by the likes of gaily-painted souvenir shops.
And if you're at the Shediac lobster, it'd be a mistake not to continue about five minutes up the road and pay a visit to Mr. Banjo the Rooster. Sitting in front of a local take-out shack dishing up deep-fried foods, he measures about 8 feet tall and appears in precisely zero official tourism brochures we could find for the province of New Brunswick. Some rudely opine about his appearance but we challenge them to see how they fare after standing outside in multiple consecutive Atlantic Canadian winters. Consider this our official petition to have Mr. Banjo listed as a local treasure.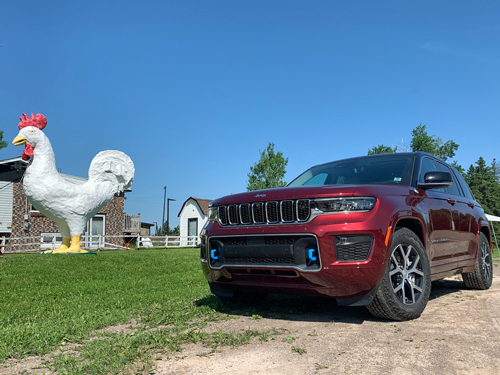 Lemme axe you a question: wood you have guessed a small town in New Brunswick is home to a giant homage to the nation's lumberjacks? Terrible dad jokes aside, the entertainingly named town of Nackawic is home to what is claimed as the world's largest axe. Constructed in 1991, the same year this community was named the Forestry Capital of Canada, its handle scythes 50 feet into the air and its chromed blade – hewn from 55 tons of steel – measures 23 feet across. The entire structure is designed to appear lodged in the end of a log, as if Paul Bunyan flung it down after a hard day's work. There is apparently a time capsule somewhere in the axe head, and the structure's 33-foot diameter concrete 'stump' is used for musical and theatre performances, making this a functional roadside eccentricity.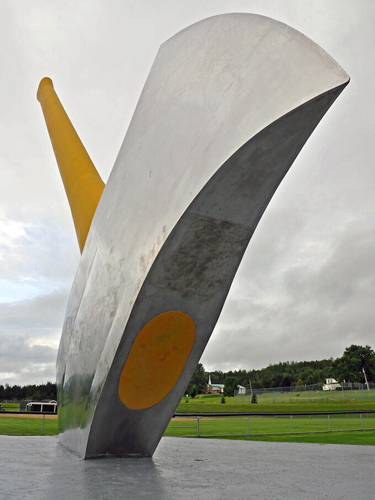 In case the images aren't a clue, we saddled up a Jeep Grand Cherokee 4xe for this journey. Marking the brand's first foray in plug-in hybridization, the 4xe powertrain tag teams a 2.0L turbo four with electrified gubbins to belt out a V8-like 375 horsepower and 470 lb.-ft of torque. A 17.3kWh battery means about 35 kilometres of all-electric driving range when conditions are right, and the amount of space in this thing – to say nothing of its many screens and massaging seats – made this an ideal road trip companion.
Moncton is home to Magnetic Hill, a quirk of geography around which an amusement park and tourist area has sprung. Over a century ago, locals in wagons noticed their wheeled conveyances were having trouble with a particular stretch of road in which appeared to defy gravity. To the human eye, it appears one's vehicle is rolling backwards up a hill, explaining the 'magnetic' part of this area's name.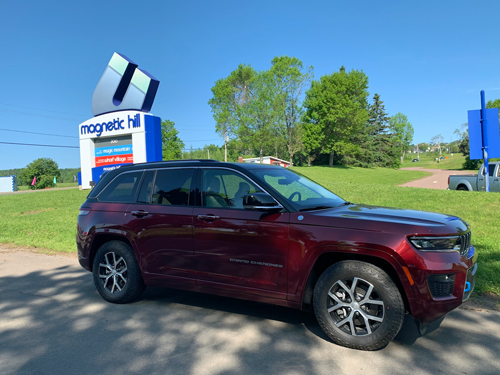 It's an optical illusion, of course, created by the grade of this road and the fact a driver's eyes cannot see the horizon which is hidden behind conifers and rolling terrain. The downhill slope appears to be a rise in the road, even though it isn't, creating the effect of moving up a hill as if being drawn in that direction by an invisible magnet. This is one of the only places in the world where this phenomenon is known to exist, and definitely unique in its ability to spawn souvenir shops and a water park.
Finally, we stopped off at Dorchester, known by some as the location of a medium-security federal corrections facility but also home to Shep the Sandpiper. The giant avian sculpture stands about 8 feet tall and weighs approximately 300 pounds. Interestingly, the original wooden statue was taken down about three years ago because of concerns about decay, but the present landmark is a more durable version made of steel and epoxy.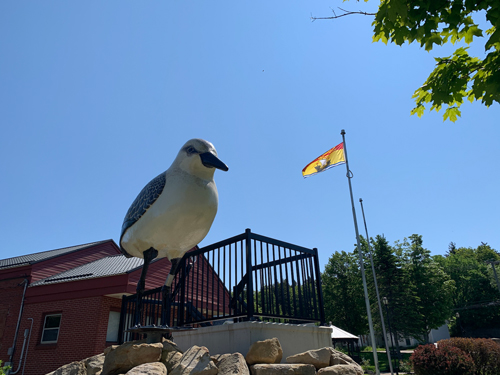 In a stereotypical display of asinine local politics, people in tall hats are complaining Shep was "reinstalled without permission" despite the community support in transporting the replacement sculpture to its current perch. According to scientists, approximately one-third of the world's semipalmated sandpiper population stay on the area's mudflats for about a month in the summer toward the end of July in order to rest and increase their body weight before migrating to South America for the winter.
There were a few other items on our itinerary – giant cows in Sussex and enormous fiddleheads in Plaster Rock, to name just two – but we can't spoil all the surprises; the best way to experience them is to hit the road yourself. Watch this space as we continue our tour through the other three Atlantic Provinces in search of outsized grin-inducing roadside oddities.