Counting is considered a pretty straight forward process: 1-2-3-4 etc., but when you're tallying the number of cars sold, it's apparently more complicated.
In July, FCA US issued a note to clarify how unit sales have been reported and to explain how they will be counted in the future "to provide its best available estimate of vehicle unit sales and … monthly data for vehicle unit sales as reported historically."
Now FCA Canada has issued a note to clarify how its vehicle unit sales have been, are, and will be reported.
There is a difference.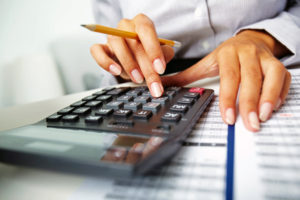 "On Aug. 3, 2016, FCA Canada reported its July 2016 sales using a new sales reporting methodology" similar to the system implemented by FCA in the U.S. "as modified to reflect differences in the Canadian sales reporting process."
The note explains how the new FCA Canada method provides transparency to the sales reporting process as well as to historical monthly sales.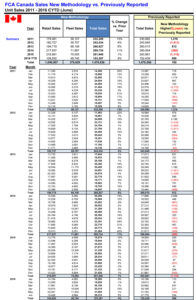 Unit sales data has three main components, says the release: sales made to retail customers, sales shipped directly to fleet customers and other retail sales "including vehicles delivered to FCA employees and retirees and vehicles used for marketing.
Retail data from dealers is collected through a reporting system called the New Vehicle Delivery Report (NVDR) designed to capture the time of a retail sale for two purposes: the date recorded in the NVDR begins the vehicle warranty coverage AND it triggers FCA's obligation to make any incentive payments to the dealer.
The sales are made out of dealer inventory purchased from FCA Canada before delivery to the customer. The sale to the dealer triggers revenue recognition in FCA Canada, not the ultimate sale by a dealer. That's why monthly retail unit sales have no impact on revenue reported by FCA.
NVDR doesn't allow for a dealer to "unwind" a recorded sale and return a vehicle to unsold inventory, but a dealer can edit data at the time the vehicle is subsequently sold. That leaves a grey area about whether a vehicle has been "unwound." To avoid double reporting, the process blocks any VIN from being reported twice. Fleet sales data previously included a "reserve" of vehicles that had been shipped but not reported as "sold" in the monthly reports for a variety of reasons The reserve has always been positive but arbitrary.
NOW total sales equals dealer sales plus fleet sales plus retail (other sales) with dealer sales the sum of all recorded sales that month. Fleet sales are recorded on shipment by FCA to the customer and "other" will be added when the sale is recorded in the NVDR.
FCA says that, in its judgment, the new method is "the best available estimate of the number of FCA Canada vehicles sold to end users through the end of a particular month applying a consistent and transparent methodology. It continues to include some level of estimation in respect of, for example, unwound transactions and fleet deliveries."
Under the new system, August sales of 21,627 units was down 20% compared to last year. And Year to date sales of 199,693 is down 2% from last year. Retail sales were down 19% last month while fleet sales were down 22% year-over-year.
Sound a bit like "new math?" It's enough to drive "The Count" (Sesame Street) bonkers.