Perched high above the sea, the 10th Century village of Eze offers stunning views of Cap Ferrat to the west, the Gulf of Saint Tropez and Italy to the east. Monaco is almost within sight as you stand gazing into the bright blue Mediterranean sky from the many walkways and terraced lounge areas of one of the finest hotels in France; Chateaux de la Chevre d'Or.
An "original six" member of Relais & Chateaux, La Chevre d'Or regularly plays host to many of Hollywood's brightest stars. The tranquil and somewhat remote location of Eze, combined with a year-round vacation climate, makes this the perfect hideaway. As you would expect, names of the guests are a strictly guarded secret. Though no paparazzi would be seeking my picture beside the Presidential Suite's crystal blue infinity pool, escaping the crush of Monte Carlo for a few days seemed like the perfect plan to me as well.
Making my time at Chevre d'Or even more thrilling would be the opportunity to explore several of the finest driving roads in Southern France. Picturesque at every turn, three unique highways snake through the mountainous coastline; Avenue des Diables Bleus at the crest, Avenue des Verdun passing through Eze Village and Avenue de la Liberté where the sea stretches upward to touch asphalt. Even in your wildest dreams, how could it possibly get any better than this?
I was about to find out.
Rounding the corner of the gated and private parking lot for the hotel, there it stood. The SLR McLaren is a rare beast certainly, but experiencing a Roadster version in person is akin to getting a private viewing of the Mona Lisa at the Louvre Museum in Paris. It doesn't happen very often. Glistening in metallic black against the verdant backdrop of a Mediterranean mountainside, this was truly going to be a celebrity-filled few days.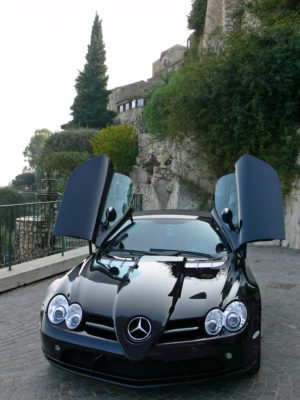 The hand-built V8 engine of the SLR McLaren Roadster develops a breathtaking 617 horsepower at 6,500 rpm. Torque is rated as 575 lb.-ft at 3,200- 5,000 rpm. Acceleration from 0-100 km/h takes a mere 3.8 seconds while top speed reaches supercar status exceeding the mythical 330 km/h plateau (206 mph).
Driving a sports car at speeds exceeding 300 km/h takes exacting focus and long-range planning. Other vehicles on the road come and go from your sight at a blistering pace. Maintaining the speed for longer than a few minutes is a feat I have accomplished only once. To enjoy a vehicle of this caliber, it would seem a good idea to also possess an FIA Super License.
Exterior styling design reflects the power under foot. Twin fins accentuate the nose of the F1-inspired, elongated hood. Three-tiered side gills not only look menacing, but provide much needed air for the supercharged, mid-mounted engine.
Quick turns are made a little easier with 255/35 R19 front and 295/30 R19 rear tires mounted on 19" alloy wheels. Carbon fiber reinforced lightweight ceramic brakes bring the SLR McLaren Roadster to a rapid and controlled stop.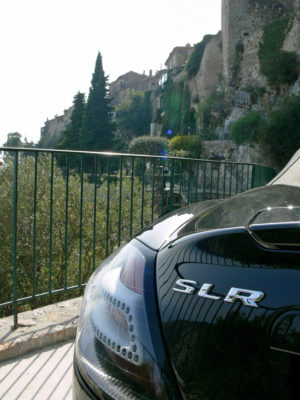 Swing wing doors provide access to the interior. Holding the driver and passenger firmly in place, carbon fiber seats are covered in premium leather. A 3-spoke stitched leather steering wheel, round white on black gauges and perfectly positioned gear lever with engine start button ensure a supremely enjoyable driving experience.
At the conclusion of a long day exploring Eze and the surrounding countryside, dinner was served at La Chevre d'Or, a 2 star Michelin restaurant. Under the attentive gaze of our host and his exceptional staff, wine pairings were carefully matched to each course. Dessert was not one, but three unique courses, topped off with designer pastry drenched in warm chocolate.
Rooms at the hotel are exclusively designed to incorporate the structural uniqueness of this 1,000 year old city on a cliff. Our two level suite showcased a separate entry, marble-floored living area with LCD TV and computer desk on the upper half. The bedroom featured a relaxing king-size bed, washroom with Jacuzzi tub and double sinks. Entrances between rooms were low given the grotto design of the mountainside room, requiring care when walking in the dark.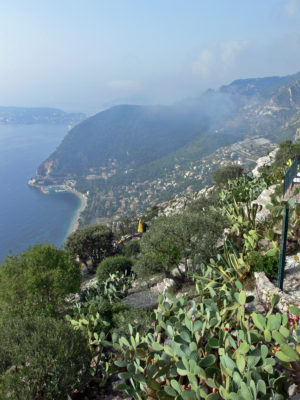 Recreational activities are many at Chevre d'Or. But perhaps the best thing to do is to simply do nothing at all. Poolside lounging in the afternoon sun with an unobstructed view of the crystal blue sea below is a must and we indulged at every opportunity. Rising early the next day, the vibrant sound of motorcycles dancing in the early morning mist was enough to break my desire for quiet rest. Gulping my Café Americano and grabbing the car keys, I knew it would be another memorable day in centuries old Eze Village.
2008 SLR McLaren Roadster
Configuration: front engine/rear wheel drive
Engine/Transmission: 5.4L V8/5-speed automatic
Power/Torque: 617 hp/575 lb-ft
Fuel (capacity): 97 litres, (Premium unleaded)
EnerGuide fuel economy ratings (Coupe), city/hwy: 17.4/12.6 L/100 km
Competitors: Aston Martin DB9, BMW M6 Convertible, Ferrari F430 Spider, Lamborghini Murcielago LP640 Roadster
Related links: