Snow fell at such a rapid pace, even the speedy Porsche Cayenne GTS couldn't stay ahead of the flurry. I wasn't complaining. Driving this most austere Porsche SUV through a blinding snowstorm in the Swiss Alps at speeds slightly above the suggested limit is the stuff dreams are made of.
My co-pilot wasn't as convinced. Numerous gasps escaped through clenched teeth, though she did a masterful job of hiding her inner turmoil as we rocketed toward a large delivery truck, passing just before the next sharp turn forced us into a series of blind right and left hand corners.
A white-knuckled ascent over the Julier Pass on the way to St. Moritz is not for the faint of heart at the best of times. When the landscape is blanked in white, and blowing snow crests the roadway like angry seas pounding against a break wall, a trek over the mountains becomes a challenge worthy of Man vs. Wild. The thought of a world-class destination at the end of our drive would be the perfect end to a stellar Alpine experience.
The 2009 Porsche Cayenne GTS features a 4.8L V8 engine mated to either a 6-speed manual, or as was the case in our vehicle, an optional Tiptronic S dual-mode automatic transmission.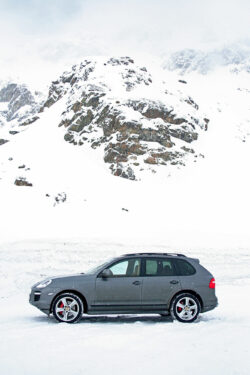 Power is rated as 405 horsepower at 6,500 rpm with 369 lb.-ft. of torque at 3,500 rpm. Zero to 100 km/h is achieved in only 5.7 seconds with the manual transmission, 6.1 seconds with the automatic. Porsche claims a top track speed for the Tiptronic S equipped Cayenne GTS of 253 km/h.
You expect a vehicle such as this to be able to stop as fast as it starts and the Porsche Cayenne delivers. Porsche Stability Management, (PSM) with ABS also features Anti Slip Regulation, Automatic Brake Differential and Engine Drag Torque Control.
Standard equipment includes 21" Cayenne Sport wheels, variable ratio power steering, front and rear stabilizer bars and a superb double wishbone front – multi-link rear suspension. I know it's an SUV, but Porsche DNA comes through with every corner.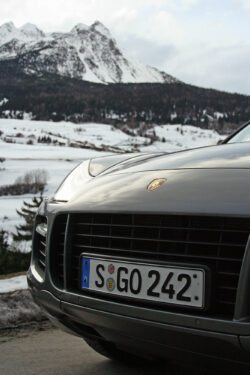 Reaching our destination, St. Moritz, Switzerland is a favourite resort village for more than just the rich and famous. Mountain slopes were packed with snow-worshippers bent on experiencing the rush of skiing at 3,300 meters in near perfect powder conditions.
Carlton Hotel St. Moritz is a beacon of comfort in a region awash with luxury accommodations. Sixty south facing, one-of-a-kind suites and junior suites, overlook the lake and Alps adjacent to St. Moritz.
Interior designer, Carlo Rampazzi was given a blank canvas on which to re-create a hotel complimentary to its illustrious heritage, but firmly rooted in the present. His design theme showcases unique décor in every room, even going so far as to implement different colour schemes and art work throughout each hallway. A masterpiece of execution, the Carlton Hotel is quite untypical of what many consider a luxury hotel in Switzerland to be.
The 1,200 sq. meters Carlton Spa offers a full menu of services in a lavish setting filled with views of snow top covered mountains. At night, stars sparkle above; matching the radiance of St. Moritz after dark. Two pools, one indoor and one heated outdoor adjoin to form a cocoon of relaxation. Here, the act of doing nothing is time well spent.
Casual dining takes place at Tschinè. Fine dining is served at the Restaurant Romanoff while the hotel bar is an excellent place to reflect on the day's activities. St. Moritz is a vacation destination, so there were many stories to tell of high altitude adventure and browsing through endless stores filled with Swiss chocolate.
The Porsche Cayenne GTS is no stranger to luxury. Interior appointments include an AM/FM/CD sound system with 12 speakers. A five gauge instrument panel delivers easy-to-read information including speed, rpm, gear selection and outside temperature.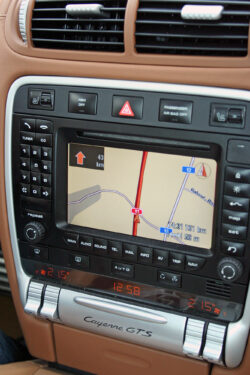 Front seats border on firm, but are superbly comfortable offering 12-way adjustment and driver's memory. The 3-spoke heated leather steering wheel features a full complement of audio controls, along with thumb shift paddles for the Tiptronic S transmission. Steering is precise and properly weighted for low or high speed maneuvers.
Switzerland provided many opportunities to stretch the legs of the Cayenne GTS. Arguably the best Cayenne to drive in the family, tight mountain passes, dark tunnels, one-lane passageways through small towns and fast-flowing highways left us breathless and wanting more.
Leaving St. Moritz, our way back over the Julier Pass was still blanketed in snow. Suddenly, asphalt appeared where none had been seen before. As if on cue, bright morning sunshine transformed the bleak landscape into a dazzling field of white. My co-pilot gripped the armrest, knowing full well what was about to happen. With perfect road conditions, new corners awaiting exploration and a 2009 Porsche Cayenne GTS underfoot, there was simply nothing left to do but drive.
2009 Porsche Cayenne GTS
Configuration: front engine/AWD
Engine/Transmission: 4.8-L V8/6-Tiptronic S
Power/Torque: 405 hp/369 lb-ft
Fuel economy ratings city/hwy: 16.2/10.8 L/100 km
Observed fuel economy: 13.1 L/100 km
Competitors: Audi Q7, Infiniti FX50, Jeep Grand Cherokee SRT8, Mercedes-Benz GL Class
Related links: