If there's one thing in the world that goes together like bacon and eggs it's cars and watches. More than a few gearheads have an affinity for timekeeping bling, choosing to express their personality by way of a fashionable watch in the same way most of us like to show off our cars. The two go hand in hand – pun intended.
That's why any sort of luxury watch with an automotive bent gets our collective attention. Offered by Time Concepts, a watch firm known for making high-quality timepieces, this piece is a member of the Szanto family and has a tremendous tie-in with American motorcycle culture.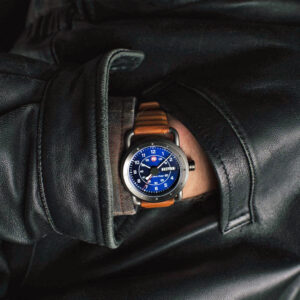 Roland Sands is a noted bike racer, now designing custom high-performance motorcycles. In professional competition, he won the 1998 AMA 250GP National Champion road racer championship and today is the owner and founder a company that sells custom motorcycle parts. He is known for unique designs and has developed a cult following around the world.
This ICON Signature Series watch saw Sands getting involved in all design details. "The unique watch design is meant to invoke the feeling of instruments on a bike and reflects his individualism," said Barry Cohen, founder of Time Concepts. The watch is crafted using a satin brushed stainless case with screw case back, a scratch resistant mineral crystal, and 100 meters water resistance. That blue face is sure to stand out nicely against either formal jackets or leather motorcycle gear.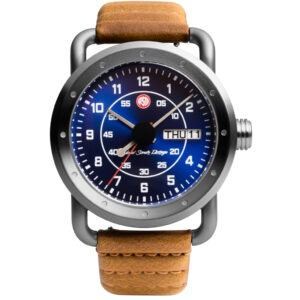 Its natty brown strap is made of Horween leather and is intended to quickly pick up the look of well-worn motorcycle boots and jackets. In an age where patina-laden classic cars are selling for as much or more than fully restored ones, this is an unique characteristic that will add more character to this watch the longer it is worn. Sands has also lent his talents to a series of jackets, explaining raised padded ribs on the strap which are designed to emulate stitch treatments on his line of outerwear.
"I'm honored to partner with Time Concepts on the design and introduction of the Roland Sands Icon Watch," said Sands. "The resulting watch is a timepiece that embodies the love and passion that I have for racing, the motorcycling community and innovative design."
Interested? Szanto ICON Signature Series: Roland Sands watches are on sale now, available online at timeconcepts.net