From 30 feet away the white Martini 911 is a stunner. She's got the whale tail, original square 80's mirrors, the cute round-eye headlights and a bright red lipstick smile. She looks like a proper garage queen – quietly appreciating in value as classic cars become a rare commodity.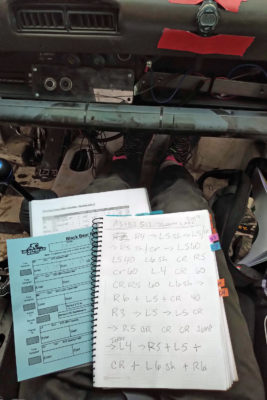 So spectators at the Black Bear rally north of Peterborough, Ontario, last July were startled and thrilled to see this vintage, low-slung machine come pounding down the rough quarry road in pursuit of rough, tough four-wheel drive Subarus. Martini is a fan favourite – eliciting whoops and cheers with every sliding corner or hop over a jump.
This 35-year-old car is no garage queen. She's seen some real excitement over the past few years. Purchased in 2011 by veteran rally racer Ian Crerar, of ClearWater Design, she was already converted to road racing, complete with stripped interior and a stout cage. He made some mods and began to rally the car in the Ontario Performance Rally series, but decided that maybe road racing would be a better fit.
Martini was too slow for him at the track so he sold her to a novice road racer. After a couple years of championship-winning racing, that driver also outgrew the car, and Crerar bought her back, deciding rally was in her blood after all. With a few more adjustments to suspension and setup Martini once again appeared on the performance rally stages, taking on the famed Rally of the Tall Pines in Bancroft, Ontario, in 2016.
Tall Pines is renowned for its rough roads and long stages through the wintry back woods. Martini did well through the much of the one-day race, but suffered a hard blow from a hidden rock that not only briefly knocked out Crerar – who was driving – but also peeled the tire off a front wheel, leaving the 911 lurching until it slid into a snowy ditch at slow speed.
After a couple years of rest in a dark and dreary shed, Martini was dusted off to come out of rally retirement at Black Bear. Remarkably, the car started right up and after a good cleaning and some fresh rubber she was ready to roll.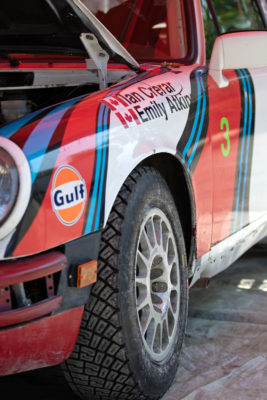 Driven by Crerar and co-driven by the interim road-racing owner, Martini was flawless over the relatively smooth gravel of the first stage roads. But after that gentle intro the rally gets nasty, requiring a long run down a track that many off-road drivers would hesitate to drive.
The first pass of the out and back road was bad – the car crashing and bouncing over brutal rocks, huge holes and rough ruts. But the return was terminal. As the 911 lurched from rock to rock, the engine failed without warning. The rear suspension had broken off the frame, dropping the engine a good three inches and severing the ignition wires.
Martini was towed off the stage, the rally lost but the damage fixable. And now she's back in the shop, waiting for some love to put her back together. Her fate is not yet clear, but one thing is guaranteed: This tough vintage beast will race again.