Even if you're the most ardent Rocker, I'm betting there's a part of you that knows the Mods were on to something. How can you not? Scooters are like cool, daddy-oh. Those small, two-wheeled step-throughs are equal parts fun, sophisticated, stylish and efficient. And prolific. Vespa, the most iconic of the scootering world, has churned out nearly nineteen million of them. They're also turning seventy-five years young this year. To celebrate, the Pontedera Italy based purveyors have created a selection of limited edition scooters, based off of their Primavera 50, 150 and GTS models and, as you've no doubt guessed, they look absolutely sbalorditivo!
The Vespa 75th line will differentiate themselves from their standard stablemates via a special livery created specifically for the milestone, a new saddle, a chromed luggage rack, some refined finish treatments and a desirable tech upgrade.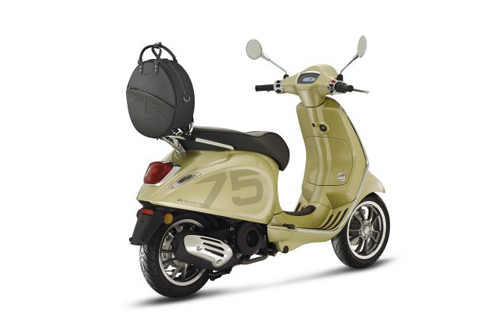 You can order your 75th in any colour you like provided it's "Giallo 75th". The metallic yellow hue draws inspiration from the brand's heritage while also tipping its hat to the mid-century modern renaissance that's seemingly enveloped my Instagram feed as of late. The saddle is finished in Grigio Fumo nubuck, as are the matching 12-inch rims and each model features a prominent "75" in contrasting colour on the side panels and front fender.
Additionally, the chromed rear cargo carrier will come affixed with a limited edition nubuck leather bag that was shaped to resemble the old spare tire carrier. The dash is also upgraded to include Vespa's flagship 4.3" TFT display that, when coupled with the Vespa Mia App, will let you connect via Bluetooth to manage music, handle calls and see texts come in as well as pull up data from your rides and bike. Each model will also ship with a Welcome Kit that, among other niceties, ships with the requisite jacquard-silk scarf, so you can truly embrace your inner Milanese fashionista. Paired with a grey houndstooth wool Zegna suit, some Persol sunglasses (sorry Serengeti) and a pair of brown Testoni derbys you could roll right up into the President's parking spot and nobody would cause a fuss.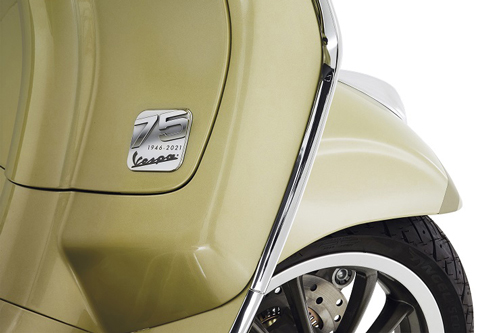 The 50cc Primavera is best suited for the hustle-bustle of pure urban life as its engine only offers up 3.2 horsepower and 2.2 lb-ft of torque — just enough to stylishly sneak around any city's mean streets. The Primavera 150 on the other hand, can handle speeds up to around 96 km/h, thanks to its 12.9 hp and 9.4 lb-ft of torque 155cc engine. The crown jewel of the three, the GTS is equipped with a 278cc engine that turns up the wick to the tune of nearly 24 hp and just under 20 lb-ft of torque but sadly this model won't be making it north of the border.
Vespa's anniversary isn't technically official until April 23rd — that's the date, in 1946, of the official patent filing — and these models will arrive fashionably late to our party. Expect the Canadian contingent to show up in June (the US gets theirs in May), with the Vespa 75th 50cc selling for $5,095 and the Vespa 75th 150cc commanding $6,345.