It was just a matter of time.
With most of its competition developing and releasing hybrid super cars and hypercars – and its legendary V12 starting to age out – the time came for Lamborghini to jump on the hybrid hypercar train, which they did in 2019 with the Sián Coupé. A short six months later, as tends to be the way with the Italian automaker from Sant'Agata Bolognese, they've lopped the top off and created the Sián Roadster.
And it is absolutely, certifiably, stunning.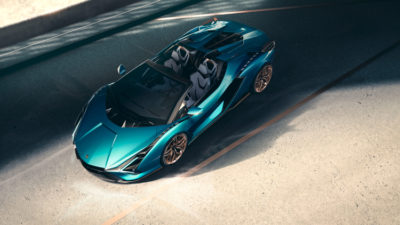 While the debut colour is the ultra-rich Blu Uranus, each Sián owner was allowed to personalize their colour to the nth degree, so it's unlikely you'll find two Siáns wearing the same shade of paint.
What they all got, however, was a set of wheels finished in something called "Oro Electrum" which, apparently, denote the Sián's use of electricity in its powertrain.
While both Sián variants display some allusions to 2016's Lamborghini Centenario, the head- and taillights seen here are far larger and more aggressive (especially the taillight lenses) while all manner of functional aerodynamic addenda serve to prove that the Sián will be able to slice through the air just as assuredly as the hybrid powertrain propelling it. Indeed, it is absolutely stunning, this car, and it's hard to believe that something this futuristic-looking can actually be used on the road today.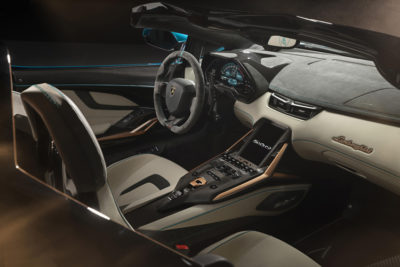 Not to mention the interior, which is just as bonkers as the exterior what with its two-tone colourway, exterior-matched stitching, massive digital gauge display and a central infotainment screen that is so large it looks a better fit for a Tesla or Volvo. That's all before we even consider the perfectly-woven carbon weave that surrounds said display and makes its way down the transmission tunnel. It also graces the steering wheel, gauge cluster hood and shift paddles.
Don't think that this is Lambo's take on hybrid driving for the masses, though; only 19 Siáns will be built and, surprise surprise, they've all been spoken for.
Doesn't mean we shouldn't ogle it for what it is: a spectacular open-topped (and only open-topped; there is no stowed roof; you'll need the fixed-head coupé version for that) machine with the most powerful V12 Lamborghini has ever produced, good for 819 hp. It's enough to propel the Sián from 0-60 mph in just 2.9 seconds, on to a claimed top speed of 350 km/h.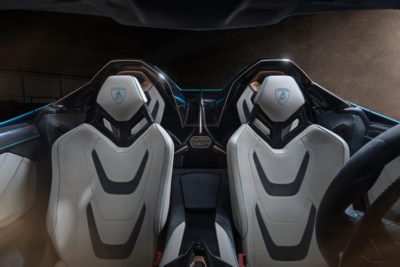 It is a slightly-more-than-mild hybrid, however; there is an EV motor, but it measures just 48 volts and is mounted to the transmission, providing 34 hp and on-hand for more immediate response. Thanks to a powerful regenerative braking system, it fully charges the EV motor under braking, so it recharges as fast as it travels. Indeed, with a name like "Sián" – Italian for "lightning" – it had better be the gold standard when it comes to speed, in all facets of the drive.