Never a brand to miss a chance to stand on ceremony, Alfa Romeo has prepared a year of celebration for its 110th year in business, culminating in a completely overhauled Alfa Romeo museum, complete with a collection of 220 cars, about 70 of which will be displayed at any given time as the rest are kept in the archives below the museum. Also in said archives sit over six kilometers – six kilometers! – of paper, detailing everything from the colour of each Alfa ever produced, to where they were sent, to a document containing Enzo Ferrari's signature that consummates a deal for him to take over the Alfa Corse race team. The kicker? It's the exact same document that the lowliest Alfa employee has to sign when they apply for a new position. Nothing special for Mr. Ferrari.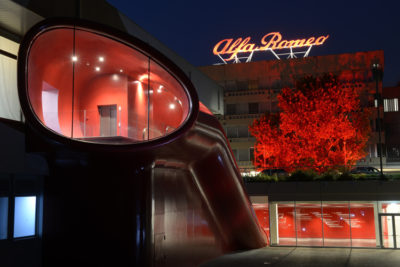 Notable vehicles include the first ever car with "Alfa" (actually, "A.L.F.A.", to be precise, shorthand for Anonima Lombarda Fabbrica Automobili or "Anonymous Automobile Manufacturer" as it was started by a group of investors), the 24 HP, the Tipo P2 and 158/159 Alfettas, the first two Formula 1 title winners in history as well as the gorgeous and ultra-rare 33 Stradale sports car. The collection is divided into three sections: Timeline, Belezza and Speed. Timeline is about the genesis and evolution of the brand (one that has, admittedly, been through a dizzying array of highs and lows) – it's here you'll find the real classics. Belezza is next, where the most awe-inspiring Alfa designs reside and finally "Speed", where you'll find racer like the 33 Stradale and the Tipo P2.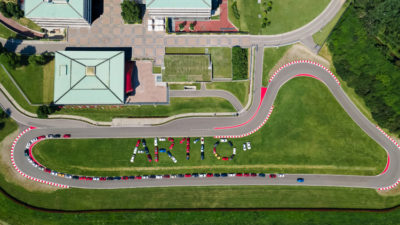 More than just a collection of cars, Alfa Romeo wants the museum to be an experience, which is why all elements of the building design have some "Alfa-ness" to them. The museum canopy, for example, is finished in Alfa Red and it traces a path from the parking lot to the museum. New product reveals will also take place there, and there's a test track that looks a little like a mini-Monza where owners, to quote museum curator Lorenzo Ardizio, "can live their passion."
Speaking of "living a passion"; if you aren't well-heeled enough to own a classic Alfa (and patient enough, and know a good mechanic. Which, of course, is all part of the fun) and won't be travelling soon considering our current health climate, Alfa has a couple of tasty ditties on offer in their showroom here.
Recently, a select few journalists were asked to attend a small presentation surrounding the changes to the Giulia sedan and Stelvio SUV. And in true Alfa fashion – this is a company that has always done things it's own way, remember, for better or worse – the changes are for the model year 2020, even though MY 2021 really is just around the corner, COVID or no.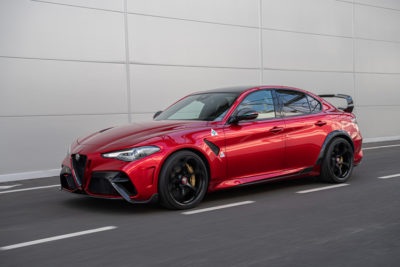 2020 Alfa Romeo Giulia
As bright as are the colours that grace the Giulia's Avant Garde flanks, it is very much a bit player in the luxury sedan sphere.
Which isn't really right, is it? The 2.0L turbo-powered versions are good for a class-leading 280 hp and 306 lb-ft of torque, while the top-spec Quadrifoglio edition has best-in-class power to weight ratio (about three kilos per horsepower) thanks to its Ferrari-derived turbo V6. Further to that: it's gorgeous to look at, it handles very well (but you do have to watch yourself on the limit in the most aggressive drive mode as that switches TCS off and there's nothing you can do about it) and it's got some properly European styling touches and materials inside.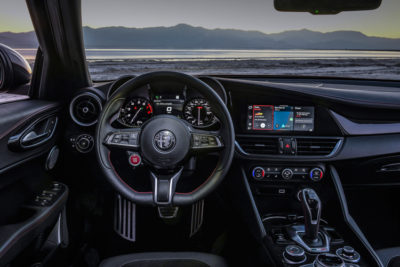 So, in an effort to better align the Giulia with vehicles like the Mercedes C- E-Class, the BMW 3 and 5 Series and Audi A4, Alfa has gone through the interior and added a some class via a lower-profile, leather-wrapped gearlever, more premium materials on the infotainment rotary dial and other interior controls and – key for this segment (for most segments these days, actually) – overhauled the infotainment system.
Contrary to popular belief, Alfa continues to make use of a proprietary system even though parent company FCA's Uconnect system continues to be one of the best in the biz. For 2020, Alfa has taken its shot by continuing to work with Italian engineering fir Magneti Marelli developing a system that's faster and slicker-looking than its predecessor.
Its three-panel alignment recalls a similar system seen on current BMW's equipped with iDrive 7.0, as does its rotary dial. Or, you can opt to operate the system via its 8.8" touchscreen display. Unlike in previous years, that's the only available screen size for the Giulia. The steering wheel rim is now thicker, and the digital TFT screen within the gauge cluster has been redesigned as well. There's also available wireless charging.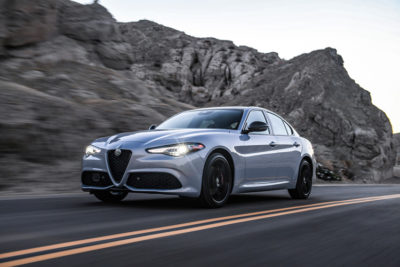 Of course, in-car tech extends beyond infotainment; there are safety concerns as well and in that light, Alfa has added a suite of level-II autonomous features including traffic jam assist, highway assist (both variations of adaptive cruise control), traffic sign recognition, lane keep assist, active blind spot assist and driver attention alert. We'll just leave aside for now the fact that this stuff probably should already bee in a car in this segment because it's here now, and up to speed with the competition.
Outside, not much has changed past the addition of three new colours: Anodized Blue, Lunare White Metallic and Verde Visconti Metallic. Finally, you can have your Giulia in any of the three colours of the Italian flag.
For those familiar with the even hotter Giulia GTA model; don't get too excited as there are no plans at this juncture to bring that to North American markets.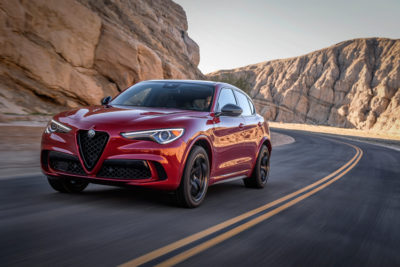 2020 Alfa Romeo Stelvio
For 2020, the Stelvio gets much of the same treatment as the Giulia when it comes to tech, which should make Stelvio fence-sitters happier. The SUV/CUV segment in which the Stelvio competes is more popular – and therefore, more competitive – than the luxury sedan segment so you could say that those tech addition are even more welcome in the Stelvio.
In addition to the new interior material, infotainment system and driver aids, the Stelvio now gets body-coloured fenders and rocker panels, items that were greyish-black in older models. That makes for a much cleaner, more luxurious and classy look than previous models and is better in-keeping with the competition; that is to say that instead of looking like an Audi A4 Allroad, the Stelvio now looks like a Q5 and that could be just the shot of style it needs.
In addition to the new styling, the Stelvio also gets Anodized Blue and Lunare White paint options – it already had Verde Visconti as an option.
The 2020 Alfa Romeo Stelvio and Giulia are already in most dealers, and more continue to arrive.
Pricing
Alfa Romeo Giulia (RWD)
Giulia – $50,445
Giulia Sport – $52,445
Giulia Ti – $52,445
Giulia Ti Sport – $55,645
Giulia Ti Lusso – $56,195
Giulia Ti Carbon – $59,945
Giulia QV – $90,945
Alfa Romeo Giulia (AWD)
Giulia – $52,445
Giulia Sport – $54,445
Giulia Ti – $54,445
Giulia Ti Sport – $57,645
Giulia Ti Lusso – $58,445
Giulia Ti Carbon – $61,945
Alfa Romeo Stelvio
Stelvio – $54,545
Stelvio Sport – $57,645
Stelvio Ti – $56,545
Stelvio Ti Sport – $60,545
Stelvio Ti Lusso – $60,545
Stelvio Ti Carbon – $63,045
Stelvio QV – $96,200