In 2015, Chrysler made a play to inject some life into its aging sedan lineup with a redesign of the mid-size 200 model. It was a successful styling exercise that replaced the outgoing car's dowdy look with graceful curves and a genuinely upscale appearance.
Under a longer, sleeker hood lived one of two engines both carried over from the previous-generation car. Base models used a 2.4-litre four-cylinder, while up-level trims got a 3.6-litre V6 that has earned a reputation for delivering strong power and decent fuel economy in other vehicles sold by Chrysler (and its Dodge and Jeep corporate cousins).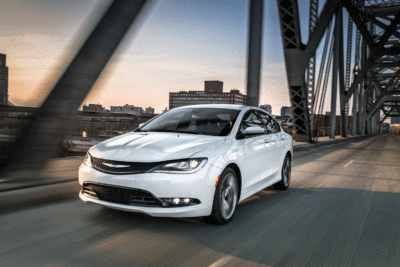 Both engines came with a brand-new, nine-speed automatic transmission whose three extra ratios (compared to the old car's six-speed) were supposed to reduce fuel consumption even further, but all they seem to have had an impact on is the number of performance-related complaints from Chrysler customers.
Right from the start, owners experienced rough shifting, no shifting, and a tendency to suddenly shift into neutral that was deemed a serious enough safety concern to warrant a recall.
To be fair, this transmission's foibles aren't entirely Chrysler's fault: the gearbox is manufactured by a German company called ZF that has built transmissions for all kinds of cars. In fact, Jeep delayed the launch of its Cherokee because the brand wanted to sort out some of the transmission's performance flaws before installing it in that SUV. Land Rover, Honda and Acura have all used this gearbox in a handful of models, and it has been a source of complaints for those manufacturers, too. Chrysler has issued software updates for the transmission's computerized controls, but they have produced mixed results.
The shame of it all is that when the nine-speed works well, the Chrysler 200 is a powerful, smooth-driving car that looks more expensive than it is. But the transmission isn't the only thing to watch for in a used 200. Both a poor wiring connection and a faulty rear differential actuator can disable the optional AWD system and trigger a warning light; the touchscreen-based Uconnect infotainment system is known for crashing; and an optional passive keyless entry system can be touchy.
Ultimately, a combination of factors prompted Chrysler to discontinue the 200 after the 2017 model year.
Bottom line: Were it not for the nine-speed's poor performance and reliability, the Chrysler 200 would be an easier car to recommend for its combination of performance and low resale value. But knowing what we know about that transmission, our best advice is to look elsewhere for a used sedan.