With the vast variety of options on offer from an ever-increasing array of companies, selecting an off-road side-by-side machine is like trying to choose your favourite drummer at a Rockin' 1000 concert. Some look different than others but it's difficult to pick one out of the crowd based on talent alone.
Bombardier has been in the outdoor recreation business longer than most, stemming all the way back to their halcyon days of pitching one-ski snowmobiles from a small warehouse in La Belle Province. These days, it trades under the banner of BRP and its Can-Am brand handles the off-road side of the ledger.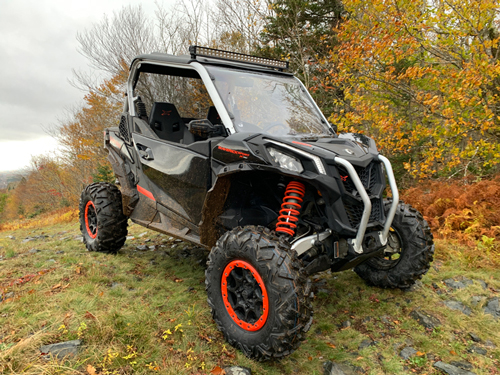 Their Maverick line of side-by-sides is split several different ways, with this Sport branch taking up middle ground between the workaday Trail and race-focused X3 lines. Diving into the Sport lineup reveals machines built for mud slinging, rock climbing, and speedy trail running.
Who's that drummer in the first row, again? The one with black and red clothes with a few silver piercings?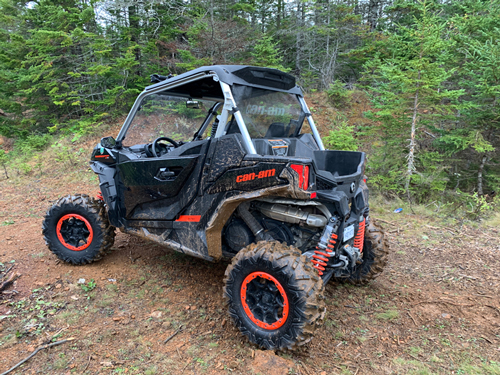 That'd be the Maverick Sport X XC, a 64-inch wide machine powered by the company's 976cc Rotax engine making an even 100 horsepower. Fitting squarely in the performance trail category, it wears Fox 2.5 Podium QS3 Piggyback shocks at each corner, good for nearly 15 inches of suspension travel and providing three different rebound settings. Maxxis Bighorn 2.0 tires span 29 inches in total diameter on a 14-inch beadlock wheel, contributing to the rig's 15 inches of ground clearance. Arched A-arms in the suspension help with the latter as well.
Flinging the Maverick Sport X XC over rural trails and gravel pits is easy, thanks to linear power delivery from that Rotax V-twin. There's little else in the motoring universe that sounds like a V-twin near its redline, singing along at well over 7000rpm and approaching its top speed somewhere in the neighbourhood of 120km/h.
Thanks to Can-Am's decision to develop what they've called intelligent throttle control, a drive-by-wire-system that eliminates throttle cables by taking signals from the gas pedal and sending them to the ECU, it's easy to modulate those 100 horses and avoid head-bobbing acceleration. It also allows two unique driving modes, Eco and Sport, the latter of which is far more aggressive on throttle tip-in. This is fun on wide open trails but is best avoided when precision is needed in close quarters, such as picking one's way through a technical section of trail or loading the thing onto a trailer.
Hammering over washboard surfaces and through muddy ruts proved the worth of those Fox QS3s which soaked up our fatigue in addition to the bumps. There's something to be said for arriving back at the trailhead feeling spry enough to make the trip back home without needing a fistful of Tylenol or Voltaren gel.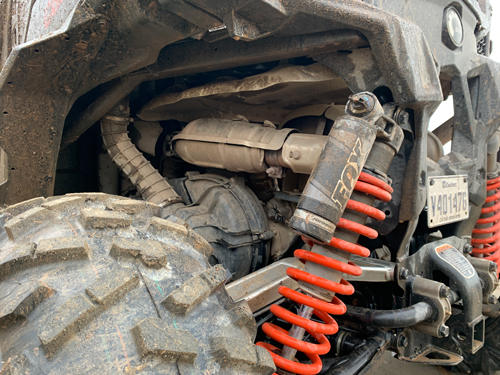 Warning placards slather the Maverick's interior like wallpaper, a nod to today's increasingly litigious society. Admonishments in view from the driver's seat ranged from telling me to keep my hands on the steering wheel to 'never do donuts'. Lovely. I'm sure there's one here somewhere that advises to eat my vegetables and wash my hands.
Catering to the nanny state aside, the Maverick Sport's interior is a comfortable place in which to spend an afternoon, with seats that are smartly shaped and seem to offer more surface area than those in a competing Polaris RZR. Seat travel was more than adequate for this long limbed author, though the outdated gauge cluster is in desperate need of a graphics upgrade. Yes, it is easy to read but so is a 1980's alarm clock and few people want to stare at those anymore.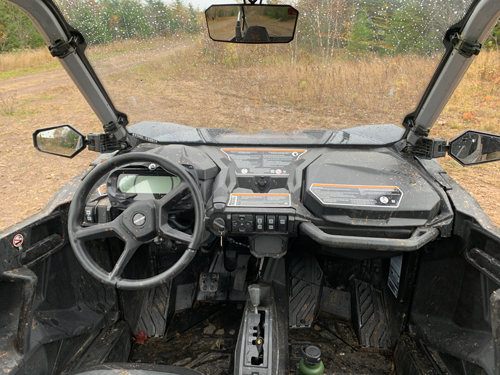 Clever storage abounds, putting an exclamation point on Can-Am's experience in this market. A deep covered box rests ahead of the passenger, big enough to house a can of fix-a-flat and a small tool kit with plenty of room to spare. A smaller covered box in front of the driver is perfect for a flashlight or snacks, occupying a location that is generally wasted by other manufacturers. Cupholders have firm rubber grips but can be inadvertently covered up depending on seat position.
It's worth noting this X XC trim of the Maverick Sport manspreads a good 64 inches, compared to non-X Maverick Sports which are only 60 inches wide. That extra width is critical if one frequently has a buddy riding shotgun.
With its just-right levels of power, able-bodied suspension, and comfortable cabin, recommending the Maverick Sport X is easy. But, like the drummers, which one do you choose?
This X XC is a dandy selection for high-speed trail busting, while the X MR is kitted out with taller snorkel intakes for taking on a bit of mud running. The X RC is set up for lower speed rock climbing. In other words, there's a lot more between them than just their colour schemes.
For the money – $24,799 – we'd stick with the X XC shown on these virtual pages. Costing a few simoleons less than the mud – or rock-focused units, this machine still has the 100hp Rotax, Fox suspenders, and 64-inch stance.
Perhaps choosing a drummer from the concert isn't so difficult after all.