The Acura MDX has been a benchmark in the luxury SUV market since its arrival in 2000. Highlighting crisp, angular lines, it set the bar high for others to follow. And follow they have, in droves.
Competition for consumers in both the midsize and premium SUV markets is fierce. Though it remains largely unchanged, the 2006 Acura MDX proves it still has what it takes to compete successfully.
Power comes in the form of an aluminum 3.5 liter V6 engine that boasts 253 horsepower at 5,800 rpm and 250 lb-ft of torque at 3,500-5,000 rpm. The VTEC 24-valve DOHC engine breathes through a sophisticated dual exhaust system that reduces back pressure to provide increased thrust.
Drive-by-wire technology improves responsiveness as throttle input is transmitted electronically. This advanced system also improves fuel economy and overall vehicle performance. Gear shifts are handled by a wonderfully smooth, gated 5-speed automatic transmission.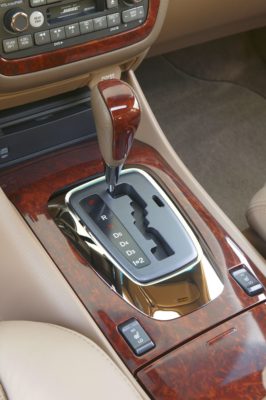 To get power to the pavement, the Acura MDX employs a sophisticated VTM-4, (Variable Torque Management) 4WD system. In standard mode, control is seamlessly delivered to all four wheels. If, however, the electronic system senses slippage at any wheel, it instantly compensates by redistributing torque to the wheels with traction.
There are few SUV's on the road today that can best the Acura MDX, due in large part to a fully independent front and rear multi-link suspension. Driving the MDX is superior in many ways to several so called sport sedans and when the road ahead turns twisty, parent company Honda's racing roots shine through.
A sophisticated Vehicle Stability system (VSA) adds an extra measure of control to the Acura MDX, employing a host of sensors to monitor both oversteer and understeer. VSA works by applying brake force and/or reducing throttle pressure to get the vehicle back on course.
On the rare occasion when driving conditions require extreme off-road capability, the MDX offers a locking differential that remains locked until a maximum of 15 mph. The Acura MDX is capable of towing up to 2,000 kilos. To insure tire pressure remains constant at all four wheels, an onboard monitor warns if any tire drops below acceptable levels.
Security on almost any road surface is one thing, but sometimes no matter how hard we try, accidents happen. Dual-stage front air bags, side air bags and dual side curtain airbags with rollover protection offer enhanced occupant safety.
In addition, 3-point seat belts are located at each seat; while 4-channel ABS brakes at all four corners brings the Acura MDX to a quick and controlled stop. Acura is acknowledged as one of the best at providing a comfortable passenger compartment and the 2006 MDX does not disappoint.
A front and rear synchronized automatic climate control system eliminates the need for manual adjustment. Simply set it to the desired temperature and forget it.
Heated front seats offer 8-way power adjustment. The driver's side also provides power adjustable lumbar support and two position memory control. Both seats offer excellent lateral support and sufficient cushion length for those of us over 6 feet tall. Dual-memory functionality makes it a snap to adjust seat position and the standard leather interior highlights a rich environment for all passengers.
The interior of the Acura MDX offers up to three rows of seating. Storage space is excellent and deep tinted glass keeps most valuables out of sight.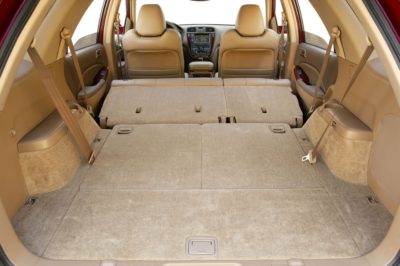 The Acura/Bose, 8-speaker AM/FM CD stereo with in-dash 6 disc CD changer is superb in everyway. Controls are easy to reach and even easier to understand. Add the optional rear DVD entertainment system and Acura Navigation and you have the perfect vehicle for a lengthy road-trip.
A power operated moon roof with tilt function is standard, as are power windows with driver's side one-touch auto up/down. Heated outside mirrors along with speed and rain-sensing wipers increase foul weather safety.
The Acura MDX is a luxury SUV in every sense of the word. With modern styling, plenty of power and a superior interior, it offers the complete go anywhere package. Yes, the competition has caught up and in some areas even surpassed the MDX. But in a competitive market where actions, (such as driving) speak louder than words, Acura is still a company to be reckoned with.
2006 ACURA MDX
Wheelbase: 2,700 mm
Overall length: 4,789 mm
Engine size: 3.5 L SOHC VTEC 24-valve V6
Transmission: 5-speed with Grade Logic Control
Drive: 4-wheel drive with VTM-4
Steering: Variable power-assisted rack and pinion
Braking: Power 4-wheel disc, 4-channel ABS
Air bags: 2 (front) + 2 (side) + 2 (side curtain)
Fuel economy city/hwy: 13.8/10.2 L/100 km