Harley-Davidson Nightster Debuts
While we knew it was only a matter of time before Harley-Davidson's Revolution Max engine would find its way into another bike, we weren't exactly expecting the Nightster that you see here.
Now don't get me wrong, this looks to be a compelling motorcycle and a sure sign that the RevMax revolution is gaining momentum, but we were all secretly hoping that The Bronx streetfighter (or something like it) would be what was hiding under the silk sheet.
So what did we get?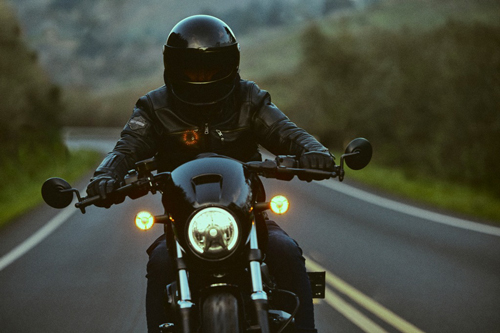 The Nightster 975 is the newest member of the evolving Sportster lineup and, unlike the Sportster S that we rode last year, the Nightster nixes that bike's custom look in favour of a traditional cruiser vibe. In fact, other than the shrouds protecting the radiators, this bike looks every bit a Sportster: the iconic peanut tank, exposed V-Twin, and low gunslinger seat are all present and accounted for.
Of course, there is a lot more going on with the Nightster than what those cues signify. First of all, that fuel tank won't hold petrol. Instead, this is the housing for the airbox feeding the 975cc, 60-degree V-Twin. Feeding that beast will involve flipping up the seat to access the mid-mounted, plastic, 11.7-litre tank.
The engine is a smaller take on the RevMax motor we fell in love with in both the Pan America and Sportster S. In this displacement there are 95 horsepower on tap and 70 pound-feet of torque motivating a 218 kg (wet) cruiser, which is a sizable increase over the old Evo-motored bikes (which have 54 hp and 54 lbs-ft in a 256 kg package).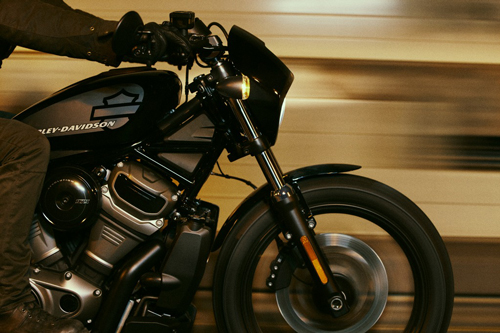 To help keep Nightster riders riding safely, H-D has included a similar suite of electronics to what the Sportster S boasts. That means there are three riding modes (Road, Sport and Rain) that tailor throttle response and output to conditions while also tweaking ABS and traction control levels. Speaking of, that TC can be deactivated should you wish to roast some rubber. Harley has also equipped the Nightster with Drag-Torque Slip Control to mitigate rear-tire slip when downshifting.
As mentioned, while I would have loved to have seen another mould-braking departure from the Bar and Shield in terms of type of motorcycle, I'm not disappointed in the least. The Sportster has always been the gateway Harley and by introducing the Nightster as the new entry-level Revolution Max-motored bike in the showroom, it should do well to prove to new and potential customers that H-D can build an entry level performer. I can't wait to swing a leg over one and give it a rip.
Vespa and The Biebs?
Maybe I'm out of touch with the youths, but I thought we'd hit peak-Bieber like a decade ago?  And yet, here we are living in a world with people popping Tim-Biebs in their mouths and riding around on Bieber-designed Vespas.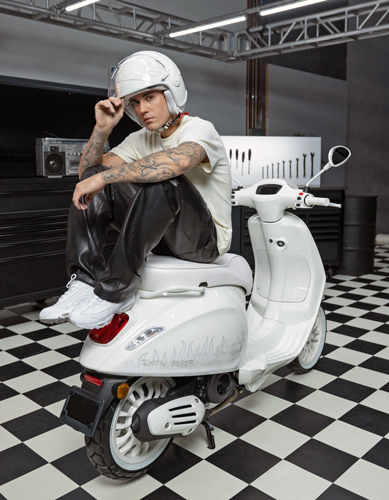 The Justin Bieber x Vespa is an exclusive model that was "ideated and designed" by the London, ON pop star. "I love Vespa, and to partner with such a classic brand is so cool. Being able to express myself, whether it's through art, music, visuals, or aesthetics, being able to create something from nothing – it's a part of me. Ultimately the goal in creating and designing is always to put your own unique spin on things", says the Biebs.
Available with 50, 125 and 150cc engines, the flame-accented, monochromatic white scooter can be had in a size and speed to suit any urban environment. Personally, I could live without the flames but I'll admit to digging the colourway and I really like the choice of rims.
If you're interested, the scooter that was designed by the pop-singer who was signed by a guy named Scooter (Scooter Braun in fact. Back in 2008) can be had for around 35,000 Tim-Biebs or $6,549 USD.
Electric Revolutionaries at The Petersen Museum
While the mainstream electric motorcycle movement hasn't gained the same traction that the four-wheeled world has, that hasn't stopped the world of custom builders from exploring the possibilities that this new medium can produce. And if you want to see the most compelling examples of the sort, get ye to the Petersen Museum, post haste!
Dubbed the Electric Revolutionaries, the new exhibit features a collection of builds that are equal parts exquisitely executed and environmentally conscious.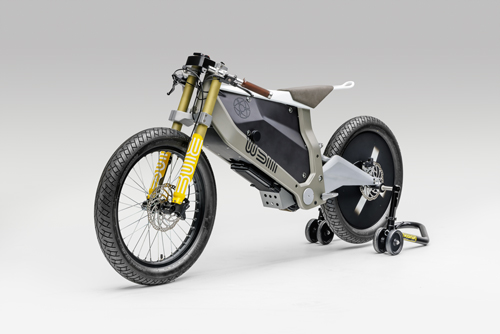 A follow-up to the Petersen Museum's popular first-ever electric motorcycle exhibit, "Electric Revolution" in 2019, the new display features over 25 unique custom electric motorcycles guest curated by Motor/Cycle Arts Foundation Co-Founder Paul d'Orleans. "I'm super excited to assemble this wildly diverse collection of EV pioneers. 'Electric Revolutionaries' really does represent the range of interest in an electric future, from a humble teen in Ghana making EVs from scrap to genius artisans building conceptual and boundary-pushing designs, to speed demons and global superstar designers interested in pushing mobility into the green zone," said d'Orleans. "Electric Revolutionaries" is produced by the Motor/Cycle Arts Foundation and Sasha Tcherevkoff, with support from LiveWire and Damon Motorcycles as a contributing sponsor.
"It is incredible how far electric motorcycles have come in the short time from our first exhibit in 2019," said Petersen Automotive Museum Executive Director Terry L. Karges. "This new display gives a unique and close-up look at the innovative machines and the creators behind them pushing the boundaries of motorcycle electrification and design. The detail, level of craftsmanship and unorthodox thinking behind these electric motorcycles make them must-sees."