If you've been looking for an excuse to throw off the pandemic's shackles and hop across the pond, may I humbly recommend that you time a trip to Old Blighty for the latter weeks of May?
Motorcycle gear and luggage manufacturers Malle London are hosting a weekend-long Moto shindig they call The Mile Beach Race, on England's southeast coast, and it looks like too much fun to miss. If you've ever attended or seen photos from the US-based Race of Gentlemen, things will certainly look familiar except I'd imagine there will be more tea, possibly scones and Devon cream and way less Dunkin' Donuts. There will be a number of events, most of which involve motorcycles racing on a beach (go figure) but the folks from Malle are renowned as much for the good vibes their events create as they are for their stellar soft goods (the Malle Moto Duffle is aces in my books).
The race Pre-Party will be held on Friday May 20th in Margate Town (the secret address will be sent to guests prior). Saturday the 21st and Sunday the 22nd are both race days, with an array of wild machines entering The Sprint, The Double, The Malle100 and Motopolo on the beach. The beach race After-Party will be on the Saturday night and the Podium-Awards will be held on the Sunday afternoon, at high tide.
And speaking of tides, the lads from Malle have taken all lunar cycles into consideration: "We've been out again with our star charts and lunar calendars… the best tidal conditions of this spring will fall on the 21st and 22nd of May: Saturday: Low Tide at 10.30am and High Tide at 4.50pm Sunday: Low Tide at 11.30am and High Tide at 5.50pm."
While you're near London, don't forget to head over to Shoreditch to visit Dutch and the gang over at the Bike Shed Motorcycle Club – you won't be sorry!
Tickets are limited and go for around $135 for a weekend pass.
Indian Motorcycles x Super73
In the realm of electric bicycles few can compete with Super73 when it comes to the cachet of cool. Their S2 variant is a fat-tired, retro-tastic Cali-beach-cruiser with style for days and up to 120kms of range (providing you don't mind pedaling a bit too). If those tidbits weren't enough to convince you to check one out, the latest version – a collaboration with Indian Motorcycles – should prove enticing.
Based on that S2 platform, the Indian Motorcycles x Super73 eFTR Hooligan 1.2 is a high performance e-assist rig that takes a lot of welcome cues from Indian's hooligan race bikes.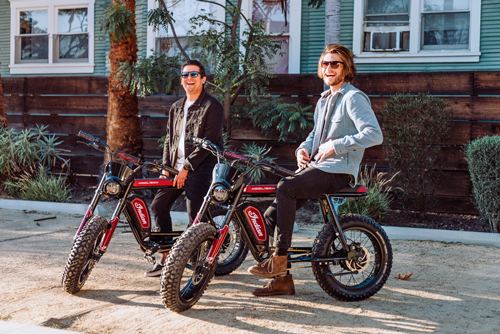 Engineered for recreational sport use and urban transportation – that means you don't need a motorcycle licence to operate one of these – the eFTR Hooligan 1.2 features a durable aluminum chassis, 20-inch wheels, disc brakes, and an inverted front fork. Its 960-watt-hour removable battery delivers more than 60 kms of range at 32 km/h in throttle-only operation and more than 120 kms of range when using ECO pedal assist mode. There are even three different ride modes that can be accessed via the SUPER73 mobile app. Those include Class 1's pedal assist with 32 km/h max speed, Class 2 throttle operation and pedal assist at the same max speed, Class 3 pedal assist at 45 km/h max speed, and an Off-Road Mode that delivers up to 2000 watts of power and speeds that will paste a smile on your face (over 45 km/h).
Whether you're looking to have some e-assist fun, return to commuting in an environmentally friendly fashion or use those newly found gig-worker funds to up your UberEATS game, the eFTR 1.2 will be available later this spring. Pricing is set at $3,999 USD. Canadian orders are welcome and typically ship via DHX but will be subject to customs and duty.
Ducati Multistrada V4S updates
The Ducati Multistrada V4S is easily one of the most advanced and top performing adventure motorcycles on the market today but, as they say, if you're not moving forward, you're falling behind. Which is why the 2022 version of that go-anywhere beast is getting a few tweaks.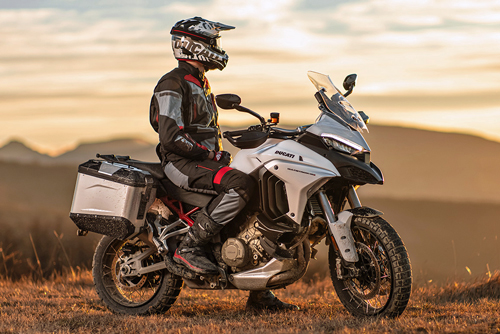 Most notably Ducati is introducing something they call the Minimum Preload system. "Minimum Preload system is a semi-automatic electronic suspension function that allows the height of the bike to be reduced, making it easier and safer to put your feet on the ground during city use or low-speed manoeuvres." While that may sound similar to the Adaptive Ride Height kit that debuted on the Harley-Davidson Pan America 1250 Special, it does differ slightly in that this is a semi-automatic system, so it is activated by the rider and doesn't do so magically on its own like that H-D one.
There is also an infotainment upgrade being implemented that is said to improve the rider's user experience. Most importantly though, these new improvements will also be available free of charge to existing owners of the bike, which is a stand-up move in this time of emerging subscription services for our autos and motos.