Polaris Slingshot Signature LE
If you've been eyeing a Polaris Slingshot – the three-wheeled burnout machine guaranteed to grab more attention than a pig-roast at Parliament Hill – know that there is a new, limited edition model that has joined the ranks.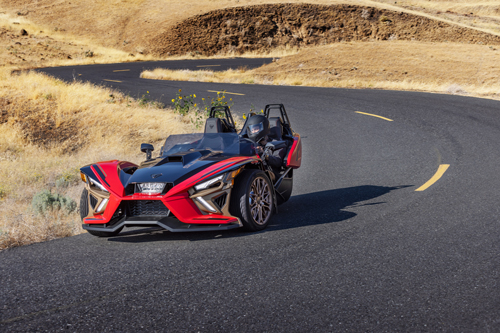 The Slingshot Signature LE combines a number of features from the style, comfort and accessory catalogue into a singular, ultimate expression. There is some unique Tri-Tone paint, fancy graphics and a rally-inspired set of bronze wheels as well as Polaris' vented sport hood. On the inside you score a 7-inch, Ride Command-equipped touchscreen and a boomin' system from Rockford Fosgate, complete with an extra set of Roll Hoop speakers. There is also a fancy XKGlow, LED lighting installation that will let you synchronize its output to the music you have cued up.
"We designed our latest limited-edition model to celebrate Slingshot's iconic signature style," said Chris Sergeant, Polaris Slingshot Vice President. "When you're behind the wheel of a Slingshot, there's no escaping the attention – its bold, one-of-a-kind looks turn casual arrivals into grand entrances. And that's what the Signature LE is all about – elevating your style and making your mark each time you jump in the cockpit."
If this is the kinda thing that tickles your three-wheeled fancy, prices start at $44,199 for one equipped with three pedals and stick-shift. The AutoDrive version will set you back $46,699.
Aprilia Racer Days 2022
Late last August I had the opportunity to attend a track day hosted by Aprilia, Shannonville Motorsports Park. It was the second time I'd been able to partake in one of the brand's Racer Days events and, as expected, it was an incredible time that I highly recommend. There are always plenty of helpful folks on hand to make sure you get the best out of the day and Aprilia always trots out a healthy selection of new hotness to be sampled. Gear from both AGV and Dainese are also made available for riders to check out. And, even if you decide to show up on a Ducati, like I did, they'll still extend you all of the courtesies.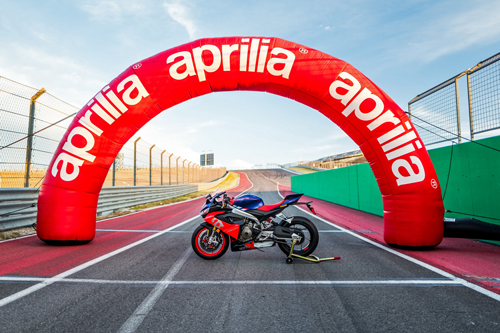 Now in its fifth year, Aprilia has just announced their schedule for the 2022 calendar year. While I'm saddened that they don't appear to be heading north of the border this year, there are some intriguing tracks and interestingly coincidental dates that typically follow a race weekend. For those of you that may be headed to Austin for this year's MotoGP event, I'd suggest tacking on an extra couple of days: Six-time World Champion Max Biaggi will be there hosting the event, and I can't think of a better way to experience the Circuit of the Americas than playing lead-follow with the former champ.
The Biaggi VIP experience is on the spendy side ($5,000 USD) but you will be granted dedicated training from one of the greatest riders of all time as well as a fancy dinner and some unique gifts. For those that just wanna Be A Racer, the day will set you back $525, regardless of talent group and there is always a photographer on hand to capture your efforts (even those that felt much faster than they look).
Yamaha Tenere 700 World Raid
After a far-too-long gestation period, the Yamaha Tenere 700 grabbed the middleweight adventure motorcycle segment by the scruff of the neck and gave it a good shake. The bike marked a refreshing return to basics and capability with a palatable price to match. Now, Yamaha is adding a slightly upscale iteration to the Tenere 700 fold with the World Raid edition.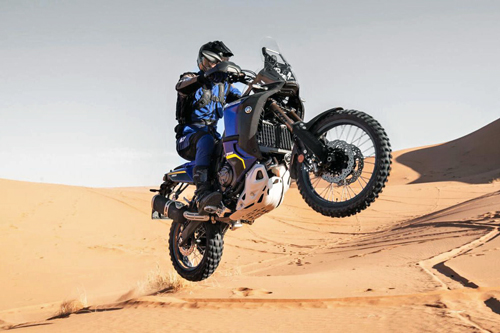 The biggest change to the bike seems to be the dual-tank fuel cell that increases capacity to 22.7-litres (from 16-litres), which Yamaha figures should net 500km of travel between fill-ups. The fuel cells have been designed to centralize mass but know that the overall weight has increased a smidge too (220kg wet). As such, the suspension is different and adds an extra 20mm of travel and the fork gets preload adjustment too. The dash is updated to a larger TFT screen and new, more off-road oriented rider modes – one of which lays waste to ABS all together – as well as a variety of screens including a neat sounding "Raid" version which presents like a rally roadbook.
I'd wager it's a pretty shoddy marketing move to label a bike "World Raid" without making it available to, well, the World. Which is why I'm pretty sure us North American's will be able to plunk down for Yamaha's hotted-up Tenere 700 World Raid, which just made its European debut. The only questions are when and how much? Here's hoping the answers are soon and under $15k.