Indian Scout Rogue and Rogue Sixty Debuts
It's hard to believe that the Indian Scout has been with us for seven years now. It feels like only yesterday I was bombing around Baja on one, impressed with its grunty, 100 horsepower, liquid-cooled, V-Twin. Of course, time has become a bit of a flat circle these days…
To freshen up the Scout (and its smaller-engined, 78 hp Scout Sixty) lineup, Indian Motorcycles has introduced the Scout Rogue. Built on the bones of the Scout Bobber, the Rogue is a factory custom of sorts that incorporates a number of accessory parts to deliver a fresh take on Indian Motorcycle's entry level cruisers.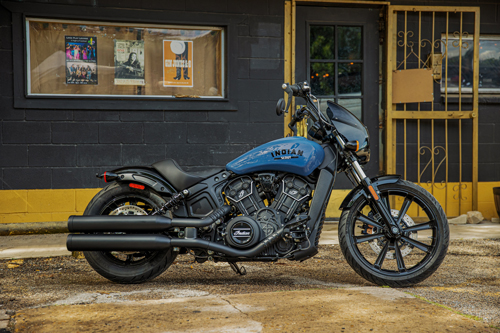 The biggest change comes up front. Instead of the sixteen-inch hoop that Scouts typically roll on, the Rogue scores a 19-inch mag that gives it a decided "big-twin" look. A front fairing is added for some wind protection and a set of mini-ape hanger bars – complete with bar end mirrors – finish the look (the Rogue Sixty gets traditional style mirrors instead).
Underneath those cosmetic changes, the tried and true Scout remains. A single-disc is clamped upon by a twin-pot caliper up front and, depending on the colour you choose, ABS is optional. The 60-degree, 1,133cc engine brings the same hundred horses to the party (and 72 pound-feet of torque) who are all filtered through six cogs to a final belt drive. The Rogue continues to be a low-rider too, using the same twin-shock rear set-up that delivers a mere 50mm of travel.
The Scout Rogue starts at $14,599 (Black, non-ABS) and climbs to $16,499 for ABS and a Stealth Grey cloak. If you like the look but don't want the extra oomph (and sixth cog), the Rogue Sixty starts at $12,299 (Black, non-ABS) and tops out at $13,699 for an ABS-equipped Bronze or Titanium Smoke version. And yes, there are a bounty of add-ons for either available from the Indian catalogue for further personalization.
Customize Your Next Ducati
Speaking of customization, Ducati has introduced Ducati Unica – a factory custom program where buyers work directly with Ducati's Centro Stile in Bologna to create the bespoke Ducati of their dreams.
Details are a touch scant on what exactly you can or can't do (sorry gang, but I don't think a factory-swapped V4 powered Monster is in the cards) but figure on being able to pick the model you like and treating it like a blank canvas. Prospective clients will essentially work with Ducati's atelier hand-in-hand throughout the design process, which will be documented for posterity, and upon delivery of your one-off a certificate will accompany the bike.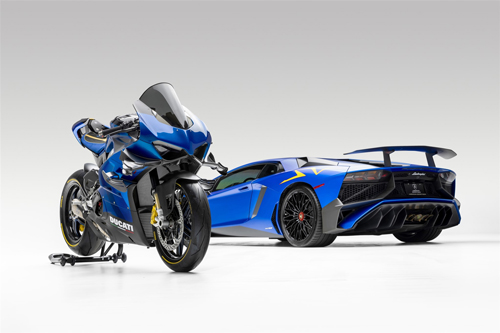 According to Andrea Ferraresi, the Design Director of Ducati Centro Stile "Design is a distinctive element of our creations. For some time we had been working on the launch of a project that would give Ducatisti the possibility of identifying themselves even more with their own bike, making it a direct expression of each person's individual style. So we created Ducati Unica, a highly exclusive program that testifies to the excellence of Made in Italy of which Ducati is a representative in the world. An exciting and unforgettable experience of customization to be experienced directly within our Centro Stile."
The first Ducatisti to indulge in Unica took his already rare (number 500 or 500 made) Superleggera V4 and turned it into a true unicorn, modelling it after his Lamborghini Aventador SVJ.
The Ducati Unica program will be available to Ducatisti in North America beginning in 2023 but participation in this limited-edition creator is quite limited itself: approximately one motorcycle per quarter, per year is being devoted to us folks on this side of the pond.
Husqvarna Reveals its Street Lineup
While we're still a bit disappointed to no longer see the parallel-twin powered versions of the gorgeous Svartpilen and Vitpilen in Husky's lineup, the smaller but equally pretty thumper iterations will continue on. For 2022, the neo-retro Svartpilen 401 and Vitpilen 401 receive some aesthetic tweaks in the form of bold new graphics!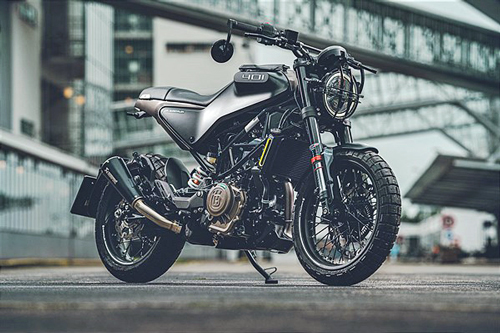 Kidding aside, the changes are minimal and that's not a bad thing. Both the cafe racer and scrambler-esque "Pilens" rock a unique and well, minimalist design language that is as striking as it is clean. So no need to mess with too much, right?
An updated version of Husqvarna's 701 Supermoto is also heading our way but won't make it ashore until sometime around May. For riders looking for an urban do-it-all, the 701 SuMo certainly makes for an intriguing mount: it's quick, light, nimble and a swap from street tires to knobbies can get you the best of all worlds.