Ducati DesertX
After three years of gestation, the Ducati DesertX has finally, officially been birthed. For those of you that recall its conceptual inception from (what feels like a decade ago) back in 2019, there are a few changes. Most notably is the fact that this retro-rally raider doesn't wear the Scrambler Ducati badge.
That's right, the DesertX is a full flung Duc and that means the air-cooled L-Twin has been binned in favour of Ducati's liquid-cooled 937cc Testastretta 11° engine. In DesertX guise, that motor generates 108 horsepower and 68 pound-feet of torque. While that is a step down from what that same mill musters in other bikes, the tune has been calculated for adventure riding and the gearing in the 6-speed transmission has been tweaked as well: first and second gear are shorter to help power through tricky conditions while 6th has been lengthened to ease highway cruising.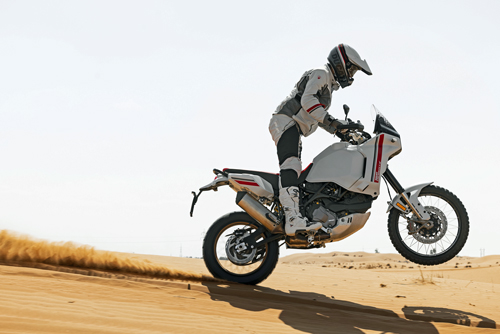 On the chassis side of things the DesertX makes use of Kayaba suspension with the fork providing 230mm of travel and the rear shock allows the swingarm to pivot 850mm. Wheels are tubeless spoked units, 21-inch in the front, 18-inch in the rear, and brakes are by Brembo.
One of the more interesting specs the DesertX boasts is its incorporation of two fuel cells. The standard front tank will hold 21L while an optional rear-mounted auxiliary unit will handle another 8L of just-in-case go-go-juice. Fully fuelled, we're told the DesertX will weigh 223kg (although that doesn't include the extra tank).
With regard to technology, the full suite of Ducati Safety Pack is present and accounted for and includes 6 rider modes, with two fully dedicated to off-road settings (Enduro and Rally).
With its '80s Dakar styling, the DesertX is definitely tapping into the nostalgia zeitgeist of the Rad Wood revival, and I dig it in a big way. If it tickles your fancy, it should hit Canadian dealers in time for summer and lists for $19,295.
Tiger 1200
When it comes to full-sized adventure bikes, Triumph's Tiger Explorer was typically left out of most discussions. It's not that the bike was bad by any measure, it just wasn't exactly in the same league as BMW's venerable GS. With the all-new 2022 Tiger 1200 line, Triumph is aiming to change that conversation.
Similar to the Tiger 900 range, the 1200's will be split into Rally and GT camps with the former being more off-road focused and the latter being the roadie special. Visually, the distinction between the two can be found at their wheels. The Rally rides on 21-inch front and 18-inch rear, while the GTs get a 19-incher up front. Both models can be optioned with Triumph's Explorer package, which nets a gargantuan 30l fuel tank.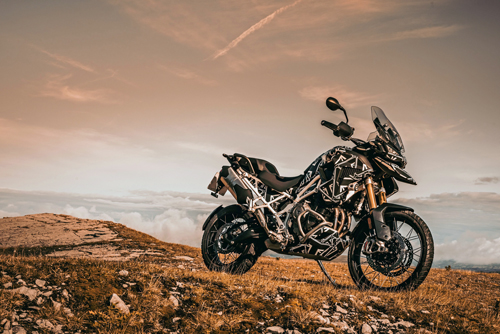 Powering these new Tigers is Triumph's 1,160cc, three-cylinder engine. It produces 148 horsepower and 95.6 pound-feet of torque which, thanks to its "T-Plane" firing order, should deliver those horsies with a raucous sound and linear power curve.
The frame has been completely redesigned and now features a bolt-on subframe and removable passenger pegs (a thorn in the side of previous iterations). The swingarm is also a brand new design and, when combined with the other changes to the rims and top shelf components from Brembo and Showa, this new breed of Tiger is some 25kg lighter than before.
There are 5 different models to choose from – GT, GT Pro, GT Explorer, Rally Pro and Rally Explorer – and pricing starts at $22,300 (GT) and tops out at $28,300 (Rally Explorer), all before you start adding farkles.
Norton V4 Cafe Racer
Although only a prototype, the Norton V4 Cafe Racer is just too damn delicious to not share. Powered by the very same V4 engine found in the V4SV superbike, this cafe race will run-the-tonne without breaking a sweat: there are 185 horsepower on tap and 92 pound-feet of twist.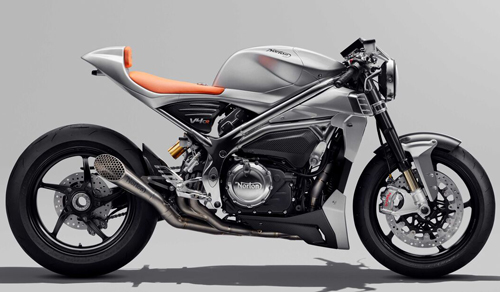 The styling is a futuristic take on the old school genre but the essentials – clip-on handlebars, rearset footpegs and a naked, stripped down body – are all there. I'm personally a big fan of the single-sided swingarm and the visual "V" of the frame and subframe, used expertly to reference the engine configuration.
When I was at the Isle of Man TT a few years back, the Nortons competing were easily the prettiest and most incredible sounding machines whipping through the hedgerows. After some years of financial uncertainty, here's hoping the influx of dollars from TVS-Motors and their all-new manufacturing facility in the West Midlands means we'll get to see plenty more of them, including this V4CR, on the street soon.