2023 Porsche GT3 RS — Uncompromisingly Designed For Maximum Performance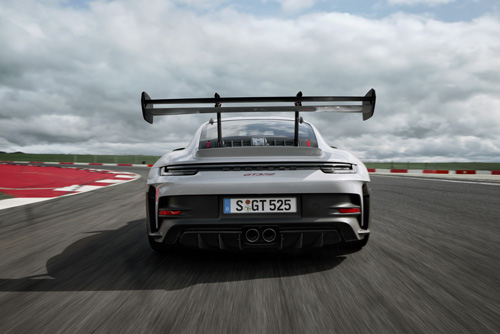 We admit; that header is a direct quote from Porsche, but when you're a race car for the road with a naturally-aspirated 4.0-litre flat-6 pushing 518 horsepower, though — well that sounds about right.
It looks bananas with its wicked aero addenda, big centre lock wheels and red-on-white graphics but it's how they got there that's the real show-stopper. In order to be able fit all the new active aero – the wing, rear sideblades, more – Porsche has gone away from the rear-mounted three radiators the old car had, and moved to a single centralized radiator up front, where the "frunk" would be on more vanilla 911 models. It's the same tech used in the actual Le Mans racer, and it all combines to provide up to 409 kilos of total downforce, depending on speed. Further enhancing the handling chops is the option to adjust the minutiae of the suspension such as the rebound and compression damping from inside the cockpit.
All that power, meanwhile, is fed through a seven-speed dual-clutch PDK auto, which is your only choice for the GT3 RS.
Dodge Charger Makes an Electrifying Return
Not long after it was announced that 2023 will be the last time we see the Dodge Charger and Challenger muscle cars in their current form, the manufacturer has come forward with this: the full-electric Dodge Charger Daytona SRT Concept.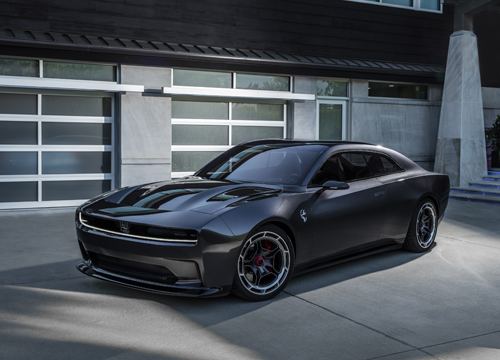 It's a two door, so it actually looks more like the original Charger than that car did when it was re-birthed as a sedan. According to Dodge, the Daytona's all-new electric powertrain has performance enough to exceed that of the Hellcat engine. Thanks to something called – we aren't kidding – a "Fratzonic Chambered Exhaust" – it will sound as loud as a Hellcat, too.
To further enhance the drive experience, Dodge has developed what it's calling – again, no joke – the "eRupt transmission", which is actually a multi-speed, shiftable transmission the likes of which we've never seen from an EV. It's just a concept for now, but wouldn't it be oh-so-cool if they actually built it?
Speaking of Fast Dodges…
If the upcoming final editions of the Dodge Challenger aren't enough for you, then try this on for size: there's a company out there that has received blessings from Dodge to turn your Challenger…into a drop-top.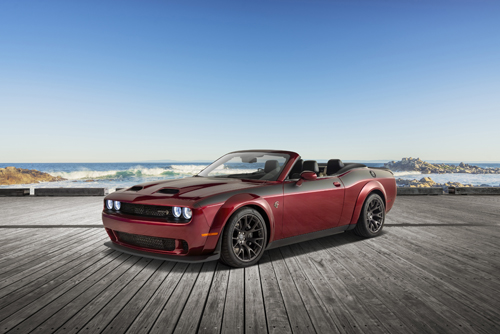 In an effort to re-gain the feeling of rarity that surrounds the original Challenger convertible from 1970 and '71, Drop Top Customs – the oldest convertible coachbuilder in the US, according to Dodge – has found a way to install a power-folding hydraulic power top and reinforce the chassis without compromising on interior space. Drop Top Customs will be offering the conversion on 2022 and '23 R/T, Scat Pack 392 and all SRT options. Yes; that does mean you could turn your 707 horsepower Hellcat into a convertible.
Speaking of Convertibles…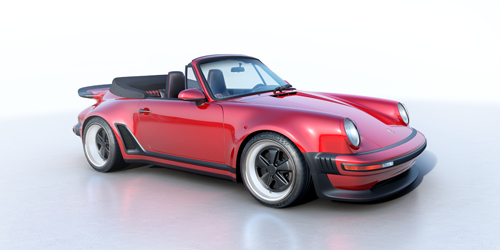 Recently, we talked about how Singer had pulled the wraps off their first turbocharged project.
Well, now the 911 reimagination station is at it again, this time announcing their first ever model with a fully opening roof (they've done Targa models before). It starts life as a 964 cabriolet, but adds a turbocharger meaning it's good for 450 horsepower sent to either the rear wheels or all four. Perhaps Singer can work some magic – maybe the carbon fibre they're using for parts of the bodywork will help —  to improve the much maligned 964-era Carrera 4 cabriolet…