Hertz is Dead; Long Live Hertz!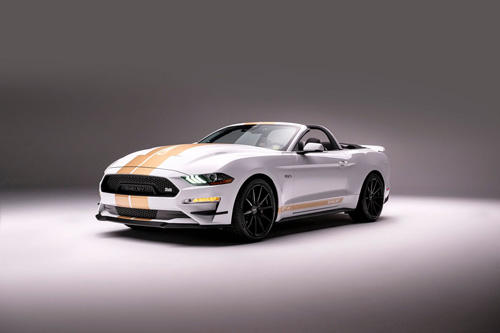 Barely a year after entering bankruptcy due to pandemic-related shortfalls, the long-lived Hertz rental car company has managed to pull itself off the mat after shedding over US $5 billion in debts by selling their fleet, their desks, their doormats, their dogs and whatever else had to be done.
Now, it's time to celebrate and they're doing so with this: the rebirth of the Hertz Shelby Mustang. Indeed, those who know their pony car history will know that Hertz teamed up with Carroll Shelby way back in 1965 to create some special Mustangs for their fleet, featuring details like gold stripes and hopped-up engines. Now, they're at it again, delivering fastback and convertible "Hertz GT500-H" options that make up to – wait for it – 900 + (nine-hundred-plus!) horsepower, fed to the rear wheels via a custom Borla exhaust. They'll get special paintjobs – even the supercharger can be finished in gold – and will actually be available to rent in select US cities including Las Vegas, Los Angeles, Orlando and Atlanta. Time to take a trip down south, wethinks!
BMW Revives Neue Klasse Name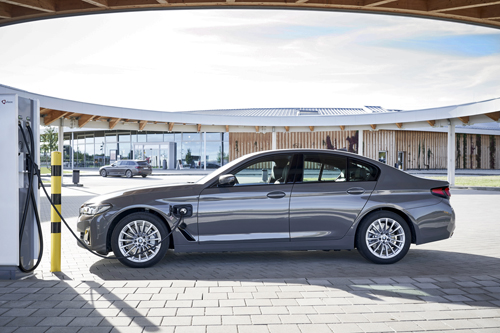 The next generation of BMW small cars and crossovers will fall under the "Neue Klasse" banner as the German manufacturer revives a nomenclature originally used when it overhauled its line-up in the 1960s.
This time around, the platform will be used exclusively for electric vehicles (which isn't a surprise, really as pretty soon all platforms from all manufacturers are going to have to support electrification) and will lead to more powerful motors and new battery cell design. One of the first vehicles to take advantage of the new platform will be the next generation 3 Series.
Mercedes Debuts The WILL.I.AMG and No, That's Not A Typo
Pop star will.i.am of the Black Eyed Peas may be a music man first and foremost, but he's a car man, too, with an eclectic collection of autos that includes a custom DeLorean built with help from the chaps at West Coast Customs.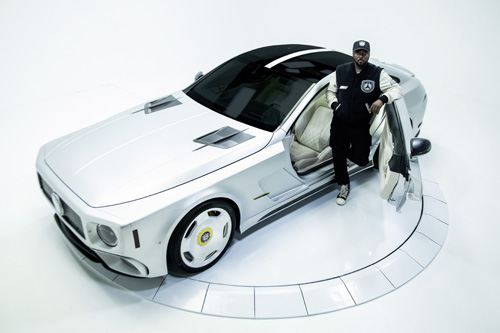 For his next collabo – to use the parlance of our times – he is aiming higher than that and going straight to the top of the automotive food chain, to Mercedes-AMG. Together with West Coast Customs, they have developed this two-door version of the AMG-GT 4-door (never mind the fact that there's already a two-door AMG GT), a suicide door-equipped coupe with a G-Class front end. Whether you like the looks or not, know that the car is slated to help promote will.i.am's i.am/Angel charity.
This 'Stang's Always Open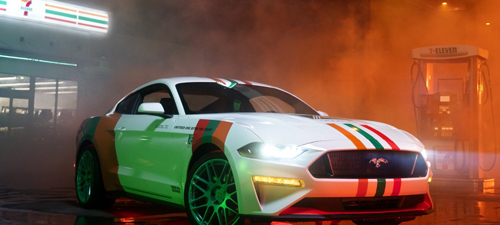 Bit of a theme this week on This Week In Auto for here comes the second of two custom Mustangs developed in partnership with a big corporation – this time, one that sells Big Gulps.
The Galpin Ford dealership in Los Angeles is well known for spearheading a whole catalogue of custom Fords and they've now turned to the world of the 24-hour snack shop for their next project. It's called the Model 711 and it's a Mustang painted up in the green, red and orange of everyone's favourite snack shop, 7-Eleven. The partnership has led to Slurpee-shaped shift lever, a cup holder big enough for a Big Gulp drink (Homer Simpson would be very proud) and there's even a holder shaped like a triangle for – you guessed it – a pizza slice. Not a bad idea, that last one if you've every tried to munch pizza on the go before. Only one Model 711 will be made, and it will be given to a lucky 7-Eleven, Speedway or Stripes customer later this year.