Nissan recently took the wraps off the new Rogue, which is a complete redesign from the ground-up of Nissan's ultra-popular crossover, its bestselling model in North America for the last few years.
Starting with the platform which is all-new for 2021 and not currently used by any other vehicle in either the Nissan or Infiniti line-ups, the next Rogue is actually a little shorter and lower than the outgoing model, but sports more interior space thanks to clever packaging and also the use of more high-tensile steel in the body. High tensile steel is lighter yet stronger, so you don't need as much of it and so there's less intrusion into the cabin.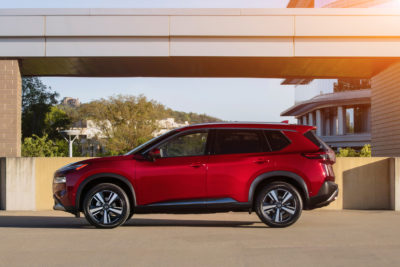 Of course, the numbers on paper are one thing, but it's what we see with our own eyes that tends to be the focus of a new vehicle. To that end, Nissan has turned to their X-Motion concept vehicle – first seen at the 2018 North American International Auto Show – for inspiration.
The Rogue's front-end still features the Nissan signature V-motion grille, but one that's been modified from other Nissan's by squaring off the corners. There's also a new headlight design that's actually a little reminiscent of the Hyundai Santa Fe, what with the DRLs sitting above and separated from the headlamps, which appear to sit much lower as a result. Seems things have come full circle for Nissan; one might recall that it was a different Nissan that started this trend way back in 2010: the alien-looking Juke small crossover.
From the side, the Rogue is a heck of a lot more purposeful-looking and edgier than the old car, what with it's more square linework and various side creases and cuts. It's from this angle that you can really see where the latest Rogue borrows from the X-Motion. That, and the rear three-quarter view that's characterized by a silver-coloured underbody panel and slim taillamp lenses. There's are also two two-tone body/roof colour options (like what the smaller Nissan Kicks gets) and standard 17" wheels (and optional 19s). This is a very big step forward for the Rogue when it comes to exterior styling.
Inside, the biggest differences can be seen at the Platinum trim level, one of three trims designed to make the buying prices easier: base S, mid-grade (at likely highest-selling) SV and top-spec Platinum.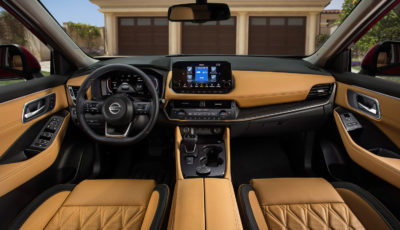 The Platinum trim gets a 10.3" heads-up display (HUD), a 12.4" digital gauge cluster, 9" infotainment display (up from 8" on other models) and diamond printed leather seating. We'll reserve final judgment until we see one in the metal, but from the pics these seats look like something you'd be more likely to see in something from a luxury brand.
Platinum trim also gets something called Navi-Link, which essentially turns the Rogue into a semi-autonomous vehicle when cruise control is activated and you've inputted your navi destination. The Rogue will automatically slow for off-ramps, speed up when joining the highway and so on. While Apple CarPlay and Android Auto support comes standard, Navi-Link does not work with those apps, just Nissan's native interface. Other tech included optional wireless Apple CarPlay support, 10-speaker Bose audio, available WiFi hotspot and standard ProPilot Assist safety suite. PPA provides auto emergency braking with pedestrian detection, high-beam assist, lane departure warning and rear cross-traffic alert. At this juncture, it doesn't seem like a self-parking feature will be available.
In addition to the added interior space, interior occupants get Nasa Zero Gravity seats both front and back on all levels, a front centre console whose contents can be reached by front and rear occupants, tri-zone climate control (tested and honed in Timmins, ON in the freezing dead of winter) and heated front seats. Heated rear seats are available on Platinum trims.
Also returning – in a way – from the previous Rogue is the Divide N' Hide rear cargo area. It's changed a little for 2021, however; used to be you could set the adjustable floor to three levels, the top-most essentially dividing the cargo bay in two, split horizontally. It was nifty because you could then store bigger items – like a stroller, perhaps – in the lower half, and other items on top. That third level is no more, however, the new car exhibiting more of what's seen in its Qashqai little brother, where the second level of the floor sits only about half a foot higher than the lowest setting. According to Nissan, it was in one of these two settings that most users kept the floor, so that's how it will be in the 2021 vehicle. The adjustable portion, meanwhile, will be anchored via a solid rail system as opposed to the nylon straps formerly used to keep everything in check. The liftgate, meanwhile, will get a motion-activated option.
A single engine choice is offered: a 2.5-litre four-banger good for 181 hp and 181 lb-ft of torque, increases of 11 and six, respectively, over the 2020 model. Power will be fed either to all four wheels or just the fronts via a continuously variable automatic transmission (CVT), which should come as a surprise to precisely no one as Nissan has hitched their wagon to the CVT star for almost every model they sell, and that's that.
Curiously, FWD will actually be available on both the S and SV trims; Nissan says that while the take-rate for FWD SV models will likely be quite small, there are enough Canadians – especially in Quebec – that will want the features the SV gets but not have to spring for AWD. Those that do, however, will have access to five drive modes: Off-Road, Snow, Standard, Eco and Sport while FWD models lose Off-Road and Snow.
Look for the 2021 Nissan Rogue to be arriving in dealerships in Fall of 2020. Watch for pricing information in the coming weeks.