2020 Jeep Gladiator Rubicon 4X4
I am not your typical 4X4 driver. My preference is to get behind the wheel of a sports car and find a nice long stretch of highway or tight grouping of turns and put pedal to firewall, with a fair amount of hard braking into the corners, of course. I should also mention squealing tires and high-revving engines, with the odd manual transmission mixed in with today's paddle-shifting supercars.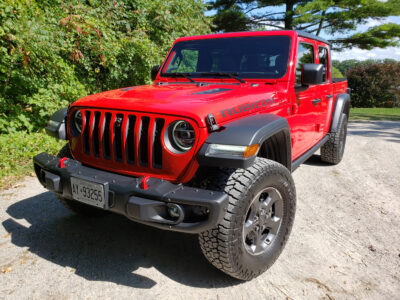 But there is something compelling about the 2020 Jeep Gladiator Rubicon 4X4 that I find hard to resist and if I were, but I am not, Santa Claus, this bright red sled would be my choice for delivering toys around the globe one snow-covered rooftop at a time. Just think of how many wrapped presents you could pack into the pickup bed. It's not only offroad capable to the extreme, it is surprisingly practical.
The pickup part is what makes this Jeep so unique. It's the one customers have been teased with for years, clues and innuendo being dropped by the brand with regular occurrence. Now that it is finally here, the Gladiator has quickly become as polarizing with the Jeep faithful as it has with pickup truck buyers. But whatever camp you fall into, lovers or haters agree, it is definitely different and in my opinion, different is always good.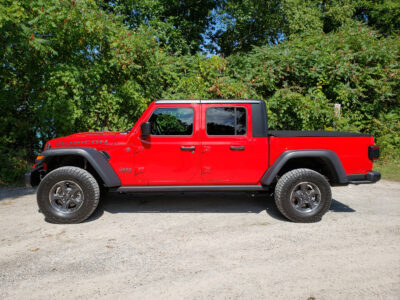 Power is for towing and hauling in a pickup truck, but in this case it is also for rock-climbing, river-crossing and mud-throwing with or with the top, doors and windshield in place. The 3.6L Pentastar V6 engine powers with 285 horsepower and 260 lb-ft of torque. Its not mind-boggling power, but it does provide the Gladiator with the ability to tow a maximum of 3,469 kg, which should be more than enough to get you to and from the cottage hauling your boat or trailer with ease. Just don't forget the boat is behind you and suddenly veer offroad in full Jeep-mode.
Inside, this is certainly one of the nicest interiors you will find in a Jeep and in the midsize pickup truck market for that matter. I was fully prepared to not be impressed as the classic Jeeps, like the Wrangler series, typically feature hard plastic, hard seats and hardly enough legroom for those of us over six feet tall. But such is not the case with the Gladiator, it not only looks upscale, it has plenty of room for all occupants and while it does feature hard plastic wherever you look, the rest of the vehicle, especially in Rubicon form with leather seating and accents, is very easy to live with.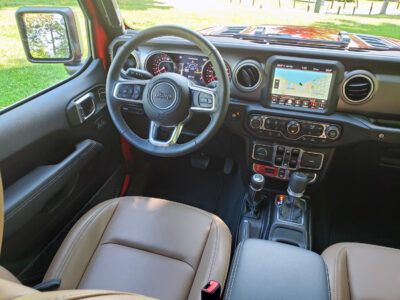 The Rock-Trac heavy duty part-time 4X4 system in the Rubicon is legendary and the heavy duty suspension does make for a stiff ride, but the trade-off in, "oh, let's climb that rock face over there!" is well worth the slight kidney pain. With an 83 litre fuel tank, the world is your to discover- literally.
So don't be surprised some Christmas to see a Jeep Gladiator Rubicon 4X4 in bright red sitting on your neighbours rooftop one cold December night. Hopefully it will be Santa. But if it's not and your neighbour smiles and waves from the roof of their house, just wave and smile back. It's a Jeep. You don't need to know how it got there, it just did and that's the fun part.