Kullu to Amritsar: A Slice of India
By Garry Sowerby
We feasted on spicy curried goat, yogurt and herbal teas the night before and, although our hotel room had a dirt floor, the beds were clean and comfortable.
A drizzle of daybreak filtered through the window ushering in Day 33 of our attempt to drive around the world 77 days or less. Navigator Ken Langley and I were rested and revitalized.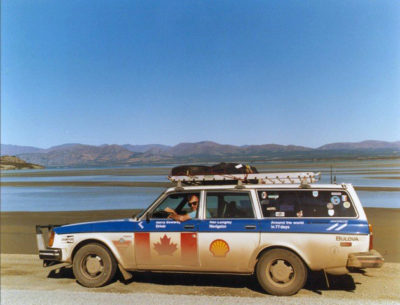 Everything was set to take on October 6, 1980. Head west out of Kullu Valley along the Himalayan foothills dropping into the Punjab, then on to Pakistan.
We joked about our dream of the two Volvo 240 GT's Volvo Canada would lay on us for driving our Halifax built 245 DL wagon around the world. Wishful thinking that fueled us along a 43,000-kilometer road into the record books.
In the first few hours we were stopped five times by striking Indian government workers who would be stoning cars competing in the Himalayan Car Rally a week later. Each time we harnessed enough Nova Scotian charm to talk our way through the blockades.
The day was fraught with delays and close calls dodging overloaded Tata transport trucks barreling down narrow mountain roads. In the afternoon a ferocious thunderstorm slowed us to a crawl. Bolts of lightning cut the bruised sky as grape sized hailstones pummeled the car while we continued west, at times pushing through water up to the bottom of the door sills.
Cell phones and laptop computers didn't exist in 1980. Neither did fax machines or GPS units so we got through India old-school with road maps and roadside fellowship. It became obvious we wouldn't make Pakistan that night, so we stopped in Amritsar, home the Golden Temple, holiest of all Sikh shrines.
Of course, we got hopelessly lost in Amritsar, so we hired a motorized rickshaw driver to lead us to a hotel. I loved that, following a smoke spewing contraption through the chaos of life in a busy Indian city.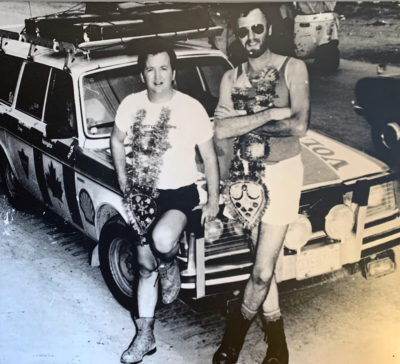 Pungent fragrances of exotic spices wafted through the car. The rattle of diesel engines and squeals of worn brakes joined the symphony of blaring horns and incessant bartering and bantering that was street life in Amritsar. Road trip at its absolute finest.
The rickshaw eventually pulled up at the Amritsar International Hotel, a modest place that, if nothing else, was dry. We asked for accommodation with two beds because we didn't want to sleep alone in a room along with whatever might creep or slither on by.
The room was a musty hovel with a rusty steel-framed bed shoved against a wall adorned with fresh stains I didn't want to think about. Greasy yellow curtains dangled over a small open window looking onto a crumbling stone wall. A second bed was promptly wheeled in, a narrow portable affair that looked like a 19th century operating table. Ken lost a rupee toss and was assigned the squeaky cot. I declared it the 'GT bed', and we retired.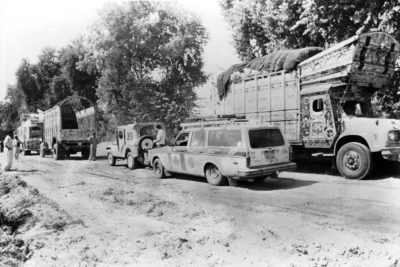 In the morning at sunrise the sounds of worship drifted into the window. The GT bed was empty, but I found Ken in a sweaty stupor stretched out in the Volvo. He had 42 bed bug bites and couldn't stop scratching.
We strapped into the grubby Volvo wondering if our paperwork for clearing out of India and into Pakistan was in order?
For a lingering moment, I could see shiny Volvo GT's waiting for us at the finish line, a half world away at the base of Toronto's CN Tower.