2019 Lexus ES 350 F-Sport
By Lisa Calvi
One of the criteria I use to gauge a vehicle's allure is how I feel when I approach it in public. Do I hold my head up or slouch self-consciously? Another measure is if I plan my wardrobe around said vehicle. I'm kidding. After all, a vehicle is more than a fashion accessory, right?
As an immaculate Lexus ES 350 pulled up to the curb outside my house recently, I tucked myself into the spacious rear seat, feeling spoiled as I was whisked off to the airport.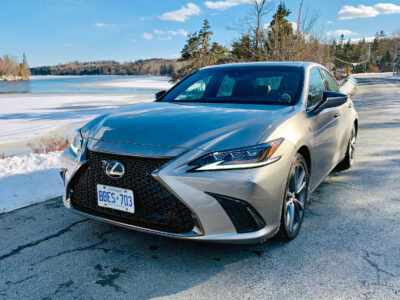 The pristine four-year-old vehicle, being used as a limo, reminded me of the stylish 2019 Lexus ES 350 in which I had spent a week earlier this year and my surprise at how good I felt getting into it, how much I looked forward to driving it.
Surprised because I've always thought of Lexus, Toyota's luxury marque, as an extension of Toyota, reliable, well-engineered, difficult to find fault with but perhaps lacking in the soul-stirring category. Like a pair of medium-height heels, perfectly made, easy-to-slip-on that I've had for years that never look worn or tired.
Compare those to sky-high Manolo Blahniks that speed up the heart rate when you catch a glimpse of your reflection in a window as you stride by, however loudly your toes scream in agony.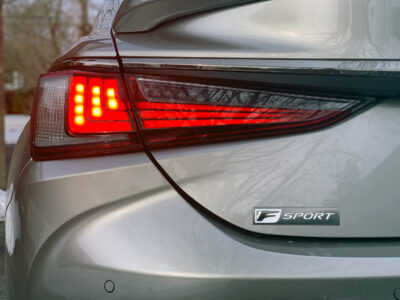 The Lexus brand was born from the Chairman of Toyota Motor Company, Eiji Toyoda's desire to create the best luxury car in the world. After six years of development, the first Lexus, the LS 400, was launched in 1989. Despite less-than-shiny reviews from some automotive journalists that claimed the brand was stodgy, Lexus began to compete with well-established European luxury marques, becoming well-respected with a reputation for building powerful, reliable and economic luxury cars.
But exciting, heart-thumping, worthy of fashion collaboration? Well, yes.
The 2019 Lexus ES 350 is a stand-out in the styling department. Previous generations were conservative but this seventh-gen ES is bolder. Triple LED adaptive headlights and a longer, wider and lower design give the ES a rakish, sexy look.
I felt right at home in the fiery red leather interior, as fragrant as a pair of gorgeous Italian shoes. The added features of the F-Sport package, offered on the ES 350 for the first time and including active noise control, adaptive variable suspension and a three-spoke F-sport leather-wrapped steering wheel, may have had something to do with my sense of well-being in the cabin.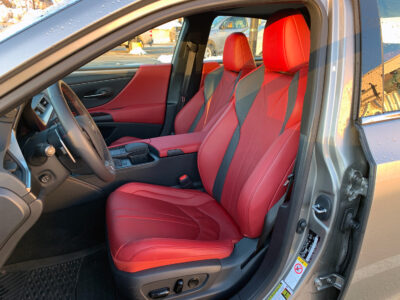 I admit to keeping it mostly in Sport+ mode, maximizing its 302-horsepower six-cylinder 3.5-litre engine and playing around with the steering wheel paddle shifters. Here, I must confess that I chose a nail polish colour to match the spicy red leather seats.
I thoroughly enjoyed my week in the sophisticated Lexus ES 350 with its feisty road manners, cranking Sirius XM station, Hair Nation. I know I should have had something more refined coming out of the speakers but, luckily, Lexus is so adept at keeping it classy.
Follow Lisa on Instagram: @FrontLady