If I could give myself the perfect gift at Christmas, it would most likely include a mixture of Formula 1 and driving a Porsche 911. I have long been a fan of both, gaining much of my high-performance driving skills strapped into various Porsche vehicles over the past 30+ years and being a long-time follower of the F1 circuit and carnival show. It's been my privilege to attend some of the most celebrated races of the past, including the famed Senna vs Prost race at Suzuka, Japan in 1989. At the time, I was a guest of Honda, so my Turn 2 seat and behind-the-scenes access was exceptional.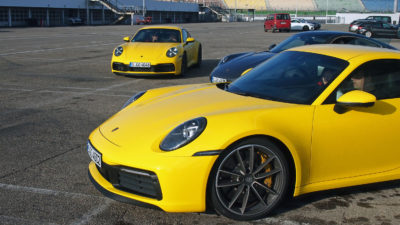 When the invitation arrived last year to attend the launch of the all-new 2020 Porsche 911 Carrera S at the famed Hockenheimring in Germany, well you didn't need to ask me twice. Christmas had come early and it was in the shape of a bright yellow new 911 on the front straight of one of F1's fastest tracks.
The trip itself was incredible; we toured the factory and museum at Stuttgart, drove country roads around the Bavarian countryside in the new Porsche Cayenne and spent a full day debriefing and being driven in the new 911 at the track. But I didn't get to drive it and that was somewhat of a disappointment. That said, being driven by a famous 24hr race champion for four hot laps on an F1 track is never short on excitement.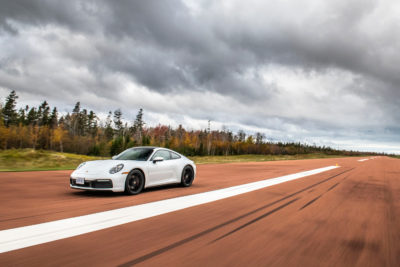 The chance to drive the new 911 at speed would come later in the year at a private airstrip on Nova Scotia's Fox Harb'r Resort and the surrounding backroads between Halifax and Wolfville. If you have never driven in this part of Canada, you owe it to yourself to get there and experience the area, Peggy's Cove and more as this is truly one of the best places to enjoy the east coast at its finest.
Power numbers for the 2020 911 Carrera S and 4S models are impressive on paper. A 3.0L twin-turbocharged flat-six engine produces 443 horsepower and 390 lb-ft of torque. This is an increase of 23 horsepower and 22 lb-ft of torque over the previous model. Top speed is listed at 308 km/h.
Inside, the entire driving experience has been simplified and the resulting minimalist design theme really works well. The classic five dial gauge package is easy to read at a glance with two 7-inch outer screens featuring digital gauges, the center tachometer remains analogue. Sight lines are near perfect, but this has been a staple of the 911 since it birth in 1963. A 10.9-inch center touchscreen provides easy access to PCM (Porsche Communication Management) controlling the audio, navigation and communication systems.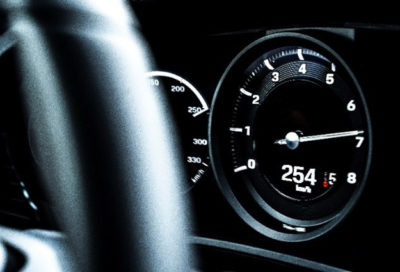 Buckled in, pylons spaced in front of me at precise intervals on a perfectly paved red concrete airstrip, there were two goals in mind on this day. The first would be to accelerate up to 195 km/h and hold the speed while gliding left-to-right through the pylons as a way to review the high-speed handling characteristics of the new 911 Carrera S and 4S. The second would be to accelerate from zero to 250 km/h+ and stop only when the last pylon was passed without running out of airstrip, of course. We held 195 km/h through the slalom with ease and during the acceleration test, I actually achieved 254 km/h.
It may not have been a high-speed run on the famed Hockenheimring, but it was every bit as fun. Now this is what I call a really great Christmas present!